Adding curls to any hair type is a great way to add volume, texture, and style, and doing so with hot tools can be easy and quick with the right technique. However, you might want to forgo the heat in favor of a less damaging option as using heat to create curls can over time cause damage and breakage to your hair.
Fortunately, there are many ways to curl your hair without using heat while still achieving beautiful curls and healthy hair, and the best way to do this is to use overnight manual methods, which will provide you with a much longer-lasting hold and definition even while you are sleeping.
Follow these simple and yet effective methods to create beautiful curls:
(Photo: TESSA THOMPSON IN BRAIDS)
If you are looking to achieve beautiful natural-looking curls without heat, braids are your best bet. It is one of the simplest and most popular ways to curl hair without heat. 
To achieve this, start by washing and towel-drying your hair. Divide your hair into three or more sections – depending on how tight you want your curls to be. Braid each section and secure the ends with a hair elastic. Leave the braids overnight and undo them in the morning.
This technique involves twisting small sections of hair and pinning them to your head.
(Photo: TWIST AND PIN )
Start by dividing your hair into small sections. Take a section and twist it tightly, then pin it to your scalp with a bobby pin. Repeat with all sections of your hair, then leave the twists in place overnight. This method creates very bouncy curls when you remove the pins.
Hair rollers are another classic way to curl hair without heat. Choose rollers of the size and shape you prefer— smaller rollers will give you slimmer curls while larger rollers will give you bigger curls.
(Photo: GIGI HADID WITH VELCRO ROLLERS IN HER HAIR)
Roll sections of hair onto the rollers and secure them in place with clips or hair elastics. Leave the rollers in for several hours, then remove them carefully, you will notice more gorgeous, defined curls.
(Photo: THE MANE CHOICE FLEXI ROD)
Flexi rods are bendable, foam-covered rods that can create curls of various sizes and shapes – just like the hair rollers.
As usual, start by washing and prepping your hair first, then detangle it with a wide-tooth comb. Take a small section of hair and wrap it around a flexi rod—you can try "The Mane Choice Flexi Rods"— then bend the rod to secure it in place.
Repeat with all sections of your hair, then leave the rods in overnight. In the morning, carefully remove the flexi rods and fluff your curls with your fingers.
Like braids, Bantu Knots are also a popular way to create natural curls. We particularly love the curls created with bantu knots as it can be very bouncy.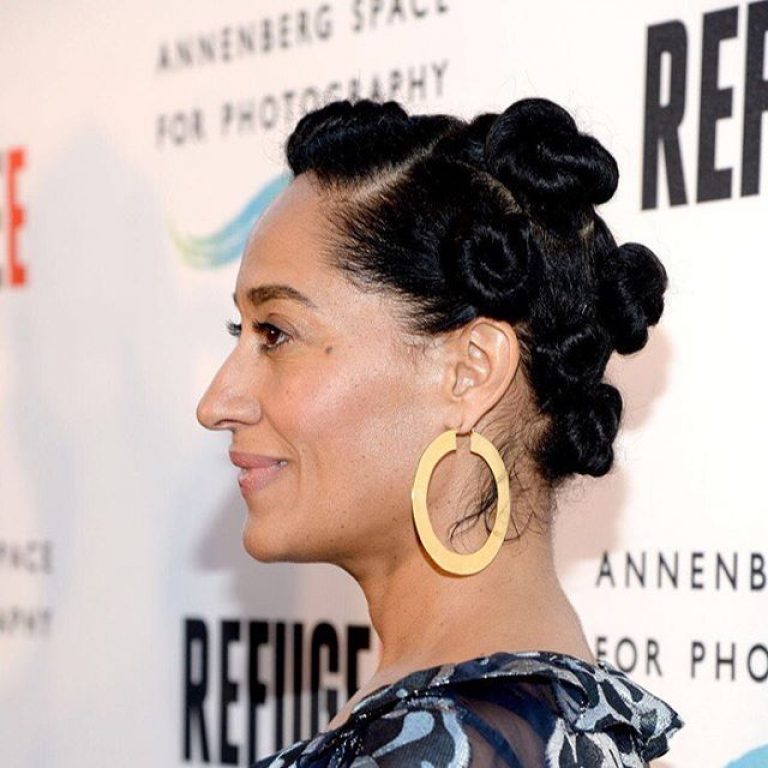 (Photo: TRACEE ELLIS ROSS IN BANTU KNOT)
Shampoo and condition your hair then apply a curl enhancing cream like the Moroccanoil Curl Defining Cream. Work the product through your hair, making sure it is evenly distributed.
Section your hair, but the size of the sections will depend on how tight you want your curls to be. You can use clips to hold the sections in place.
(Photo: MOROCCANOIL CURL DEFINING CREAM)
Take one section of hair and twist it tightly from the root to the ends,  twisting, and wrapping it around itself to create a knot, secure with a hair elastic or bobby pin. Untie the knots only after it has dried and use your fingers or wide tooth comb to separate the curls.
Headband curls are a simple and effortless way to create loose waves. 
Our number one go-to headband curl brand is RobeCurls, we swear by their satin heatless hair curler.
For this method you need a soft stretchy headband, put it on and take a small section of hair and wrap it over the headband, tucking the ends underneath.
Continue wrapping sections of hair over the headband until all your hair is wrapped. Leave the headband in till morning, unwrap your hair and fluff your curls with your fingers.
For a longer stay, you might want to invest in a good hairspray, one that is lightweight and gives a flexible hold without the "dry paper" crunchy feel. You would also want one that won't deflate in humid temperature. Oribe, Ouidad and Kérastase Laque Couture all have very effective, anti-humid hairsprays that give flexible hold.
Whether you prefer braids, twists, rollers, flexi rods, or headband curls, these methods are easy to do and can be done at home with minimal effort. So give your hair a break from the heat and try one of these heatless curling methods for a natural and gorgeous look today.