Besides being the face of Giorgio Armani cosmetics, Sydney Sweeney was also joined with other celebrities such as; Tessa Thompson, Cate Blanchett, Rege-Jean Page, Barbara Palvin, and some others as the Armani Beauty faces of the Italian luxury brand.
The brand recently selected the "White Lotus" actress as the new face of Armani's new "My Way Parfum" campaign, expanding her role even further.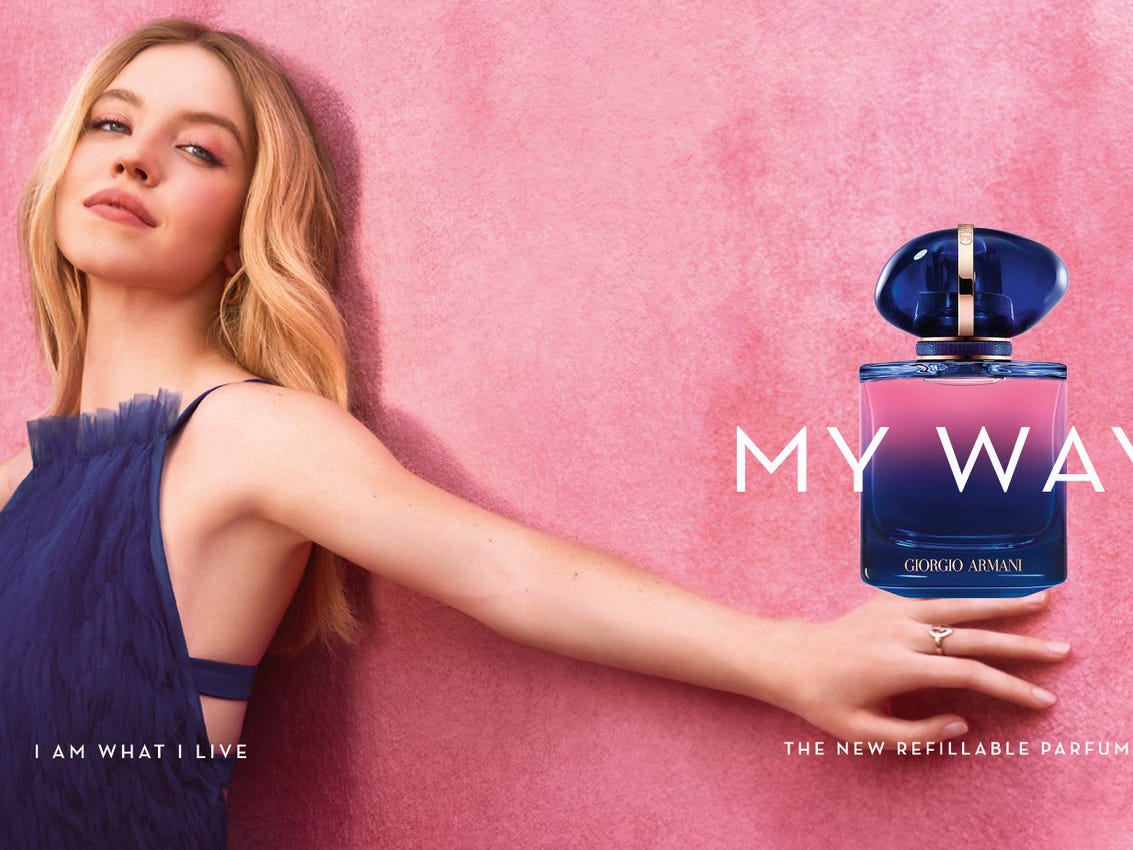 (Photo: SYDNEY SWEENEY)
According to the luxury brand, Sweeney was particularly chosen for the ad campaign because she embodied the qualities of what the fragrance celebrates and that is youthfulness, free-spirit and femininity.
And in a press release, Giorgio Armani said:
 "Sydney's enthusiasm and upbeat  demeanor instantly caught my attention, as is evidenced by her smile. She is one of the most attractive and diverse young actresses and she has talent and ambition"
He further added:
"This made Her( Sweeney) the ideal representation of the My Way fragrance spirit"
And in playing with this notion of femininity throughout the campaign – Dario Catellani captured the shots against a bright pink backdrop, with Sweeney wearing a crop top and embellished pieces while posing with an oversized replica of the My Way perfume bottle.
The video ad, directed by Jonas Lindstroem, is an invitation to explore new horizons and forge one's own path, with Sydney as the alluring guide.
Sydney Sweeney shared her joy in becoming the face of Giorgio Armani My Way perfume via an Instagram post that read…

"…couldn't be more excited and proud to be the new face of @armanibeauty perfume MY WAY💕I can't wait to share more from this campaign, it's truly been one of the most beautiful experiences filled with adventures and friends  🥺"
The Armani "My Way Parfum" is a perfect and beautiful blend of responsibly sourced ingredients, each one carefully selected to provide an irresistible scent.
My Way Parfum is formulated with a blend of Calabrian bergamot oil, French Iris Pallida, Indian Tuberose Heart Absolute notes, Egyptian Orange Blossom, American cedarwood and Madagascan vanilla bourbon to give a distinctively rich scent with earthy undertones.
Upon opening the cap, a burst of floral-woody scent welcomes you, its strong, rich aroma conjuring up memories from all around the world.
It is a more potent and long-lasting version of the traditional perfume, which was inspired by the contrast between the bright solar tuberose and the royal blue iris pallida.
By farming vanilla in Madagascar through local programs that assist poor communities based on fair trade standards, and obtaining iris Pallida from sustainable sources in France, the Italian brand safeguard native woodlands and encourage biodiversity preservation.
…on The My Way Parfum Bottle
Giorgio Armani's dedication to further  reduce its carbon footprint and environmental impact is demonstrated by the MY WAY bottle, which is made to be durable and refillable. As there is no funnel, the flacon revolutionary refill technique is easy to use and hygienic.
(Photo: ARMANI'S MY WAY PARFUM REFILLABLE BOTTLE)
This implies that the original bottle can be filled again without wasting a drop of fragrance or running the risk of any spills onto hands.
If you are an ardent collector, the Armani My Way Parfum would be a wonderful addition to your collection.
And if you are only just interested in trying out a new scent, this fragrance is a great place to start.