The 65th Grammy Awards may have come and gone, but the memories of the world's most celebrated music awards show are sure to linger for quite a while. Held on February 5, 2023 in Los Angeles at the Crypto.com Arena which was once known as the Staples Center, saw a magnificent ensemble of some of the most glamorous celebs on the planet. 
It was an occasion for musicians, top fashion designers and luxury jewelry makers to wow onlookers with an assortment of sparkling attires and high-jewelry. Amongst the many illustrious attendees was Bebe Rexha, who graced the red carpet of the showpiece event in a quite stunning pinkish costume. 
Bebe was nominated for Best Dance and Electronic Recording for "I'm Good (Blue)," a remix of the 1998 hit – "Blue (Da Be Dee)" by Eiffel 65. The musician and songwriter may not have  taken home any award, but her outfit was definitely one of the standout eye candy at the awards.
(Photo: BEBE REXHA IN MOSCHINO GOWN AT THE 2023 GRAMMY AWARDS)
Rexha donned a custom Moschino dress with a cross-halter neck in vivid pink. The bodice had a daring cutout and gathered fabric that flowed into a skirt with a knee-high slit. She added identical-color elbow-length gloves to finish off her outfit. The singer adorned herself with big hoop earrings and completed her pink gown with Sophia Webster's shiny silver platforms. The Perla Platform, which had an open-toe shape, added sophistication to her overall ensemble.
Let's dissect Bebe's outfit at the 65th Grammys, shall we?!
Bebe Rexha in Moschino Bright Pink Halter-Neck Gown
(Photo: BEBE REXHA IN MOSCHINO GOWN AT THE 2023 GRAMMY AWARDS)
The pink gown Rexha wore to the 2023 Grammys features a cross halter neckline with a cut-out bodice, this exquisite vivid pink dress flows into a skirt that slit to the thigh, she matched her elegant outfit with a pair of similar color elbow-length hand gloves also by Moschino.
Rainbow metallic 'Natalia' Perla Platforms by Sophia Webster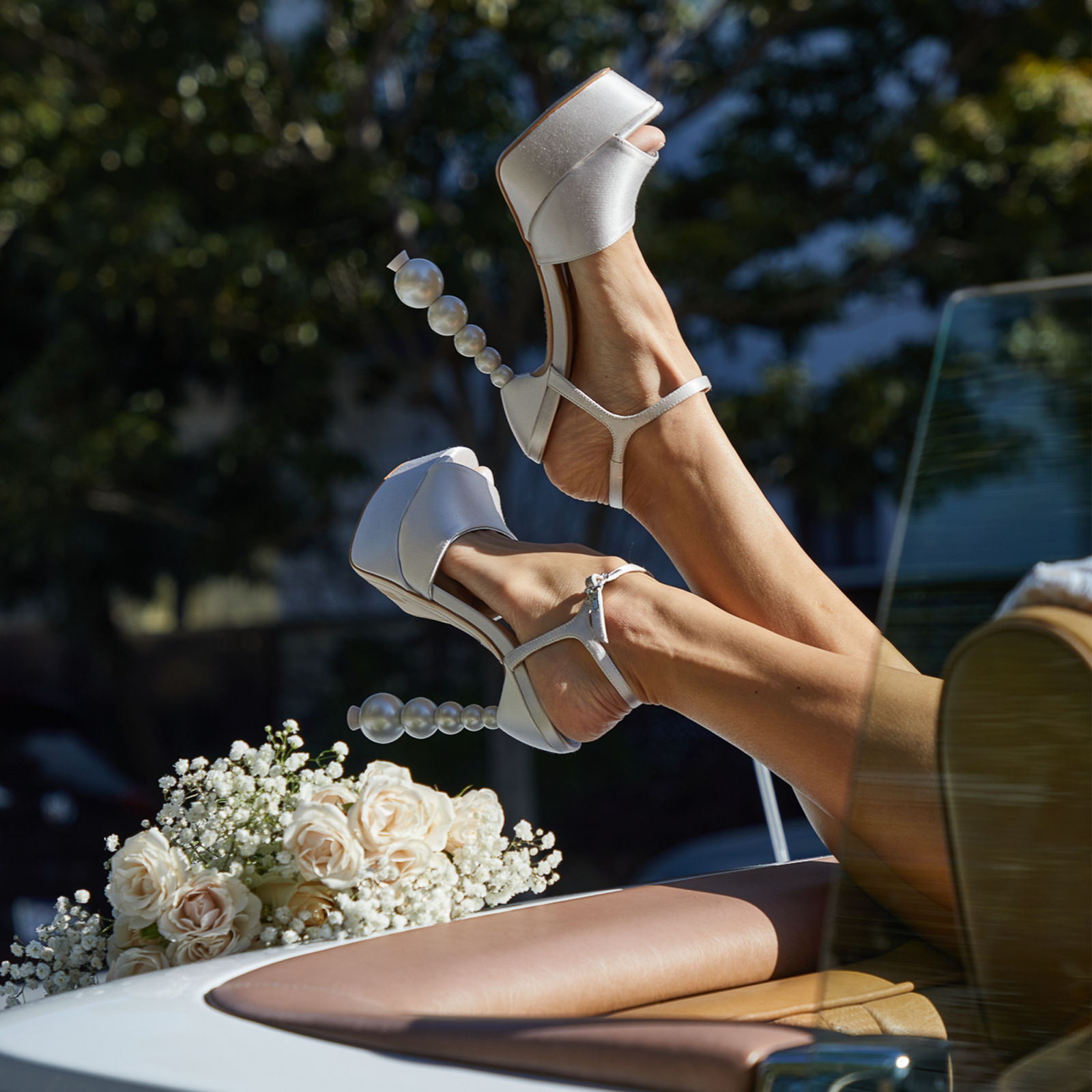 (Photo: MODEL IN WHITE NATALIA  PERLA PLATFORM)
While many would have missed Bebe Rexha's footwear in all the excitement of the occasion, we definitely took a keen interest. Her flowing bright pink Moschino halter-neck gown may have done a good job concealing her unique rainbow metallic platforms, but we were still able to make out that they were indeed Natalia Perla Platforms, a masterpiece design from the stables of Sophia Webster and quite similar to the pair worn by the model in the photo above – the only difference being the exquisite rainbow metallic color.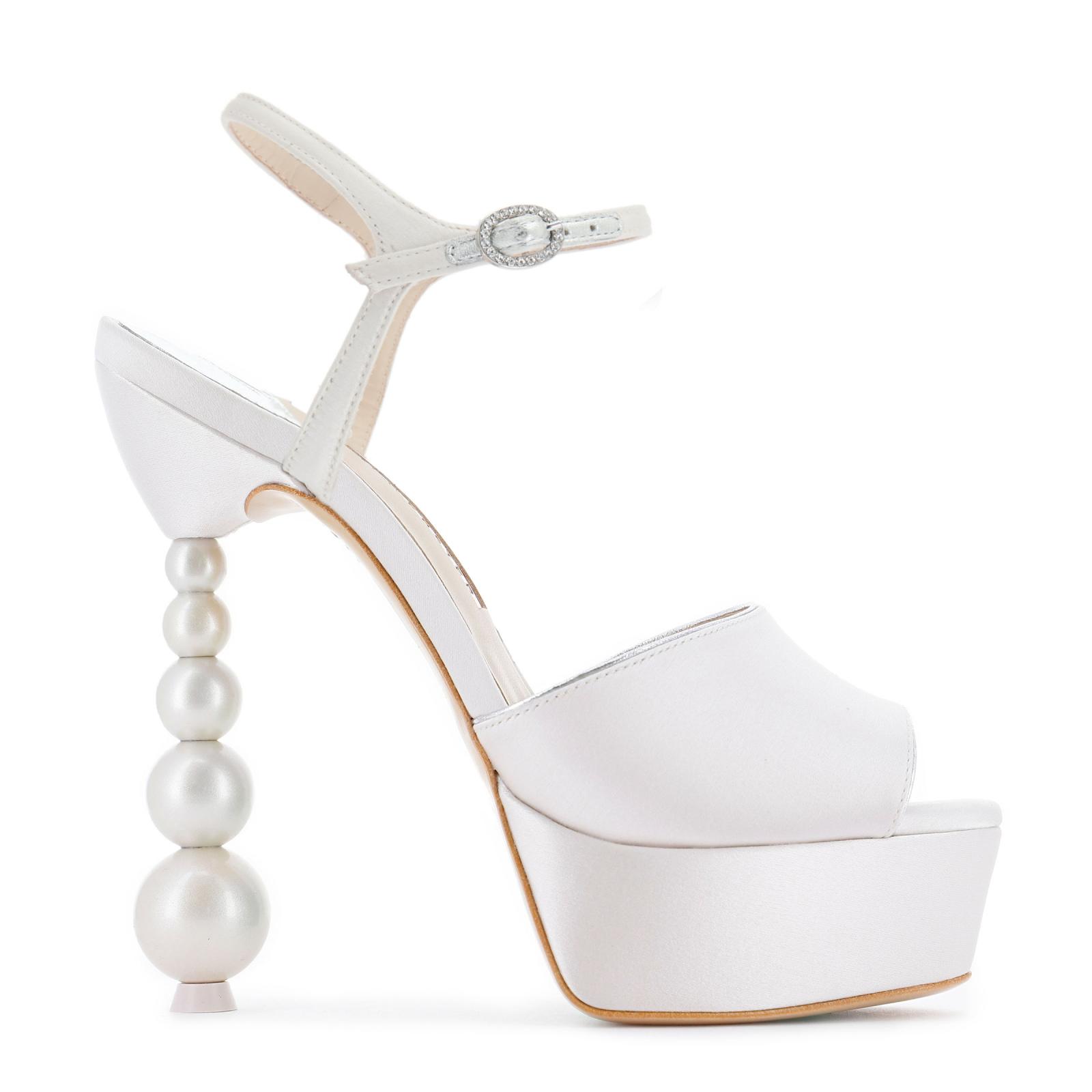 (Photo: WHITE  NATALIA PERLA PLATFORM)
The soft ivory satin Natalia Pearl Platforms include a stunning, height enhancing pearl heel that rests on a 140mm base, a pointed toe sandal with a crystal buckle, and a variable beaded heel to complete the look.
Bebe Rexha In Classic Hoop Earrings
(Photo: BEBE REXHA IN LARGE HOOP EARRINGS)
Under her long, flowing blonde hair, Rexha's big hoop earrings, which enhanced her ears, were hardly visible. But her attractiveness was unaffected by the fact that her large earrings were partially hidden. 
If you're wondering why Rexha chose a hoop over diamond-studded drop earrings or chandelier earrings, we want you to know that hoop earrings are timeless pieces of jewelry that never actually go out of fashion and are just as pertinent now as they were in the 1960s and 1970s. 
They can be plain and unadorned or ornate and embellished, which makes them fascinating and distinctive. The edgy design of hoop earrings give them a lot of character and can also give your outfit a fresh sense of flair. This is why we recommend some of the greatest designs from some of the most sought-after  jewelers if you ever decide to choose a pair of hoop earrings to finish your dress for any occasion. You can check out hoop earrings by Cartier, Tiffany & Co., Neiman Marcus, and Bvlgari.
Be an Attention Grabber Like Bebe Rexha!
Bebe Rexha was nominated for three Grammy categories in 2023, but unfortunately she didn't take home any awards. But what she lacked in accolades, she more than made up for with her statement bright pink halter-neck gown by Moschino, stunning rainbow metallic Natalia Pearl Platforms by Sophia Webster and classic hoop earrings. By purchasing comparable clothing, you too can be an attention grabber at any occasion.