On September 4, 1981, American singer, songwriter, dancer, and actor Beyoncé Giselle Knowles-Carter was born and the rest they say, is history in the making! Beyoncé is well known for her cutting-edge artistic approach and commanding voice which has taken her to the summit of the music industry. Her fame and success has transformed her into a huge pop-culture figure and to further buttress her highly illustrious position in the hearts and minds of millions of fans, she is fondly referred to as "Queen Bey".
Beyoncé became the most successful performing artist in the history of the Grammy Awards in 2023 after winning 32 Grammys and garnering 88 nominations along the way. Since the early 2000s, when she was a member of the famed all-girl singing group – Destiny's Child, the singer has been on the path to rewriting Grammy history. 
Beyoncé has had her outfit and makeup done by a variety of people over the duration of her quick ascent to celebrity stardom, including Ty Hunter, her mother Tina Knowles-Lawson, and currently KJ Moody. Several of Beyoncé's outfits for her current album "Renaissance", including the album's promotional photos and her public appearances, were inspired by Moody. 
Join us as we travel down memory lane to see Beyoncé's various Grammy Award-winning outfits over the years.
2000: Beyoncé's Debuts at the Grammys In a Beaded Gold Sequin Outfit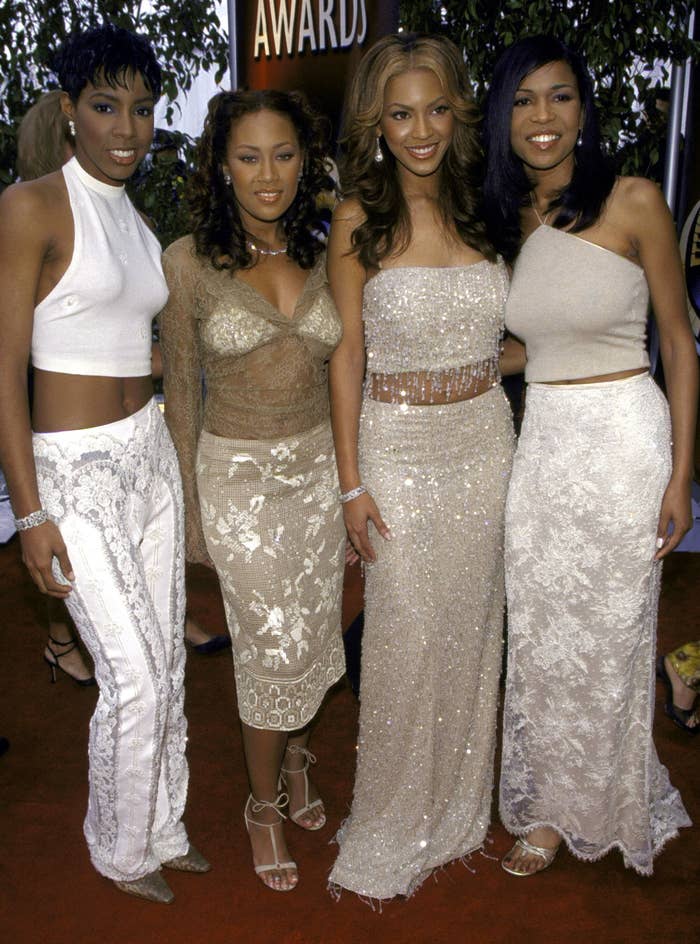 (Photo: DESTINY CHILD AT THE 2000 GRAMMYS AWARD)
Along with other Destiny's Child members, Beyoncé made her Grammy debut in 2000. The girl quintet chose an unconventional gold sequin concept with different designs. Beyoncé chose a matching cropped top and skirt with beaded sequins. "Bills, Bills, Bills" by the group was nominated for two awards. Yet they left the Grammys empty-handed that year.
2001: Beyoncé Wear Matching Green Sequin Lace Attires With Members of Destiny's Child
The next year, the team, which had previously consisted of four women, was reduced to three and appeared on the red carpet dressed by Tina Knowles (Beyonce's mother) in beautiful hues of ivory, cream, and caramel.
Later, they stood in matching green sequin lace attires behind the scenes with their awards. The team won two of the five sculptures that were up for grabs.
2004: Beyoncé Debuts As A Solo Artist In Stunning Golden Gown
(Photo: BEYONCE AT THE 2004 GRAMMY AWARDS)
Beyoncé attended her first Grammys as a solo performer in 2004. She was considered in six categories for her solo album, Dangerously in Love, so choosing a beaded halter neck golden gown was a good idea since she returned with five awards.
2007: Beyoncé Shows Up at Grammys in Ivory Tube Gown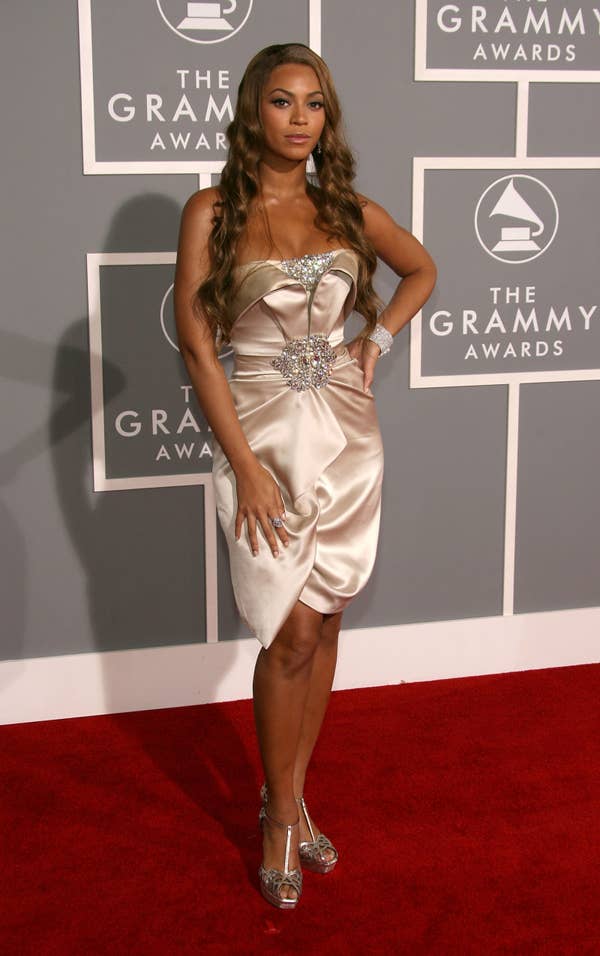 (Photo: BEYONCE AT THE 2007 GRAMMY AWARDS)
Three years later, at the 2007 Grammy Awards to be precise, coupled with being up for an award in four segments and winning one, the Dreamgirls star also took the audience's breath away by performing her hit song from the film, "Listen." She was spotted on the red carpet in a short ivory color tube gown.
2008: Beyoncé in Blue and Silver Flared Gown
(Photo: BEYONCE AT THE 2008 GRAMMY AWARDS)
Although she didn't take home any of the three trophies that she had been considered for in 2008, Beyoncé still made a splash on the red carpet that evening in a stunning blue and silver sequin flared gown.
2010: Beyoncé Wears Patterned Brown Gown to Grammys
(Photo: BEYONCÉ AT THE 2010 GRAMMY AWARDS RED CARPET)
She arrived at the ceremony wearing the most adorable patterned brown gown with intricate sleeves. She would later change this outfit to accept her six Grammy awards sculptures while dressed in a short, glittering outfit embellished with precious stones.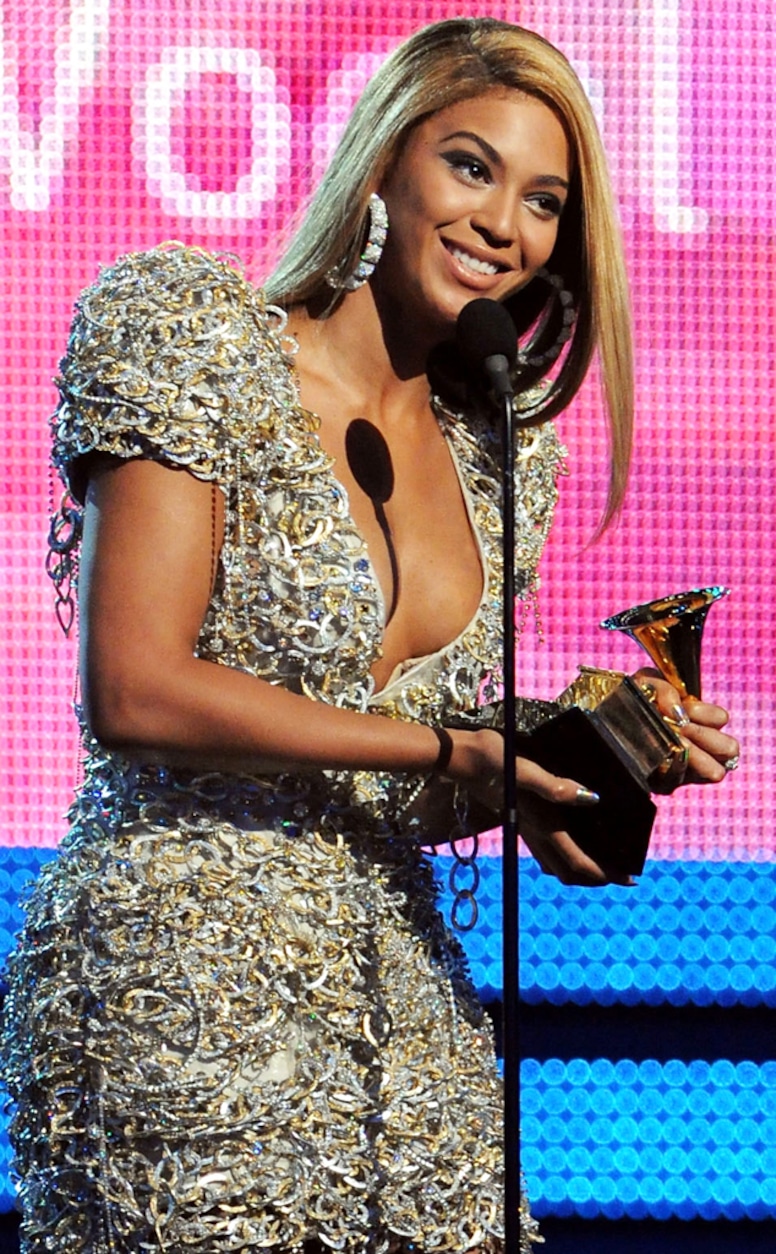 (Photo: BEYONCÉ RECEIVING HER AWARD AT THE 2010 GRAMMYS IN GLITTERING OUTFIT)
Beyoncé in Jumpsuit at 2013 Grammy Awards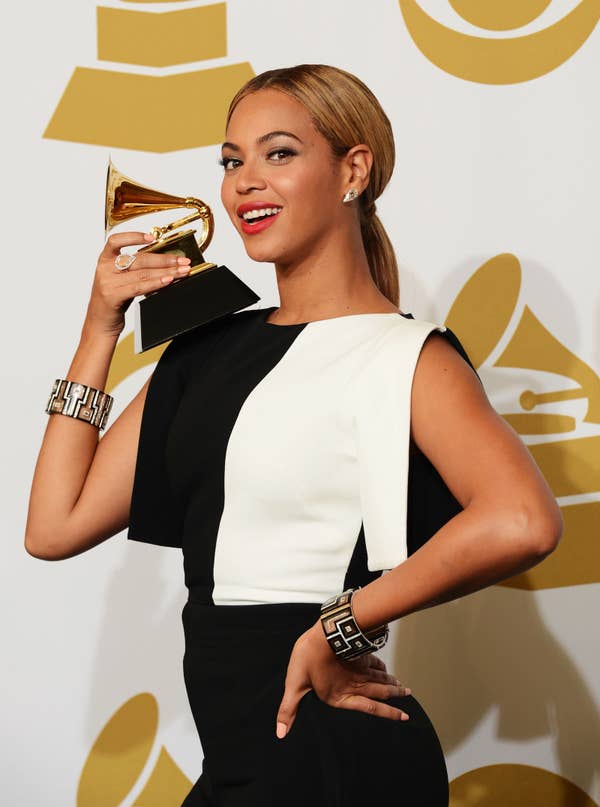 (Photo: BEYONCÉ AT THE 2013 GRAMMY AWARD IN BLACK + WHITE JUMPSUIT)
Beyoncé stunned everyone in 2013 when she showed up in a cute black jumpsuit with a splash of white. Although it was the ideal compliment for the Grammy she won that evening, it was not the extravagant attire Beyoncé is accustomed to wearing on special occasions.
Beyoncé in Sparkling Red Gown Outfit at the 2017 Grammy Awards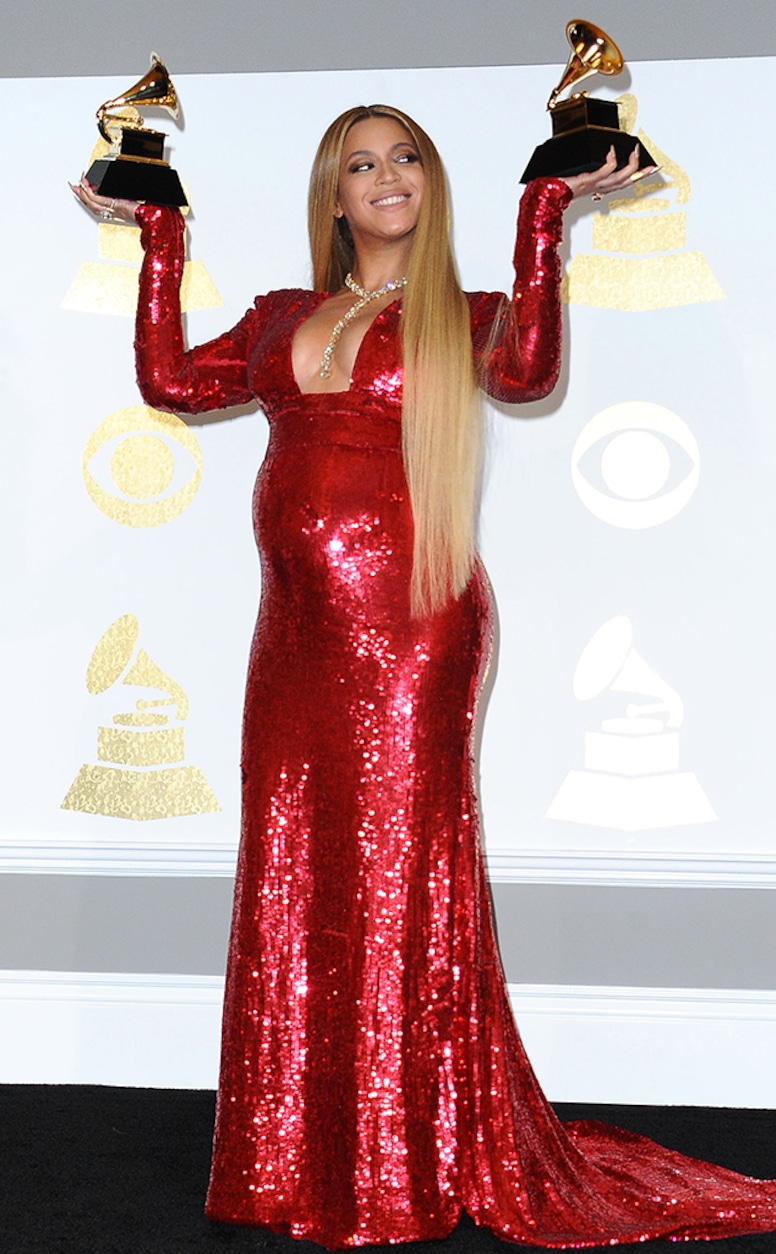 (Photo: HEAVILY PREGNANT BEYONCÉ AT THE 2017 GRAMMYS IN RED SPARKLING GOWN)
Taking a four-year leap, Beyoncé, who was eight months pregnant at the time, arrived at the Grammy Awards in February 2017 dressed in a red, sparkling sequin outfit. Then she gave a performance dressed in a goddess-worthy, stunning golden outfit. That was equally lovely and inspiring.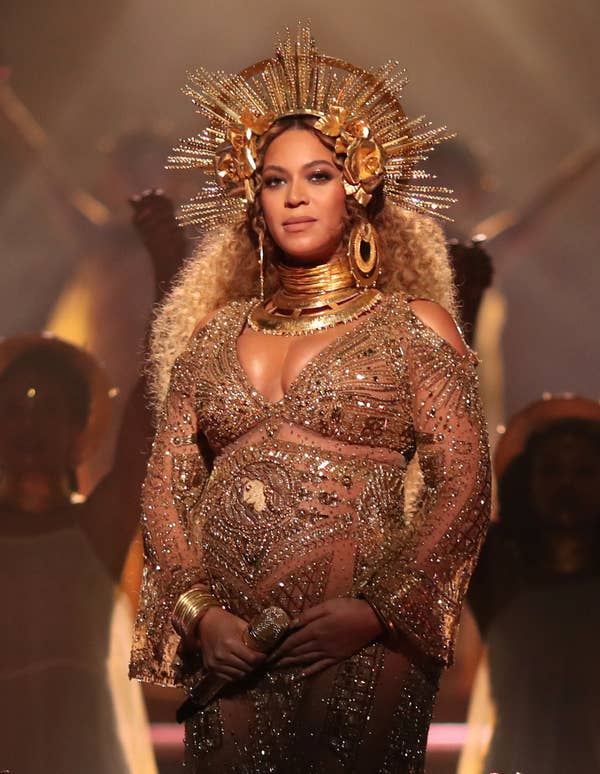 (Photo: HEAVILY PREGNANT BEYONCÉ PERFORMING AT THE 2017 GRAMMYS IN GOLDEN OUTFIT)
Beyoncé missed 2019 and 2020 Grammy Awards
Despite the various rumors surrounding her absence from the 2019 or 2020 awards shows, she did win one award at each event.
Beyoncé in a Dazzling Black Leather Dress for 2021 Grammy Awards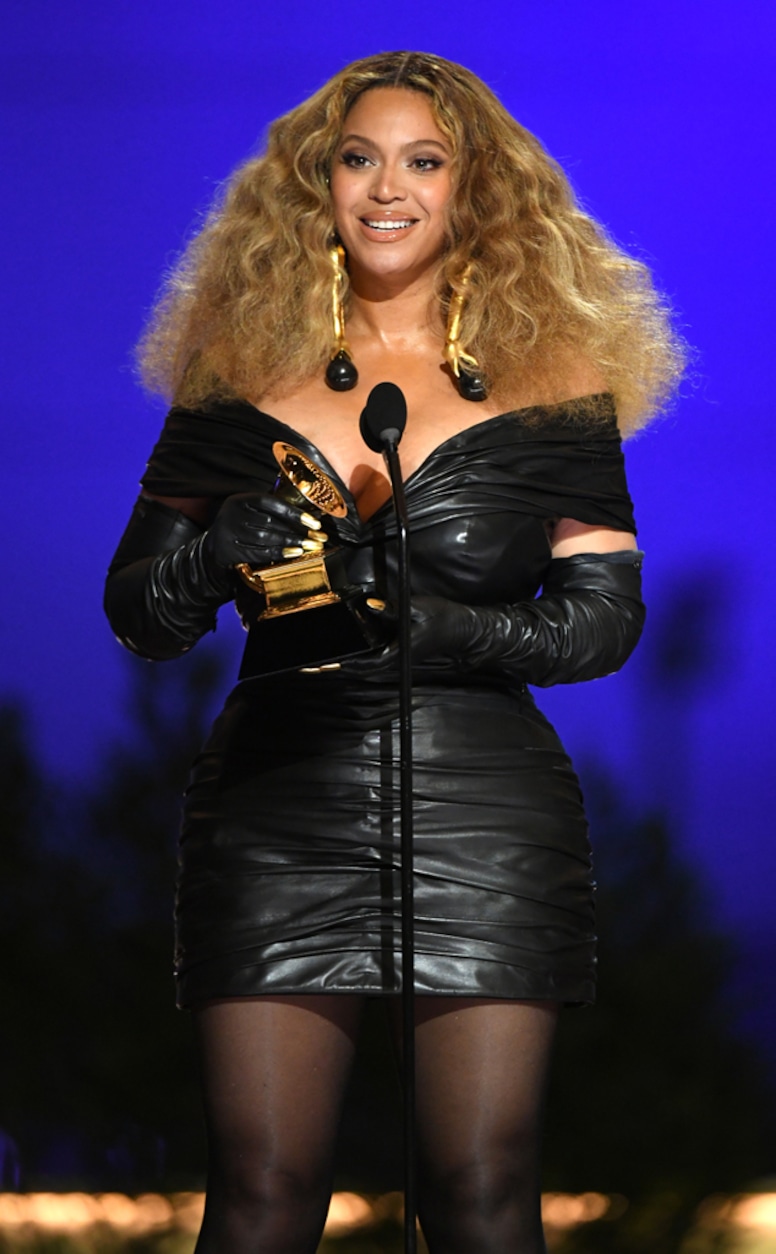 (Photo: BEYONCE AT THE 2021 GRAMMY AWARDS IN SHORT LEATHER OUTFIT)
Beyoncé set a record in addition to winning the 2021 Grammys. The four awards she received during the ceremony made her the most decorated female artist in Grammy history. She was seen wearing a short black leather dress as she accepted her career-high 28th prize.
Beyoncé's Latest Grammy Award 2023
After winning her awards and breaking the record for the artist with the most Grammys, the singer is pictured holding her Grammys while donning a couture Balmain dress made of peachy cream velvet with a deep V-cut that reveals a metallic gold bustier underneath. 
The dress had a number of outlandish elements, such as; an off-the-shoulder collar that grew into a structural cone that encircled the vocalist, a thigh-high leg cut that showed coordinating velvet tights and heeled boots under, as well as classical music gloves. The pièce de résistance was Beyoncé's gold top hat, which was washed in gold and mimicked her golden gramophone statuettes.
The singer would then quickly change into a new attire for her stylishly tardy entrance to the ceremony. She looked stunning in a corset Gucci gown with a champagne-gold colored bodice and a metallic silver skirt with a high leg slit and ruffled hem. 
She accessorized the ensemble with Lorraine Schwartz jewelry, black leather opera gloves, and silver strappy shoes.
She finally changed into her third costume of the evening, an all-black ensemble. The floor-length black velvet sculpted bodice of the strapless dress were designed with a shiny black fabric. She paired her ensemble with a pair of black opera gloves made of velvet material.
After taking home the prizes for Best Dance and Electronic Album, Best R&B Single, Best Dance and Electronic Recording, and Best Traditional R&B Act, she surpassed the previous record holder for the performer who won the most Grammy victories. Georg Solti, a famous conductor who won 31 prizes, held the position before. Bey now holds an outstanding 32 Grammy awards. Over the years, Beyoncé has captured the imagination of fans and keen observers at the Grammys with a host of exquisite outfits. But like they say – it's the wearer that makes the clothing special!