Earrings are arguably the most versatile piece of jewelry a lady can own. Earrings are the one piece of jewelry that is worn by women of all ages, from young girls to elderly ladies.
Earrings are a fashion necessity that girls enjoy wearing and one of those magical accessories that can completely change how you look by elevating or downplaying an otherwise elaborate outfit. 
There is no other accessory quite like earrings, and they can instantly transform your look regardless of your face shape and no matter what clothing or event you might want to attend. It's the finishing touch on your outfit, it doesn't make you look overdressed, but complements your overall appearance.
Each and every pair of earrings, from the simplest studs to the most elaborate statement pieces, serves a purpose in a woman's wardrobe and her daily routine.
We've compiled a variety of designer earrings, from the most classic styles to the most trendy ones in this post.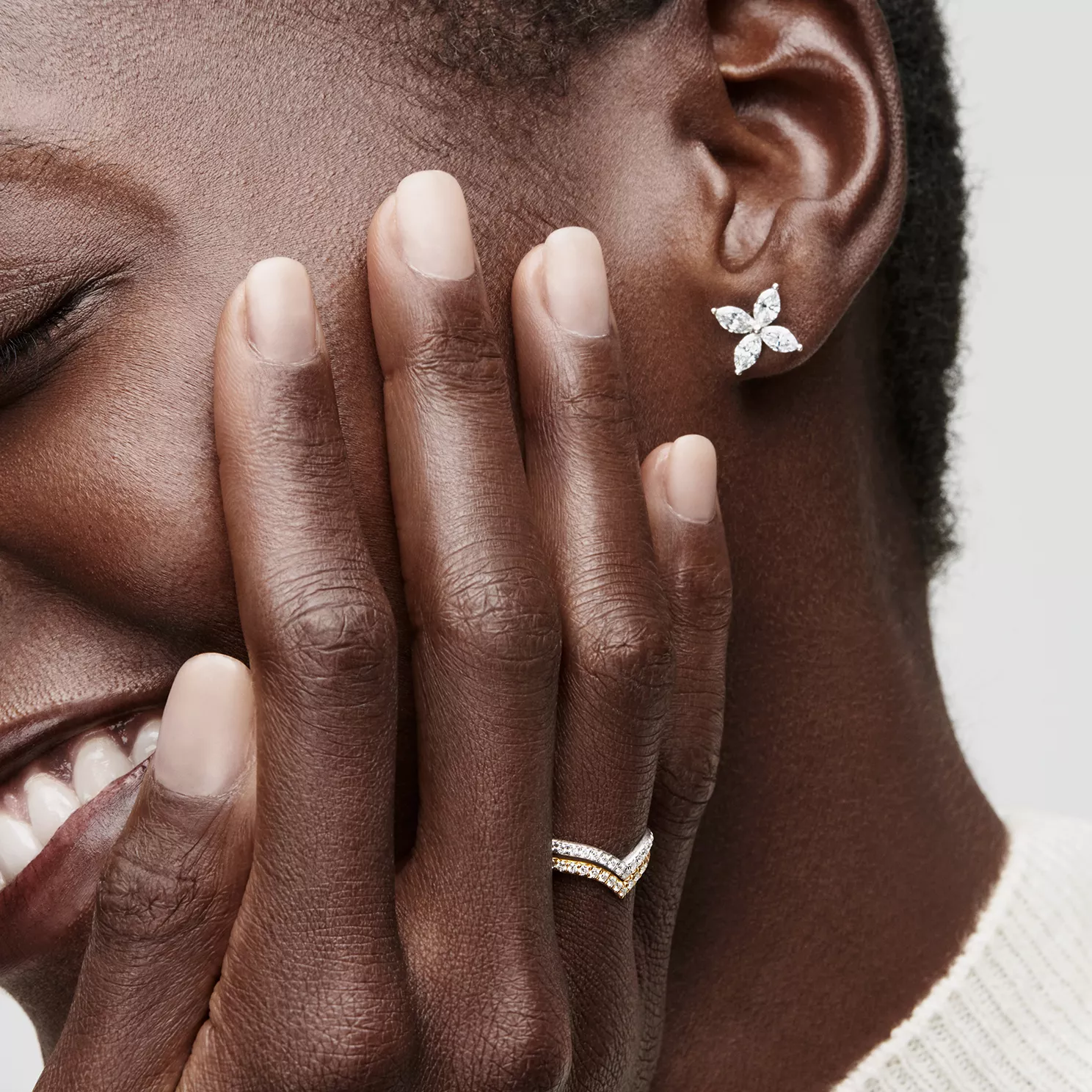 (Photo: MODEL WEARING TIFFANY & CO VICTORIA STUD EARRINGS) 
The earlobe is the primary attachment point for stud earrings. It's safe to say that studs are the most popular earring type, and it has been agreed generally that they're the most classic and simple in design.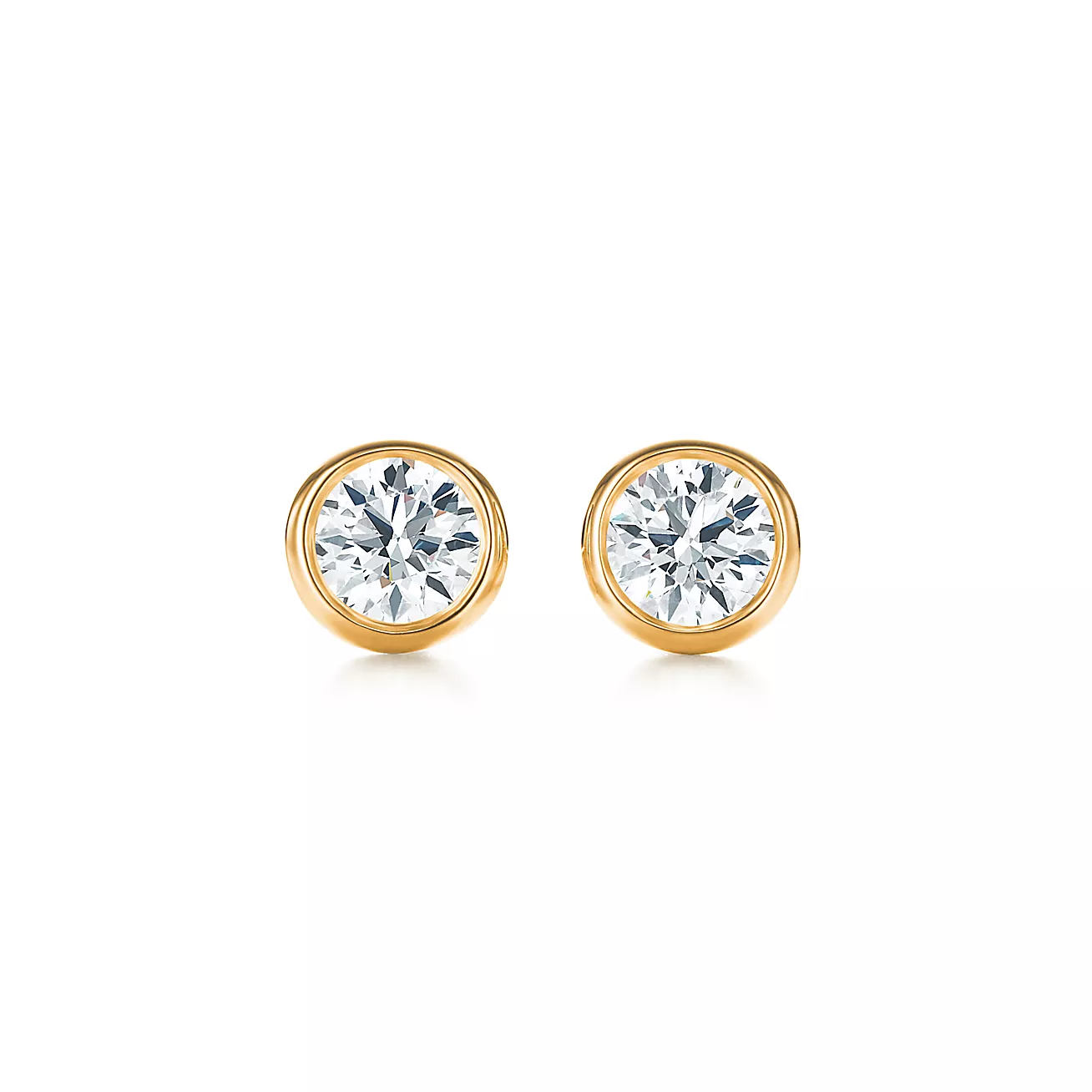 (Photo: TIFFANY & CO STUD EARRING) 
Stud earrings come in a variety of styles, the most common of which is the round stud earring. They typically display a design with a cluster of jewels, but can also feature a single gem in a variety of cuts.
Although round diamonds are the most common shape for stud earrings, other cuts, including square, heart, and pear, are also quite fashionable. Studs can be worn from day to night, with any length of necklace, and for every occasion. Tiffany & Co. offer really beautiful stud earrings from the Elsa Peretti Diamonds by the Yard to the Victoria and Pearls Earrings, you have a choice of luxury, high-jewelry earrings to pick from this year.
(Photo: MODEL WEARING HARRY WINSTON DROP EARRINGS)
Drop earrings are characterized by their longer and narrower profile and typically have a stone at the bottom. Different variations exist, but the basic concept is the same – earrings that drop straight down from the earlobe. 
The vast majority of drop earring designs center around a single gemstone, pearl, or diamond. They stand out due to their graceful length despite being quite plain in design. Some are lightweight and moveable, while others are more substantial and stationary.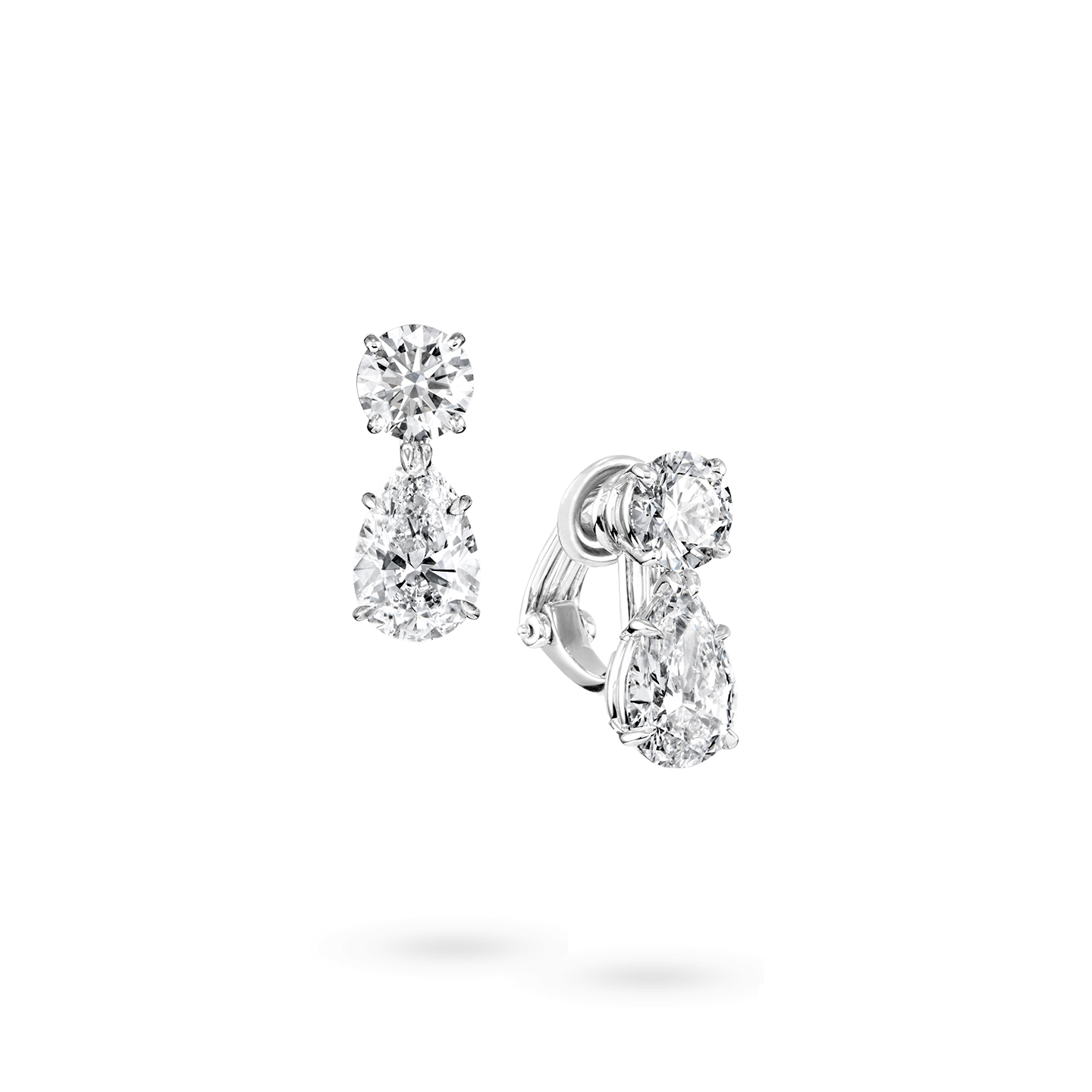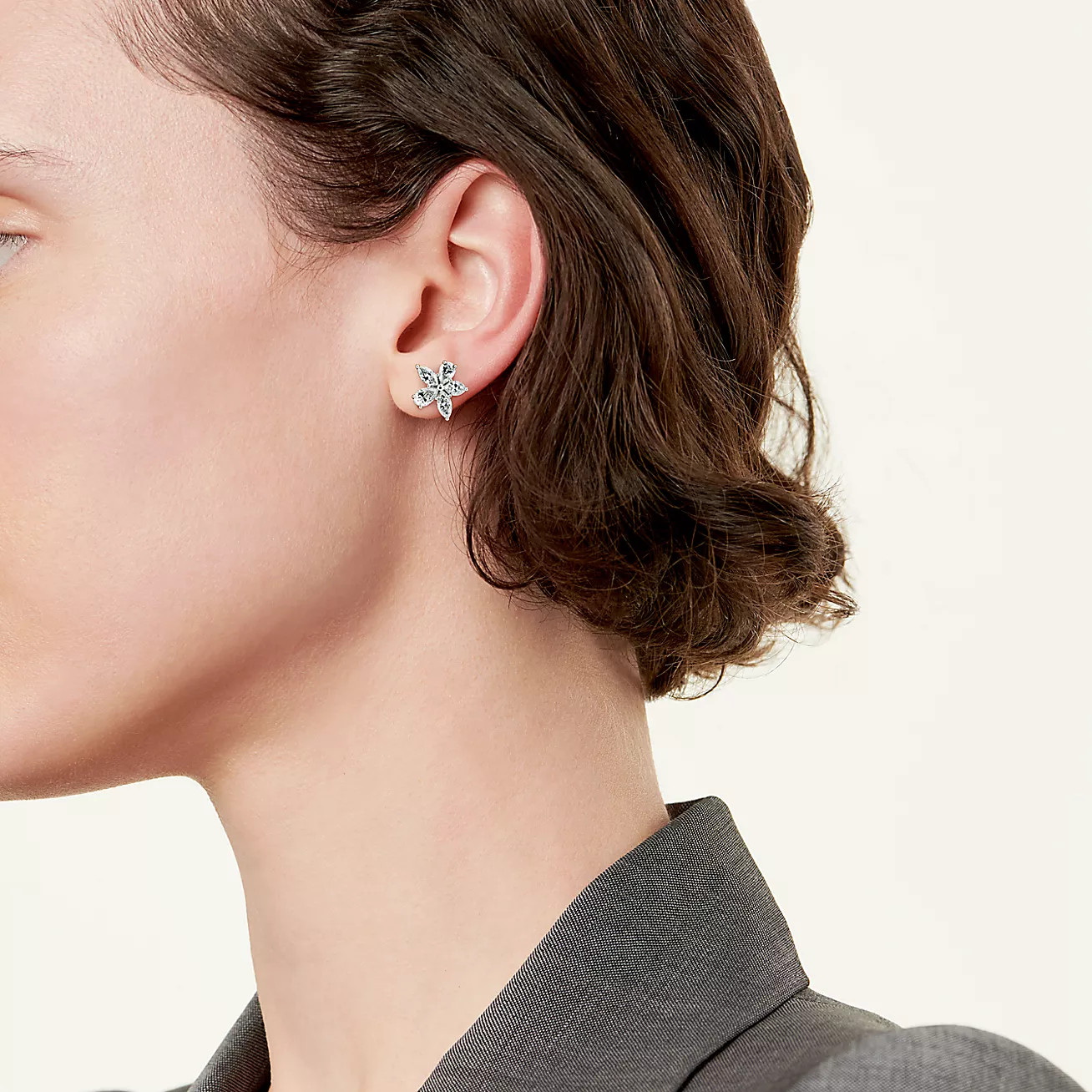 (Photo: MODEL WEARING TIFFANY & CO. CLUSTER EARRINGS)
Cluster-earrings are a popular choice for those who want to show off their baubles. The cluster earrings can come in the form of studs or they can dangle freely. Multi-stranded chains and clusters of precious stones characterize dangling cluster designs.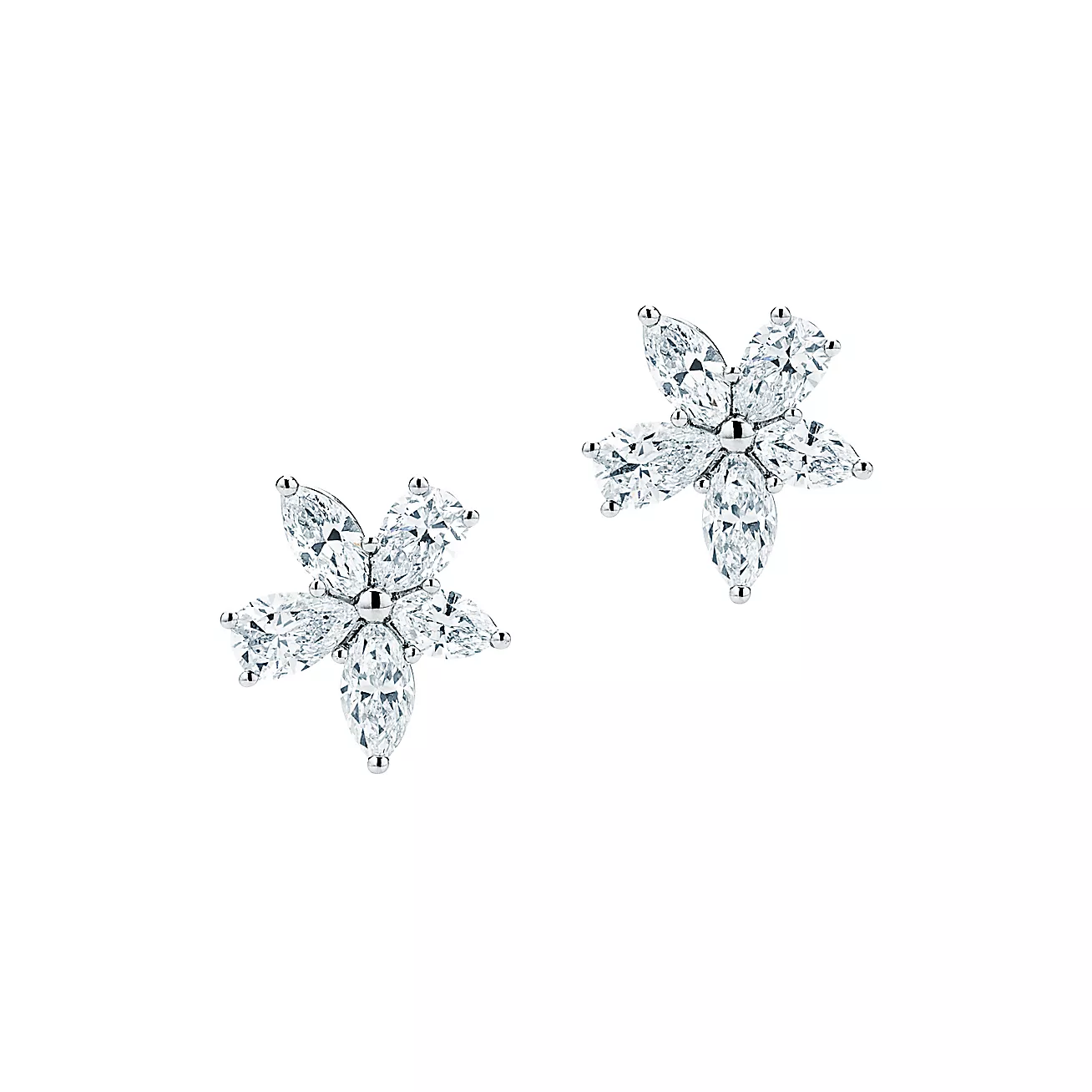 (Photo: TIFFANY & CO. CLUSTER EARRINGS)
Cluster stud earrings are a modern alternative to traditional studs that can amp up any ensemble. Cluster earrings, as opposed to conventional studs, are meant to draw attention to the wearer's face. Tiffany & Co. Cluster earrings are some of the most exotic around. You should check out the platinum and diamond Tiffany Victoria Mixed Cluster Earrings if you want a classy high-jewelry accessory for that special event.
(Photo: MODEL WEARING AMULETTE DE CARTIER DANGLE EARRINGS)
Dangle earrings in contrast to their cousins, the drop earrings constantly sway back and forth which lends credence to their moniker. 
Although most of the jewelry in this category is on the lengthy side, some of the smaller pieces with thinner chains still qualify.
(Photo: AMULETTE DE CARTIER DANGLE EARRING)
Dangle earrings can be anything from a simple chain to a tassel to an elaborate design decorated with gems. The Amulette de Cartier offers an exquisite design and comes with white mother of pearl and yellow gold.
(Photo: MODEL WEARING JOHN HARDY HOOP EARRINGS)
The Hoops Earrings, which are often made of metal, are fastened at the back with a wire that is meant to be threaded through an ear piercing. While hoops in the traditional round shape are always in style, hoops in more contemporary oval, square, or diamond shapes are also common. 
There is a wide variety of hoop earring designs in a range of sizes, from tiny studs to massive, shoulder-grazing hoops.
(Photo: HOOP EARRINGS BY JOHN HARDY)
John Hardy Hoop Earrings in 18k gold with a snap clasp are perfect for both formal and informal occasions to complement any clothing preference and style.
(Photo: MODEL WEARING JENNIFER BEHR AVELINE CHANDELIER EARRINGS)
Chandelier earrings are a type of dangle earrings that are aptly shaped like classic chandeliers. Earrings with chandeliers are the most extravagant choice because of the sophistication and feminine allure they radiate.
(Photo: JENNIFER BEHR AVELINE CHANDELIER EARRINGS)
The Jennifer Behr Aveline Chandelier Earrings is a breathtaking design consisting of a bouquet of small golden flowers with a glass crystal center that shines brightly as it catches natural light. These earrings are a perfect accessory for your formal outings.
(Photo: MODEL WITH HUGGIE HOOP EARRINGS BY DAVID YURMAN)

Huggie Earrings are small hoops that encircle the ear. Oftentimes, they take on the appearance of a "C", but more often than not, they are round. Huggie earrings are more adaptable and comfortable to wear than huge hoops, and they complement a much wider variety of hairdos. Their diminutive size ensures they won't fall out and won't mess up any hairstyle.
They are beautiful in their understated simplicity, whether made with metal alone or embellished with precious stones.
(Photo: DAVID YURMAN HUGGIE HOOP EARRINGS)
The 18k yellow gold David Yurman Huggie Hoop Earrings with full pavé diamonds from their Renaissance Collection for Women are just gorgeous and can be worn at any time of the day and for all occasions. 
(Photo: MODEL WEARING CHOPARD HAPPY HEART JACKET EARRINGS)
The primary section of jacket earrings rests behind the ear, while the front features a clasp or stone for added security. This one-of-a-kind pair of earrings is meant to dangle just below the ears for a charming and unexpected "quick glimpse" effect.
(Photo: CHOPARD HAPPY HEART JACKET EARRINGS)
The Chopard Happy Hearts ethical rose gold, mother of pearl and diamonds jacket earrings are perfect for every woman.
(Photo: MODEL WEARING DAVID YURMAN MOBILE CHAIN LINK DROP EARRINGS)
Earrings of this type typically have wire that loops behind the ear and hooks behind the lobe. This style of wire hooks is the primary distinguishing feature between them and other earring fasteners. Wire Hook Earrings feature a fish hook and a decorative element that can range in size from tiny to massive. Drop, dangling, chandelier, and other variations on the wire hook earring theme exist. The simple attachment method makes wire hooks a great choice for jewelry on-the-go.
(Photo: WIRE HOOK STYLE EARRINGS BY DAVID YURMAN)
You can check out the David Yurman Mobile Chain Link Drop Earrings which come in 18k yellow gold and can be worn as a standalone, complemented or layered with charms or David Yurman exquisite enhancer pieces.
Earrings are frequently seen as a way to round off an ensemble. Many people don't feel they've arrived until they've accessorized their outfit properly. Earrings are a quick and easy way to revamp your look. You can use them to draw attention to the best features of your outfit, skin, or face. When you wear them, you'll immediately stand out and be able to express yourself more fully. 
A pair of earrings can take a woman's outfit to a fabulous level. For this reason, selecting and purchasing earrings from renowned designers is essential and highly advisable.