Fashion house Tory Burch, founded by American designer Tory Burch, is known for its signature blend of timeless classics and free-spirited bohemian influences. The first showing of Tory Burch's Spring 2023 collection took place in September 2022, during New York Fashion Week. The collection has a muted color scheme of earth tones and neutrals, as well as sheer fabrics and lightweight layering. 
Burch adopted a casual attitude toward the season's designs, placing emphasis on airy layers. Emily O'Hara Ratajkowski, an American model and actress, is among the models in Tory Burch's spring 2023 collection. She is joined by Vittoria Ceretti and Ugbad Abdi. Several pieces from the label's Spring 2023 runway collection are worn by Ratajkowski, Ceretti, and Abdi.
Sylvester Ratajkowski, Infant Son of Emily, lands First Ad Campaign
(Photo: EMILY & SON WITH TORY BURCH HANDBAGS)
Ratajkwoski's son, Sylvester Apollo Bear is already following in his model mom's footsteps as he starred in various pictures of the Tory Burch Spring 2023 ad, which was photographed against the bright sunset of the Hollywood Hills. The campaign's themes of women's empowerment, the strength of femininity, motherhood, and family are further reinforced by his appearance in numerous photos beside his mother. 
The models Ratajkowski, Ceretti, and Abdi showcased a wide range of the label's SS23 runway collection. These models wore a variety of the label's products, including a transparent white mock-neck with three-quarter-length sleeves, which modernizes a winter essential for warmer climes.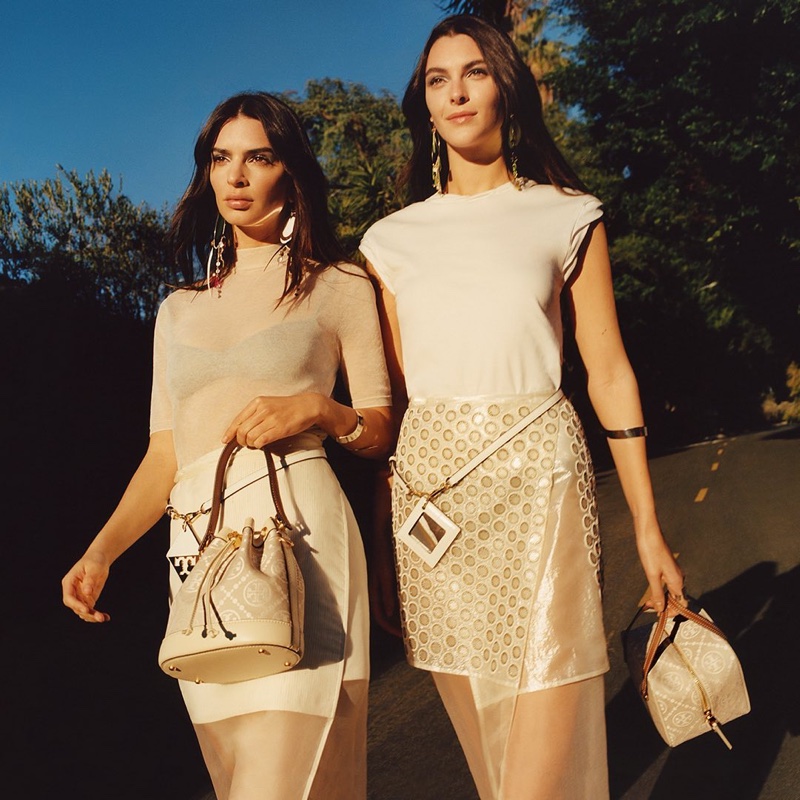 (Photo: VICTORIA CERETTI -L & EMILY RATAJKOWSKI – R, MODELING TORY BURCH SPRING COLLECTION)
Ratajkowski wore a cream-colored wrap skirt that faded into a see-through, flowy bottom with silver bangles, a branded bucket bag, and huge earrings that resembled a hoop adorned with different ornaments to complement the top. She also modeled a selection of handbags from Tory Burch.
Follow us as we take you on a journey into the world of other collections from the Tory Burch Spring 2023 campaign.
The T Monogram Bags Series
The traditional Pennsylvania Dutch style of stitching served as inspiration for the timeless T monogram series. Carefully constructed in woven jacquard loom, the designs outstanding and timeless. On the list of the T Monogram collection are; 
(Photo: EMILY RATAJKOWSKI WITH T MONOGRAM BUCKET BAG) 
The  T Monogram Bucket Bag, which rests on a solid metal plate, has an adjustable and removable crossbody strap that is around 21.7″ in length. The bag comes with a leather-trimmed jacquard exterior and a microfiber interior that has a suede-like texture with a mini pocket in both the interior and exterior, in addition to secure zip-top closure. 
The full dimensions are 8.3″ (21 cm) in height, 8.3″ (21 cm) in length, and 4.7″ (12 cm) in depth. It has enough space to be used as a sleepover accessory kit. 
T Monogram Jacquard Cube Bag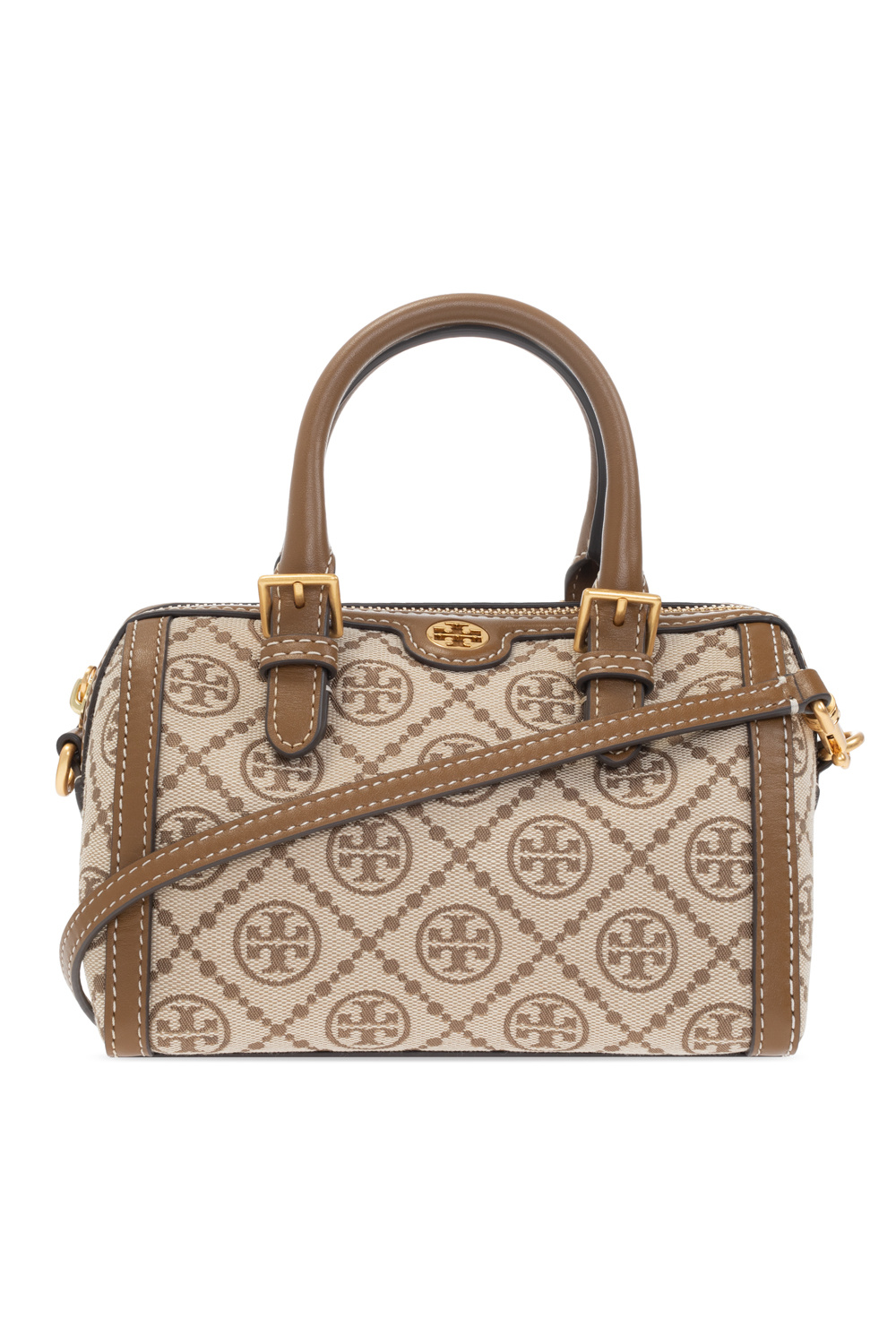 The T-Monogram Jacquard Cube Bag is a masterpiece in precision craftsmanship. Featuring a hidden slip pocket for cards and a zippered closure for peace of mind, the leather top handles are a comfortable 4.3 inches (11 centimeters) in length, and the 21.3-inch (54-centimeter) crossbody strap is removable and adjustable (54cm). 
Both the top handles and the detachable, adjustable crossbody strap make it convenient to carry. This layout was developed to function as a utility bag and to make a fashion statement.
Small T Monogram Shoulder Bag
The Small T Monogram Shoulder Bag is reminiscent of the 1970s thanks to its structured silhouette, sporty adjustable and removable webbing strap of around 12.6″ (32 cm), and adjustable, removable leather crossbody strap of 21.3″ (54 cm). 
The interior is finished with plush microsuede and features numerous compartments for stowing your phone and other small items. It also features a magnetic snap clasp in addition to the zippered midsection. This small T Monogram shoulder bag is ideal for both casual use and occasional outing.
T Monogram Contrast Embossed Wallet Crossbody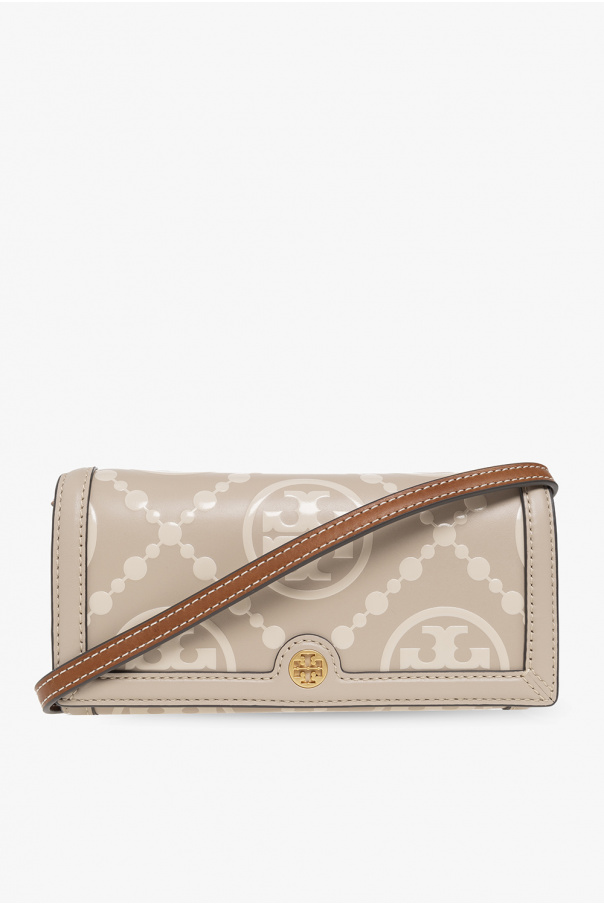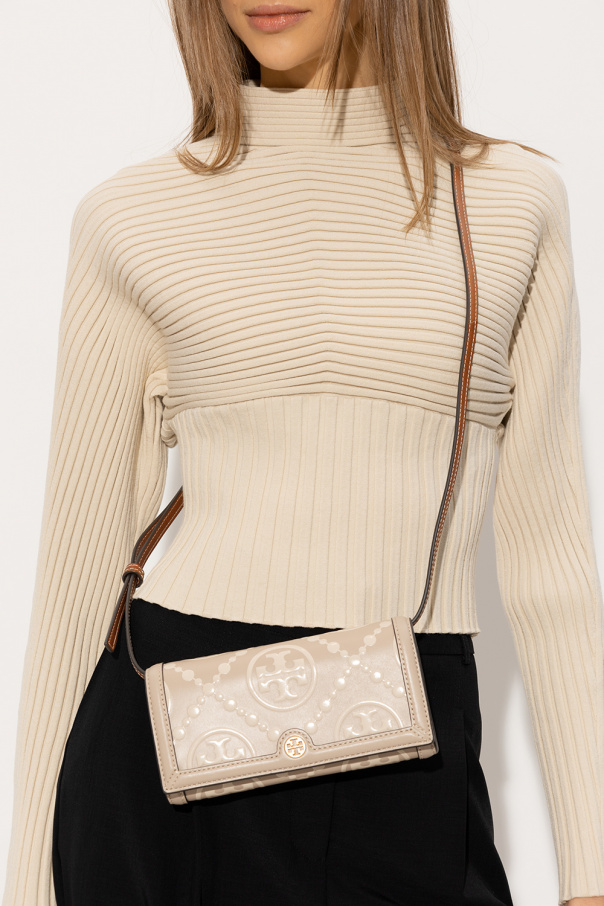 (Photo: MODEL WITH T MONOGRAM CONTRAST EMBOSSED WALLET CROSSBODY)
It measures a total of 4.1″ (10.5 cm) in height, 7.7″ (19.5 cm) in length, and 1.6″ (4 cm) in depth. This T Monogram Contrast Embossed Wallet Crossbody is perfect for everyday use.
Although small in shape, but not in comfort, the Mini T Small Tote is lined with a plush microsuede. An adjustable shoulder strap and removable crossbody strap are also included.
(Photo: MODEL POSING WITH MINI T SMALL TOTE)
With the dimensions as follows: height 7.3 inches (18.5 cm), width 6.3 inches (16 cm), and depth 2 inches (5.1 cm), you will get the sleek and stylish look you've always wanted in a tote.
Small T Monogram Contrast Embossed Tote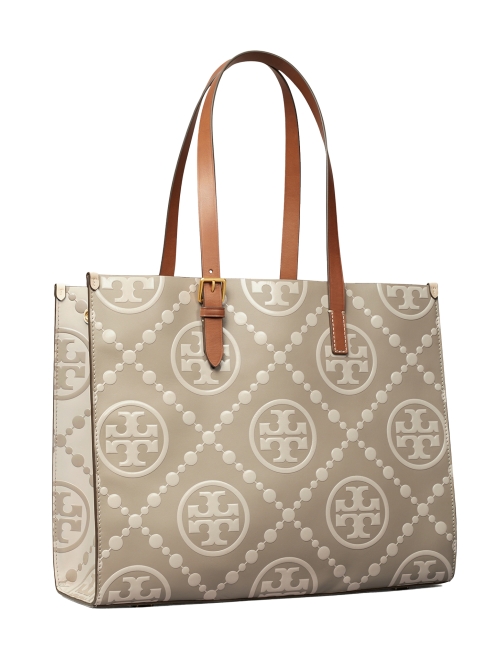 The Small T Monogram Contrast Embossed Tote is made of leather with contrasting embossing; it has a top zip clasp and an adjustable, detachable crossbody strap which is a common theme with Tory Burch bags. 
There are two distinct styles in one thanks to the contrasting color palettes on either side. The inside is lined with plush microsuede and features handy compartments for storage. 
Its total  height is about 9.9″ (25.2cm), length about 12.6″ (32cm); and depth of  5.1″ (13cm)
The T Monogram Series comes in different materials and colors, for more of these and other collections visit the Tory Burch official website today.
Why do Tory Burch T-Monogram bags look so appealing?
Tory Burch bags are a great choice if you want a high-end accessory that will last a long time and look great with any outfit because of their impeccable construction and signature attention to detail. 
No matter what your preference is, from quilted totes to leather crossbody bags, Tory Burch has an item for every woman's needs – so don't miss out, get yours now!