Due to their rarity, longevity, and symbolic meaning, gem-set jewelries  are regarded as the most precious.  Gemstones have mesmerized people for countless years with their unparalleled brilliance and distinctive appeal. Gemstone jewelries can be spectacular and elegant as well as more understated, making them ideal for everyday wear. 
Gemstones have since become one of the most significant jewelry embellishments, be it anklets, necklaces, rings, or even bracelets! They come in a plethora of varieties, ranging from organic, pastel, and earthy tones to juicy, deep, and expressive hues, as a result, they add a splash of color to any collection.
A lot of these stones are also employed in medical treatments, additionally, gemstones are often ascribed to birth months. 
Finding genuine gemstones can be challenging, but once you choose the ideal jeweler for you, you've already struck gold!
See which gemstones are used according to birth months and the finest charming jewelry to buy for each stone
Garnet is typically thought of as a red gemstone. However, garnet can be found in a huge range of hues. Red almandine from Madagascar, green tsavorite from Tanzania, yellow mali from Mali, orange spessartite from Mozambique, pink malaya from Tanzania, green merelani mint from Tanzania, red pyrope from Cote d'Ivoire, green demantoid from Namibia, purple rhodolite from Mozambique, and orange hessonite from Mozambique.  
Nine out of ten of these garnets come from Africa, which is only recently becoming a significant supplier of outstanding garnets. 
Garnet stones are said to have the most spiritual power. It is believed to revive the tranquility and enthusiasm that had died in one's life and also awaken basic instincts while restoring one's confidence and real world optimism.
Boucheron Serpent, Rose Gold, Rhodolite Garnet & Diamond Necklace
Harry Winston's Candy Spessartite Earrings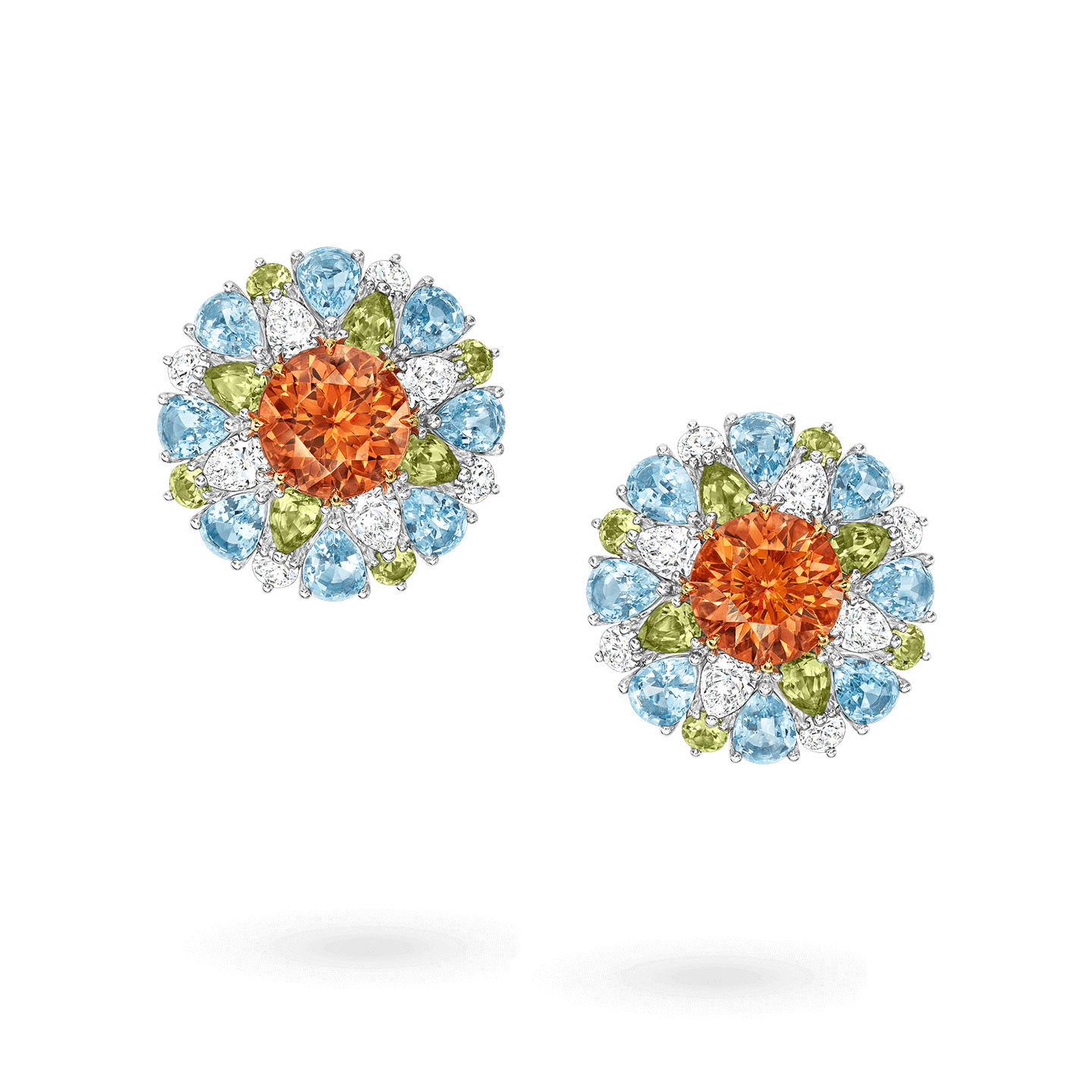 Jazz up your look with the brightly colored Harry Winston Candy Spessartite Earrings. These color splash earrings are crafted with two mesmerizing round spessartite center stones and exquisitely glazed peridot, aquamarine, and diamond accents.
Boucheron Serpent Bohème Bracelet, S Motif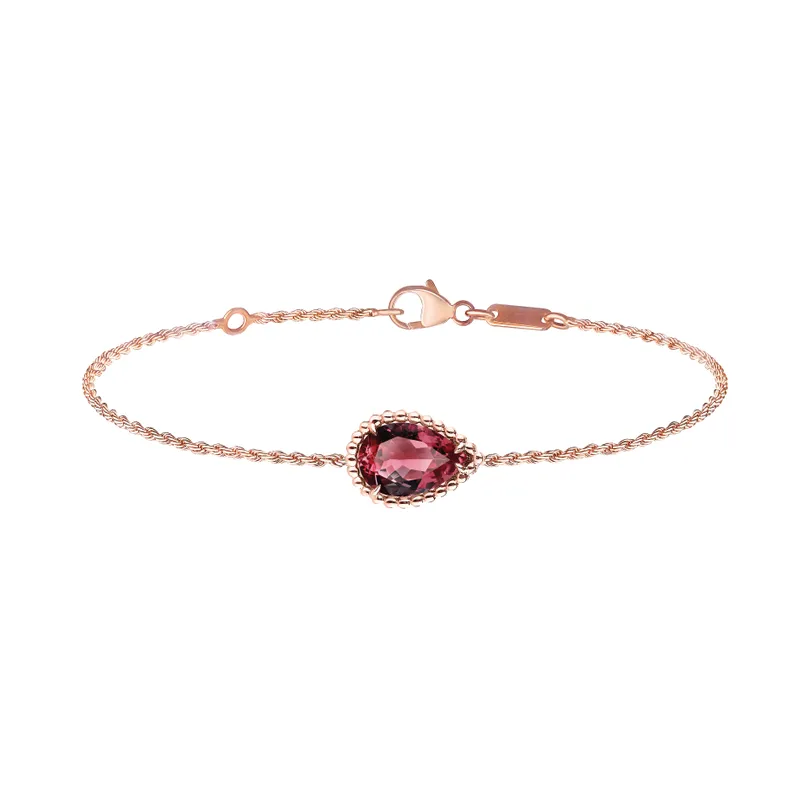 You will absolutely love the simple, elegant Boucheron Serpent Bohème Bracelet as it warmly coils around your wrist. This bracelet is crafted from 18k rose-pink gold and set with 2.13k rhodolite garnet.
Zales Oval Garnet, White Topaz and Diamond Accent Ring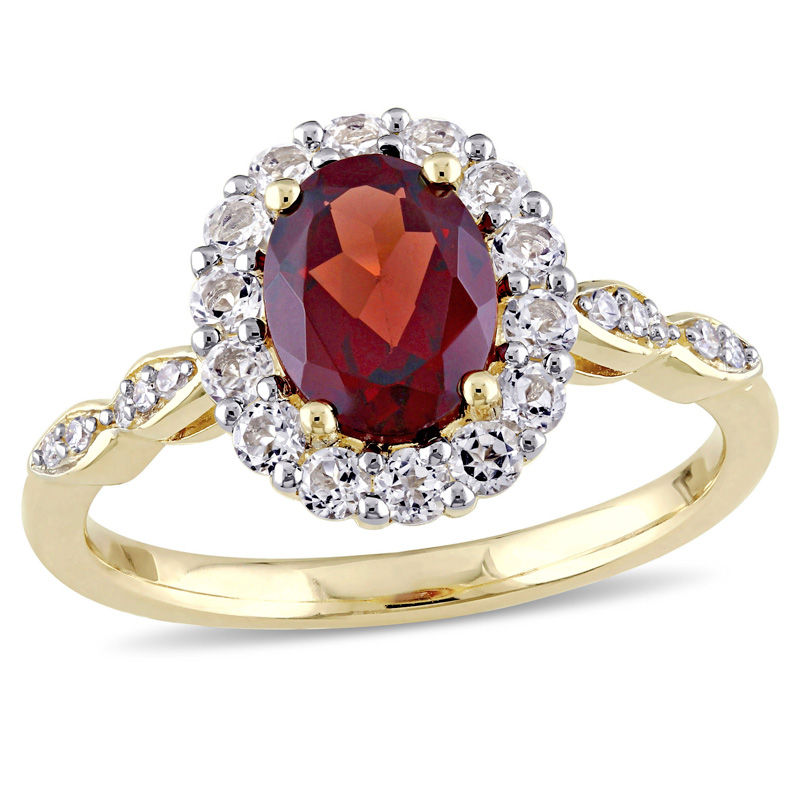 The Zales Oval Garnet, White Topaz and Diamond Accent Ring adds the perfect finishing touch to a gorgeous outfit. The centerpiece, which is made of warm 14K gold, has an oval-shaped royal red garnet that is framed with glittering white topaz. 
Each side of the ring's thin shank is embellished with a pair of small diamond embellishments in tiny marquise-shaped frames. As we begin the month of February, you might want to consider getting this ring, as it is a perfect Valentine gift.
As one of the most stunning jewels that has mesmerized people for millennia, amethyst gemstones are also used to manufacture jewelry such as rings, pendants, bracelets, and so on. 
Royalty and religious figures used to (and still do) wear the lilac to deep purple hues as a sign of their esteemed status in society. Its lore makes a number of claims about its supernatural abilities, such as the idea that wearing it would give the wearer unfathomable wit and strength.
Harry Winston Amethyst Diamond Necklace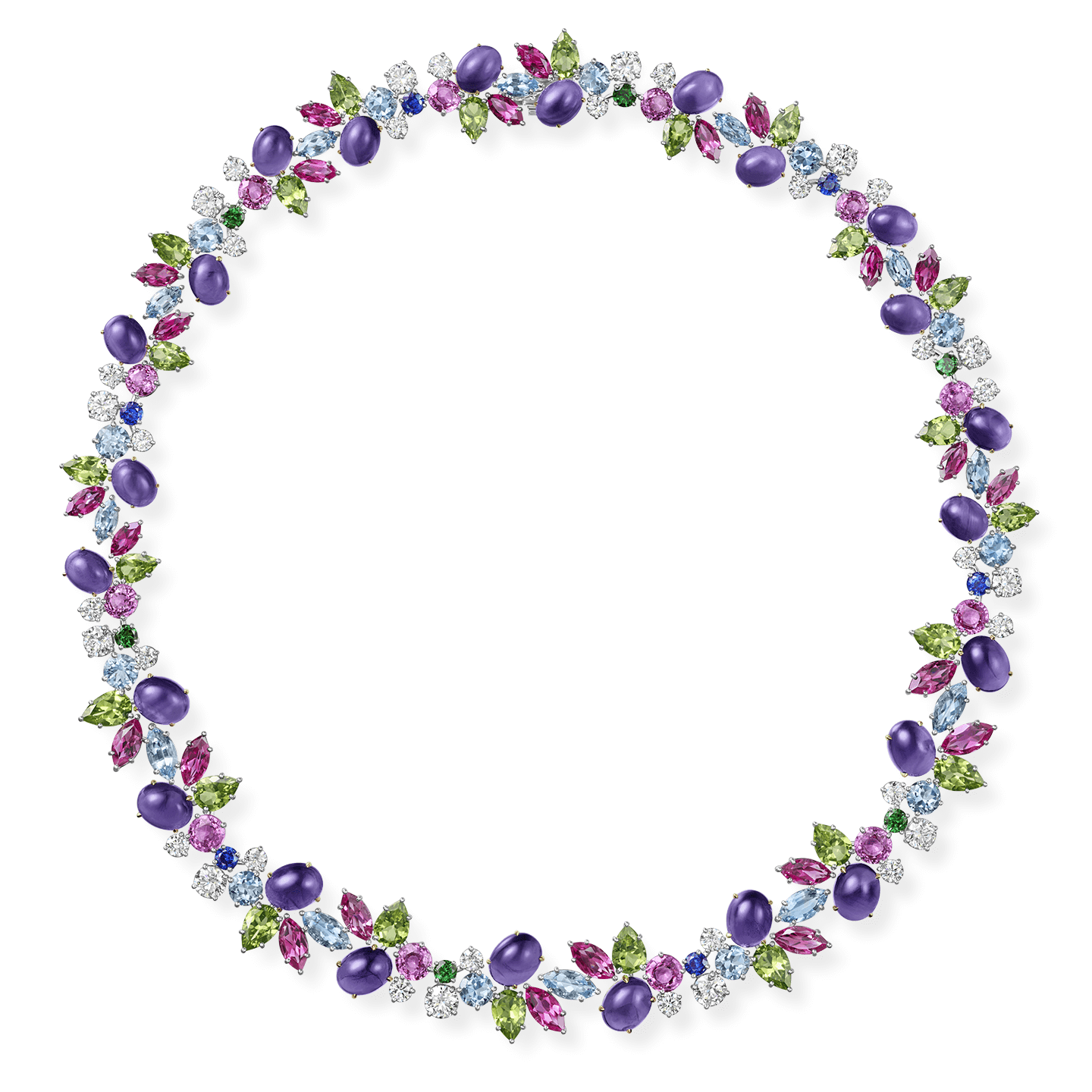 With brilliant jewels in pink, purple, and green, Harry Winston's famous wreath necklace is reinterpreted as a true spring awakening, evoking the unending splendor of a garden in blossom. 

The Harry Winston Amethyst Diamond Necklace is made of round brilliant diamonds, pear-shaped peridots, round and marquise aquamarines, round tsavorites, pink sapphires, and cabochon amethysts set in platinum.
Seaman Schepps Iolite Amethyst Wave Earrings
This bold iconic piece should be in every jewelry box. You will love the way the pattern designs on the piece reflects the beauty of a true wave. The Seaman Schepps lolite Amethyst Wave Earrings are made with 18k white gold and set with 9.50 carats of iolite and amethysts.
Fred Leighton Collet Cushion Bracelet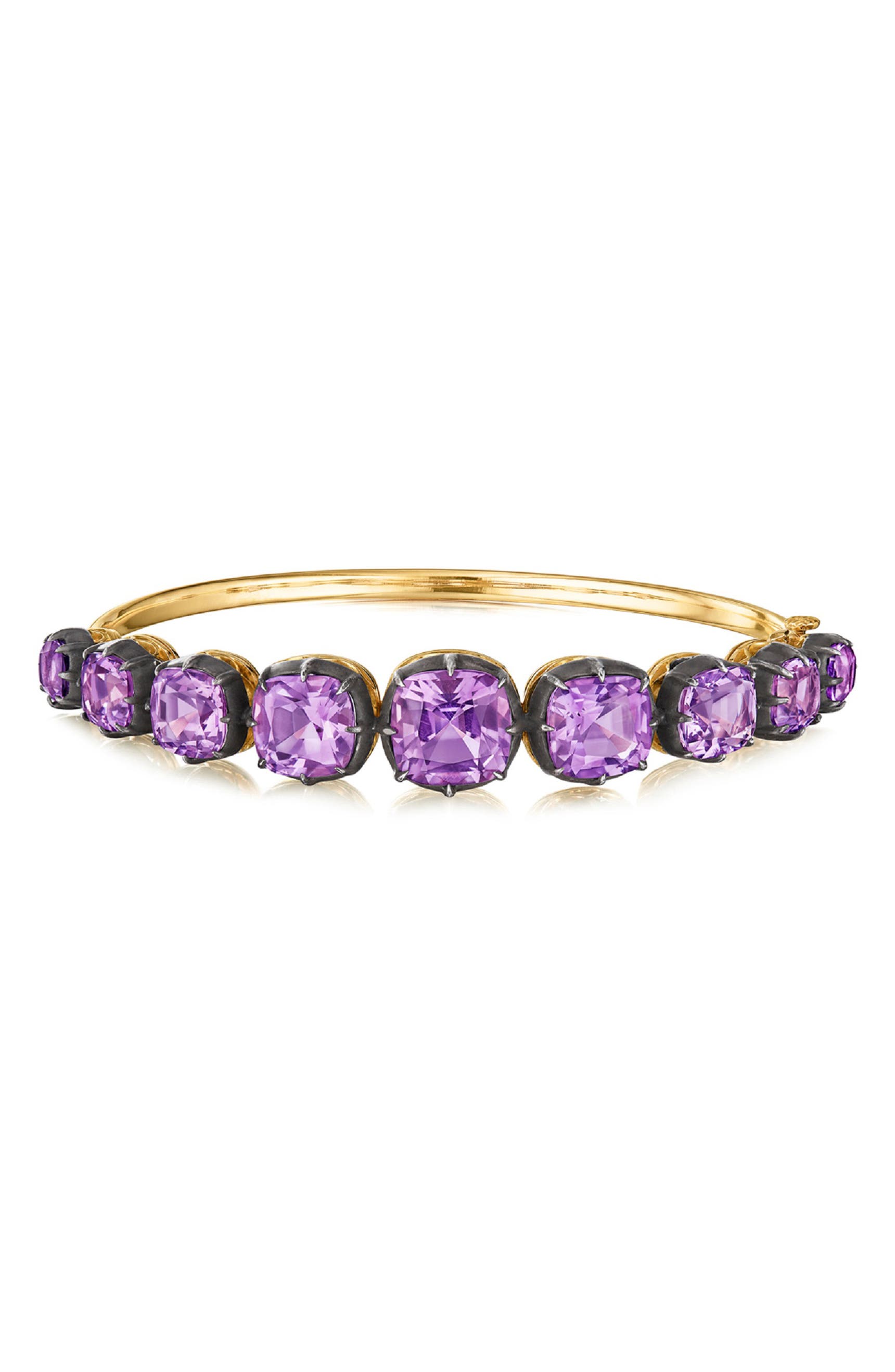 This 18-karat gold bangle bracelet is adorned with cushion-cut, silver-plated stones. It combines elements of both contemporary and modern design. 
The Fred Leighton Collet Cushion Bracelet closes securely with a tongue-and-groove closure and a safety clasp and measures about 3/8 inch wide.
Bloomingdale Amethyst & Pink Amethyst Ring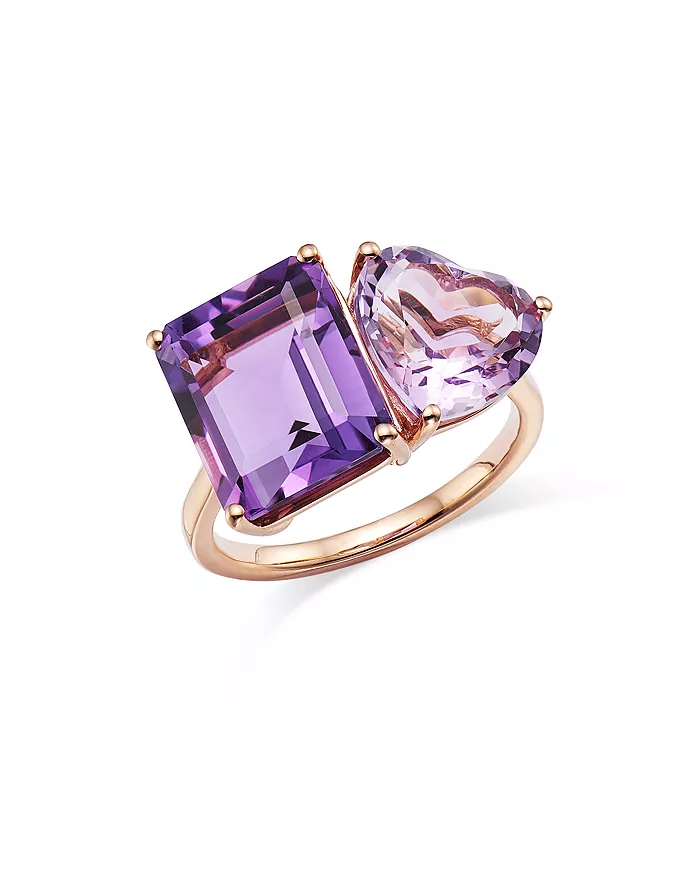 The Bloomingdale Amethyst & Pink Amethyst Ring is an exhibition of master-level craftsmanship. This piece is crafted in a 14k rose gold ring and set with an emerald-cut amethyst and a pink amethyst heart. Wearing this ring will make you stand out like royalty.
The Garnet and Amethyst precious gemstones are perfect for anyone born in the months of January and February respectively. So if you want to align yourself with your birth month jewel, try the exquisite high jewelry pieces from the notable jewelers mentioned in this post. 
You can be sure that your outfit will be perfectly complemented by these accessory items. And don't forget to check out Zales Oval Garnet, White Topaz and Diamond Accent Ring which is a great gift for that special person in your life on Valentines Day.