The Givenchy Fall/Winter 2023 Women's Collection explores a new kind of refinement by reimagining the house's traditional designs. Matthew M. Williams, the artistic director of Givenchy, draws on the house's innate sense of style to reflect Hubert de Givenchy's ethereal ideals of grandeur in the wardrobes of the creative women around him. ​
A new kind of elegance is reflected in Givenchy's Fall-Winter collection's blend of the old and the modern, in forms, structures, and design that draw inspiration from the Maison's archives  but are updated for the present. This new definition of beauty is revealed through attires made of loose-fitting sweatshirts, exquisite jersey tops, cargo pieces, felpa skirts, and kilts. Also included are dresses with ruched bodices and trains, studded leather dresses, and gowns made from twisted bands.
The Fall/Winter collection fashion show that was held in the aesthetically attractive Givenchy white box at the École Militaire, displayed outfits which are characterized by enlarged volumes, and attractive motifs.
Let us take a look at some of the ensembles at the Givenchy Fall/Winter 2023 women's collection
(Photo: MODEL IN GIVENCHY LONG DRESS-CUT JACKET)
This Givenchy long jacket is designed as a dress and worn without any lining at all. ​It features long sleeves, a strong shoulder and a gently tucked waist that does not put undue strain on the wearer.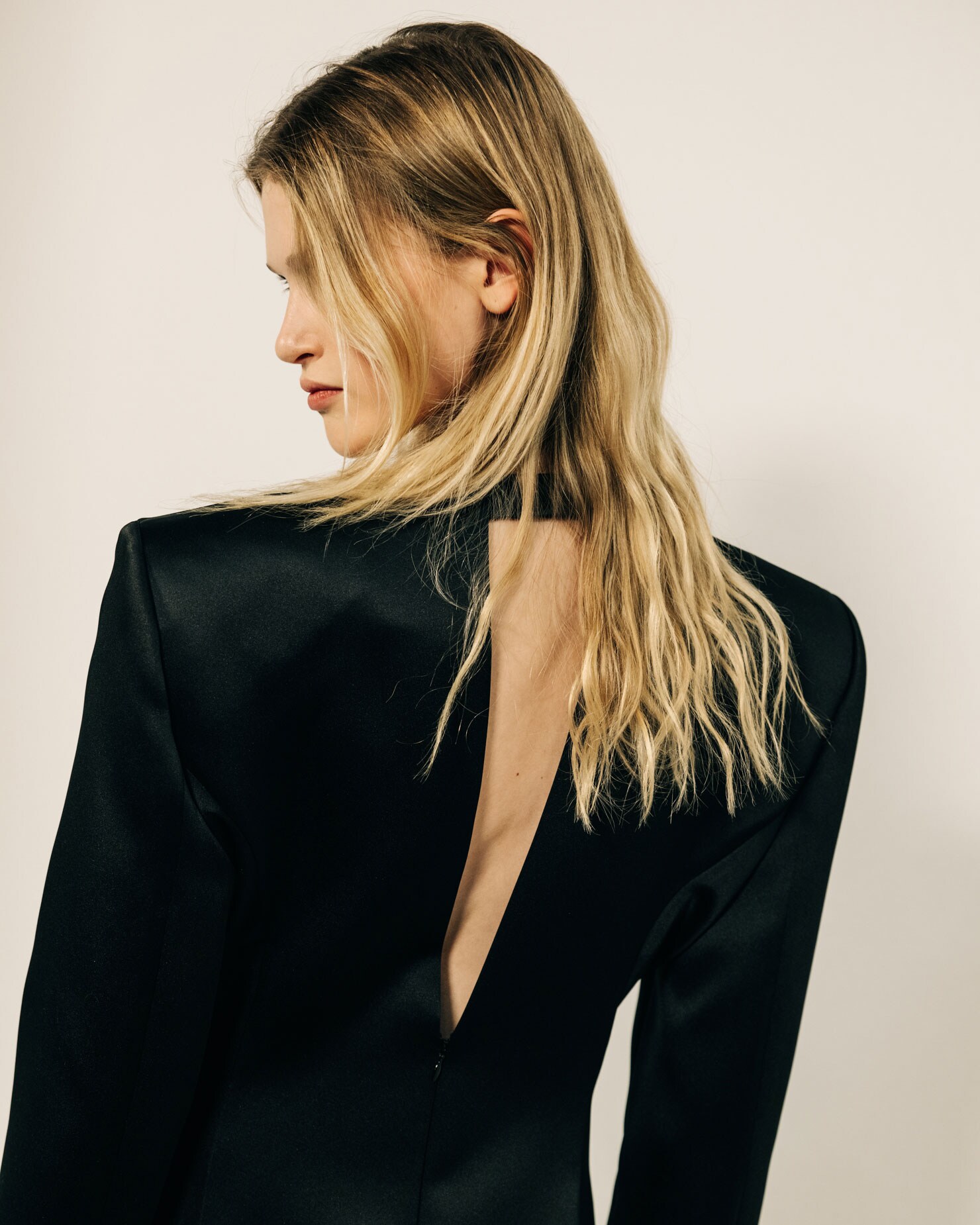 (Photo: BACK VIEW OF MODEL IN GIVENCHY LONG DRESS-CUT JACKET)
This black jacket designed by the luxury fashion couture has V shaped openings at the front and back, buttons at the waist and comes in either satin, tricotine, cashmere, or mohair.
Ruched Body Dress with Train
(Photo: MODEL IN GIVENCHY RUCHED BODY DRESS WITH TRAIN)
This lemon yellow ribbed dress has long sleeves, a round neck, drawstring waist at the hips, and a tail. This stunning gown is the number one choice for confident women everywhere.
Fish Motif Mini Dress with Tail
(Photo: MODEL IN GIVENCHY FISH MOTIF MINI DRESS)
This Givenchy mini dress with a fish theme is a terrific way to draw attention to your attractiveness. This sleeveless, white outfit is adorned with a beautiful fish pattern and is really chic.
Floral Midi Cowl Neck Dress
(Photo: MODEL IN GIVENCHY FLORAL MIDI COWL NECK DRESS)
The ultimate dramatic floral pattern embellish dress – reinvented in overdyed, multilayered nylon – this dress was inspired by Hubert de Givenchy's portfolio. The torn hem and stylish cowl neck make this outfit a must-have. 
Excellent for any upcoming outdoor gathering. It works equally well with flats or sandals and may even be dressed up with heels for a night out. The floral motif follows the fish motif as part of the maison's research into the kind of themes that appeal to the modern eye and have a glamorous undercurrent.
Pearls Turtle Neck Sleeveless Top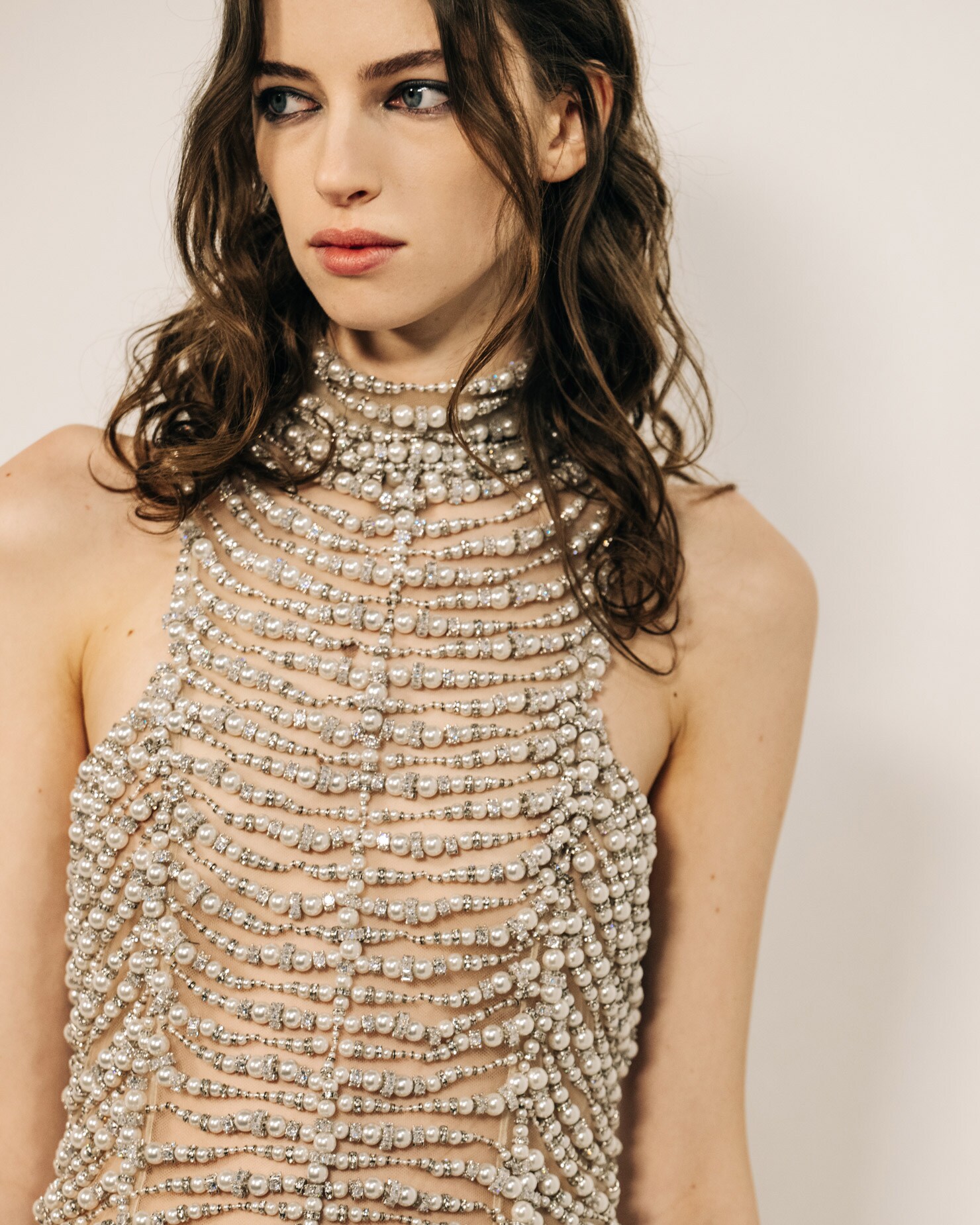 (Photo: MODEL IN GIVENCHY PEARL TURTLE NECK SLEEVELESS TOP)
The stylish Givenchy Pearls Turtleneck Sleeveless top is perfect for the woman who always wants to look her very best. The bodice is formed into a turtleneck and laced with pearls.
(Photo: MODEL IN GIVENCHY PEARL TURTLE NECK SLEEVELESS TOP)
You may achieve a posh impression by layering it under a satin shirt and topping off the look with heels.
Spazzolato Shoulder Strap Bucket Bag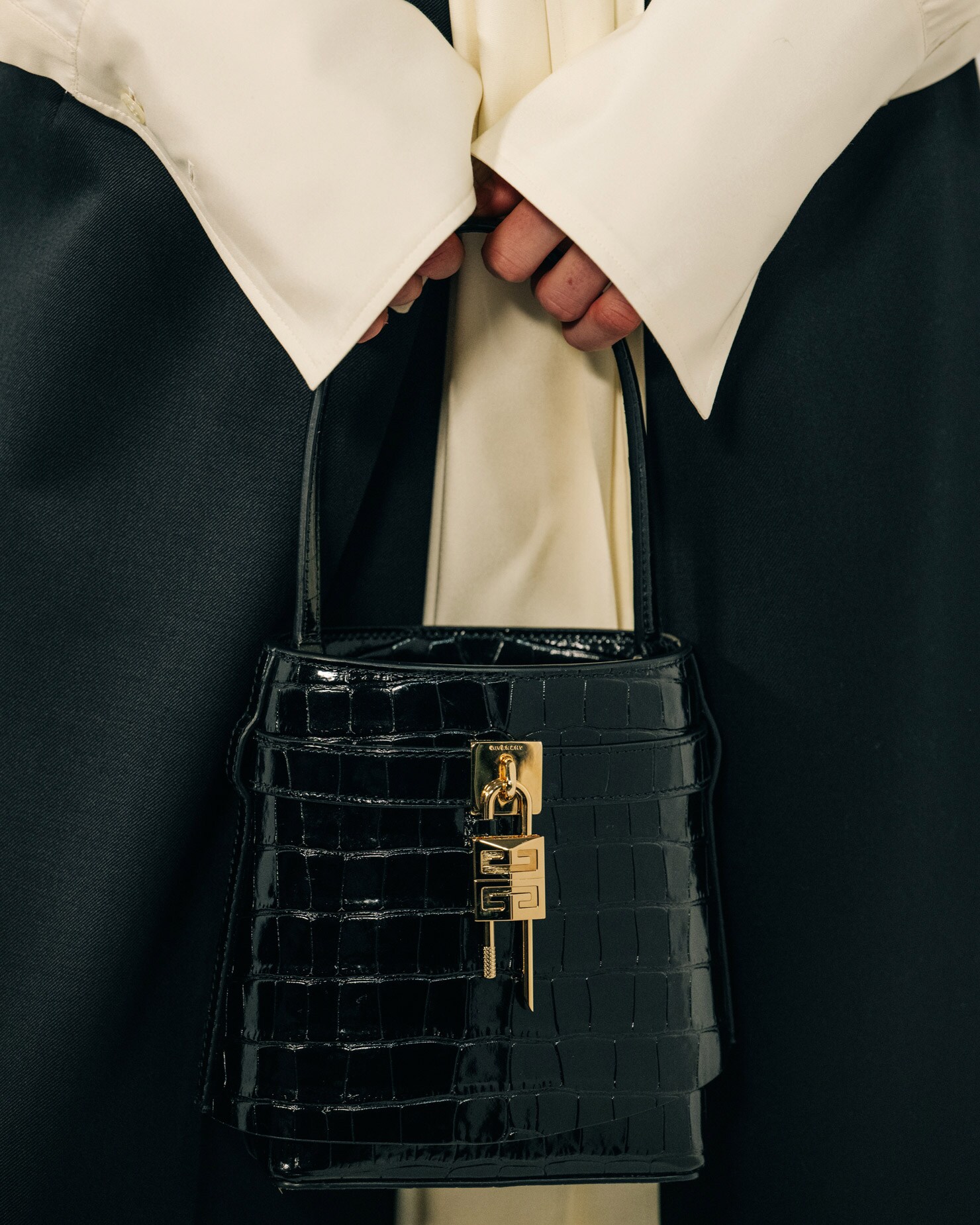 (Photo: GIVENCHY SPAZZOLATO SHOULDER STRAP BUCKET BAG)
This very trendy plain black spazzolato shoulder bucket bag by Givenchy features an internal pocket and the signature 4G padlock. It goes well with any outfit in any color.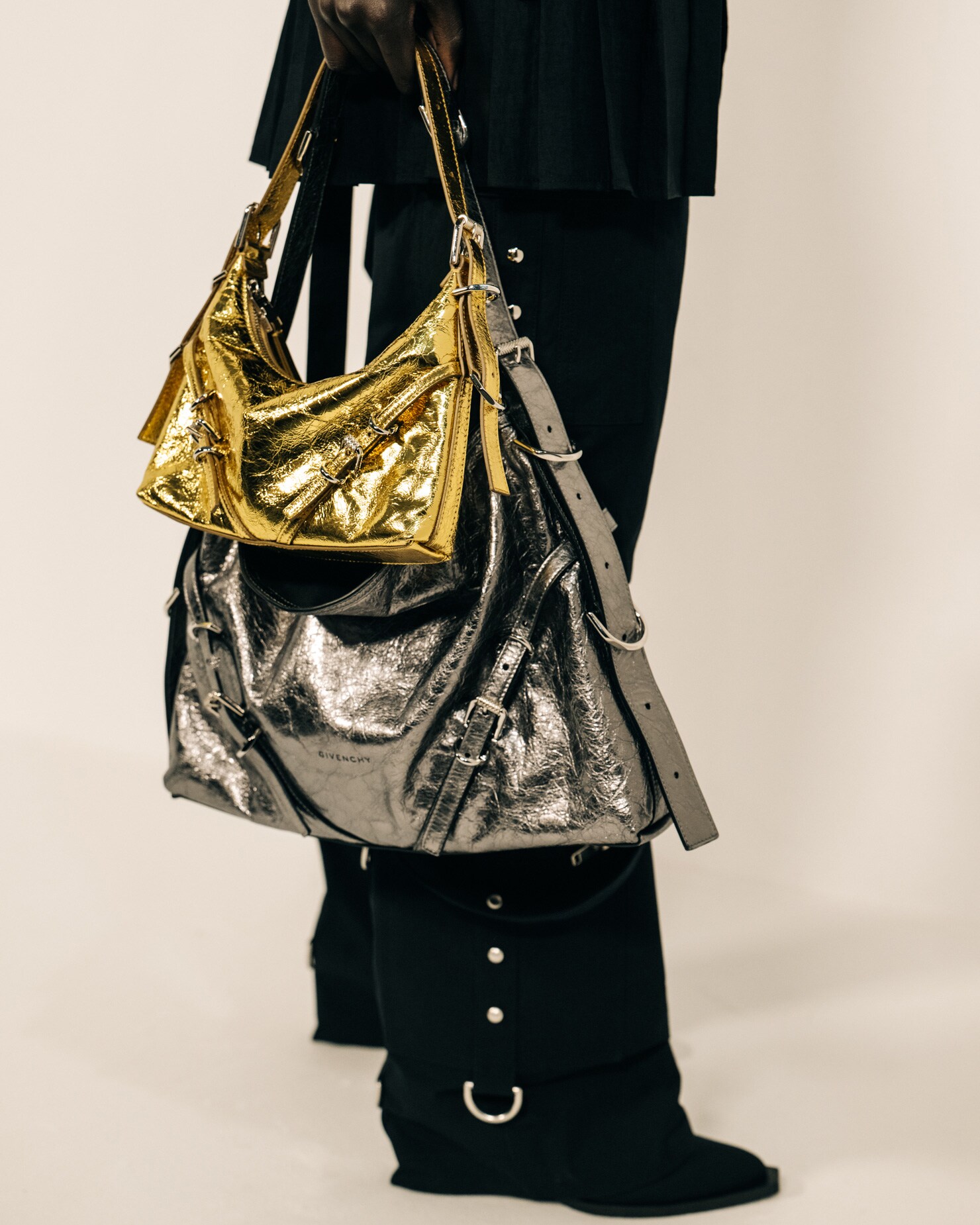 (Photo: GIVENCHY METALLIC BAGS)
Metallic handbags are not only fascinating in color and option, but they are also great for a variety of occasions and can be worn with almost anything. Metallic bags are available in gold and silver versions. With a Givenchy metallic bag, elegance is easily added to any outfit. Because metallics are reflective neutrals, these bags may be used with virtually any outfit.
Become a Part of Givenchy Legacy
At the 2023 Fall/Winter collection presentation, Givenchy's creative director Matthew M. Williams put the spotlight on dresses, rolling out a number of lengthy, seductive gowns that flowed down the catwalk. You too can become a part of the Givenchy legacy by including items from the winter collection in your own personal wish-list.