Gucci debuted its first women's ready-to-wear line in February at Milan Fashion Week following the resignation of Alessandro Michele, who resigned as Gucci's creative director on January 28, 2023. The FW23 men's and women's wear collections were developed by the fashion house's design team as a transitional period between Michele, the outgoing creative director, and Sabato de Sarno, the incoming creative director, who will present his vision for Gucci in September.
While designing these collections, the design team looked into the origins of Gucci as a fashion company and all of the component parts that have contributed to the brand's history in order to find ideas. The collection that was displayed was a blatant fusion of the quirkiness that Michele's Gucci was known for and the perversity of Tom Ford's time at the house.
Guests who arrived at the show from an elevator that opened directly at the venue were placed in cubic concrete booths and in circular chartreuse carpeted pits – which is best described as a business setting. Models went onto the green carpeted runway from elevators as the show started, with faint office lights flashing on.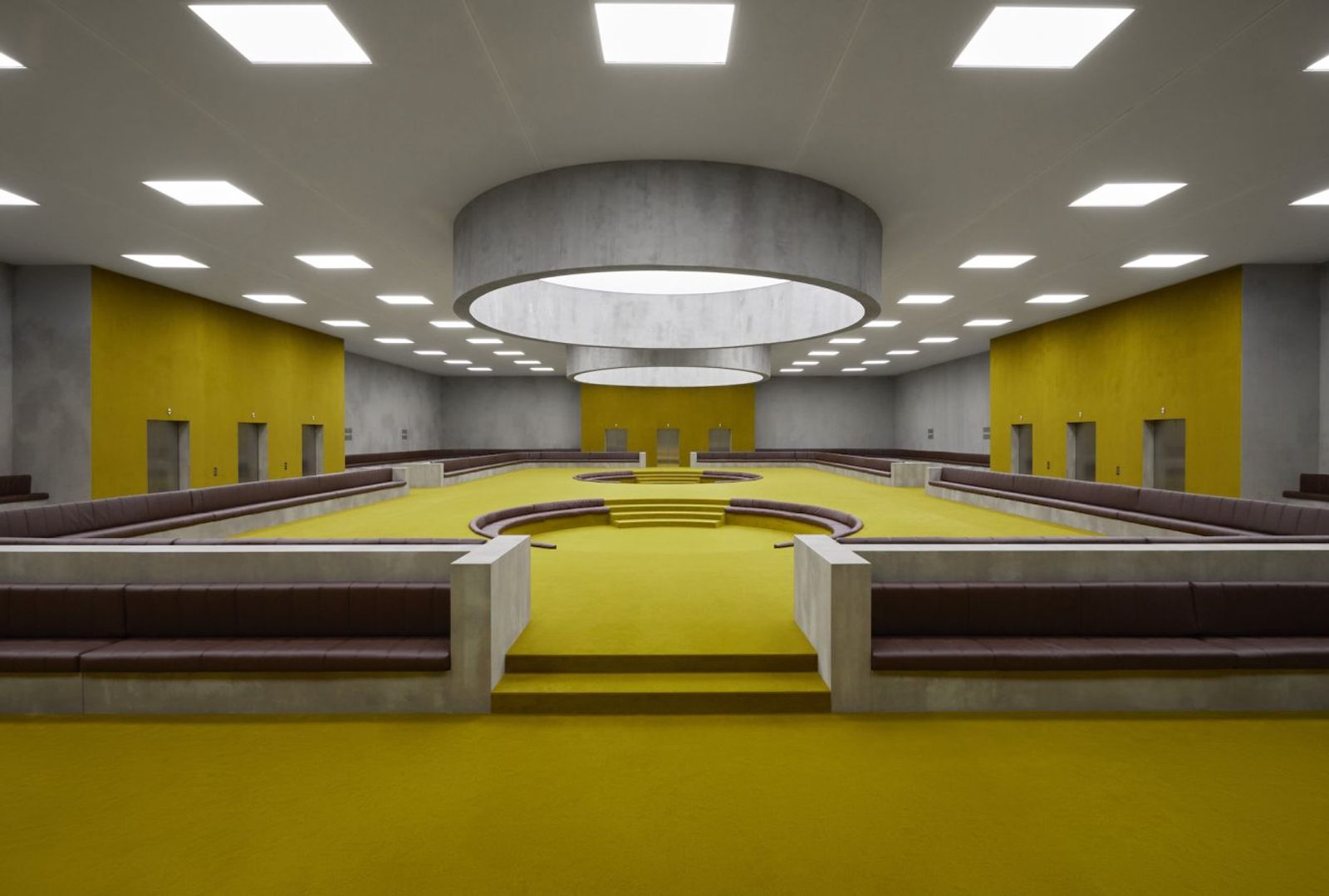 (Photo: GUCCI FW23 SHOW LOCATION IN MILAN)
Let's take a peek at a few of the outfits from the Gucci Fall/Winter 2023 collection.
Gucci Trapezium-Shaped Horsebit Clutch Bag
(Photo: MODEL CARRYING SILVER GUCCI TRAPEZIUM-SHAPED HORSEBIT CLUTCH BAG)
The reissued Gucci trapezium-shaped horsebit clutch bag from Ford's era was an ever-present accessory item carried by almost all the models on the runway for the Gucci 2023 women's collection Fall-Winter show.
(Photo: MODEL CARRYING SILVER GUCCI TRAPEZIUM-SHAPED HORSEBIT CLUTCH BAG)
This bag serves as the most obvious example of Ford-era influence in the collection, which was undoubtedly a fusion of Michele and Ford's ambitions for the company.
(Photo: MODEL CARRYING SILVER GUCCI TRAPEZIUM-SHAPED HORSEBIT CLUTCH BAG)
Gucci Metallic GG Logo Emblem Bra Paired with Gucci Straight Skirt
(Photo: MODEL IN GUCCI METALLIC GG LOGO EMBLEM BRA AND BLACK STRAIGHT SKIRT)
This Gucci metallic GG logo emblem bra is paired with a black straight silk skirt with a back slit, and a pair of scrunched up leather gloves that were finished with metallic fingertips.
Gucci Baggy Suede Pants Paired with Yellow Knitted Mohair Top
(Photo: MODEL IN GUCCI BAGGY PANTS AND YELLOW KNITTED MOHAIR TOP)
This sensuous Gucci violet colored suede baggy pants is worn under a fitted yellow knitted mohair top. This pair is a perfect match for any casual outing.
Gucci Jersey Top Paired with Embellished Straight Skirt
(Photo: MODEL IN GUCCI JERSEY TOP AND EMBELLISHED STRAIGHT SKIRT) 
This piece features a tight-fitting Gucci jersey top donned with elaborately embellished straight skirt over vibrant net tights. This duo is a choice outfit for that outing with friends.
Gucci Loose-fit Jeans Paired with Trench coat
(Photo: MODEL IN GUCCI LOOSE-FIT JEANS AND TRENCH COAT)
This stylish pair of baggy jeans is completed with a traditional-styled open button-down trench coat that is left open to show the chest. If you desire a trendy look, these will be your best bet.
Friends and Global Brand Ambassador of Gucci House at the Show
Friends and the global brand ambassadors of the House gathered at the Gucci Hub in Milan to see the reveal of the new Fall/Winter 2023 women's collection. 
These friends and global Ambassadors of the fashion house included; A$AP Rocky, Global Brand Ambassador Hanni, Julia Garner, Salma Hayek Pinault, Global Brand Ambassador Chris Lee, Global Brand Ambassador Xiao Zhan, Benedetta Porcaroli, Florence Welch, Halle Bailey, and Mneskin.
These celebs all made dramatic appearances into the women's Fall/Winter 2023 fashion show area.
Dazzle in Ensembles from the Gucci 2023 Fall/Winter Collection
These perfectly tailored and bold-colored Gucci outfits are not only chic, but also elegant and certainly worth adding to your wardrobe collection. 
So Gucci lovers out there get a head start on your shopping by adding these pieces from the Gucci Fall/Winter 2023 collection to your wish-list today.