Tiffany & Co.'s T Collection has found an ideal muse in modern fashion icon Hailey Bieber. In October 2021, Hailey Bieber was named Tiffany & Co.'s first ever worldwide house ambassador. Since then, the model has featured numerous Tiffany & Co. jewels in promotional posts and red carpet appearances, one of which was the 2022 Met Gala, where she wore diamond earrings, an exquisite single ring, and seven different bracelets.
This article in addition to highlighting the Tiffany and Co T Collection, also shows some of the many Tiffany and Co. precious jewelries worn by this supermodel at various occasions.
Hailey Bieber Rocks the Tiffany Collection at the 2022 Met Gala
The Met Gala, which had been postponed in 2020 due to the COVID pandemic, was held once again on Monday, May 2, 2022 at The Metropolitan Museum of Arts in New York to celebrate the opening of a new exhibition. The theme of the 2022 Met Gala was 'Gilded Glamour' and true to this theme, the red carpet event preceding the exhibition was a show of whose who in the fashion and high jewelry industry.
As expected, Tiffany & Co. jewels literally stole the show at the red carpet event with Hailey Bieber, the 25-year-old supermodel, actress and wife to pop icon Justin Bieber strutted down the red carpet wearing a pure white colored Yves Saint Laurent flowing gown with an elaborate feathered-trimmed cape. Your outfit was complemented by a Tiffany & Co. platinum ring embellished with diamonds, a pair of T&C diamond earrings and a few Tiffany Victoria diamond bracelets around her wrists.
Hailey Bieber wore a series of Elsa Peretti Tiffany & Co Jewelry Cuffs and Bangles at the Vanity Fair Oscars party 2022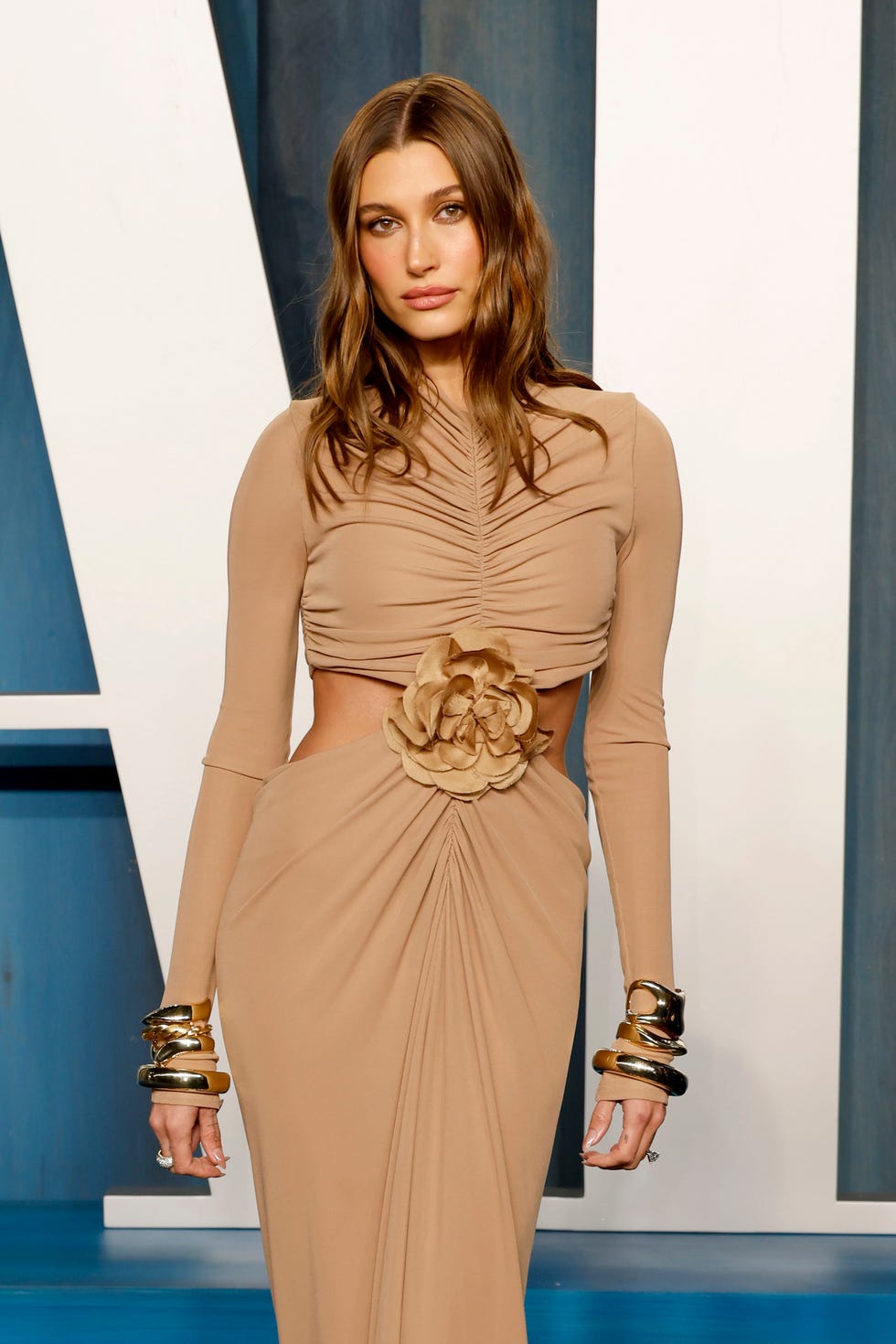 When Hailey Bieber showed up at the Vanity Fair party, she was wearing a long-sleeved, long Yves Saint-Laurent cutout dress and a stack of solid gold Tiffany & Co. bracelets. They were the Elsa Peretti Doughnut bangle in 18k yellow gold, the Elsa Peretti Open side cuff in 18k yellow gold, and the Elsa Peretti Wing cuff in 18k yellow gold, all in medium sizes.
Hailey Bieber Tiffany and Co. T Collection Ad Campaign
Hailey Bieber is the face of a major advertising campaign for Tiffany & Co., and she promotes the hugely coveted T Collection by posing in a variety of sleek suits while wearing all the high jewelries in the line.
When a model of the caliber of Hailey Bieber endorses a high jewelry brand, you know it means something and her partnership with Tiffany & Co. as a brand ambassador is a marriage made in high jewelry heaven. Bieber's "Tiffany T" campaign, which debuted in mid-June, 2022 witness the beginning of an amazing display of true high jewelry works of arts that is synonymous with the T&C brand.
Here is a look into the Hailey Bieber Tiffany and Co. T Collection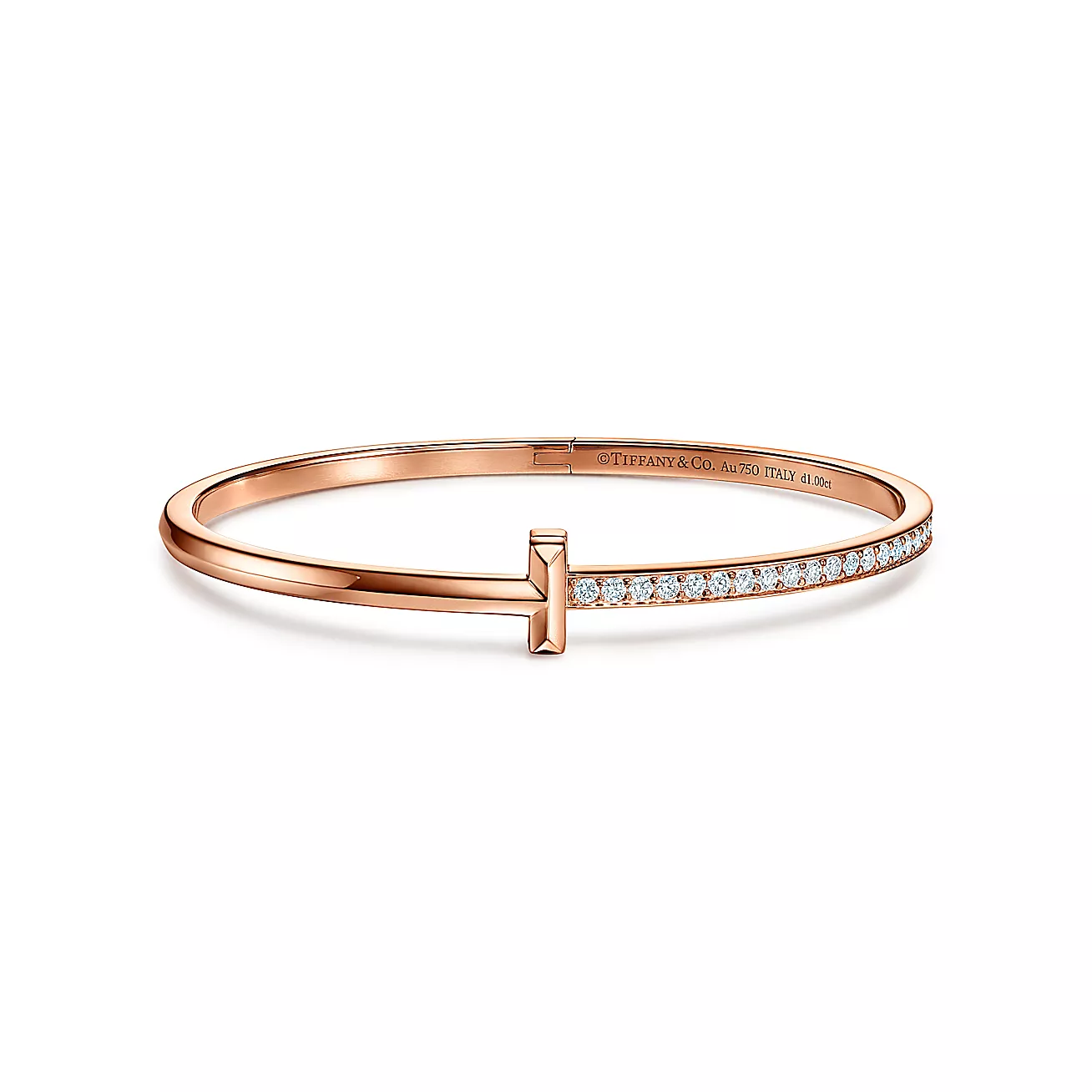 The T1 Hinged Bangle is encircled around the wearer in a continuous, uninterrupted circle and is adorned with brilliant diamonds and a bold "T" symbol in the middle. Tiffany T1 designs are a reinterpretation of a Tiffany icon. They are worn externally to express the beauty within and stand for personal power and limitless intrinsic endurance.
Wear this hinged bangle alone or stack it with other Tiffany T bracelets for a striking appearance. White gold and yellow gold versions of this 18-karat rose gold with round brilliant diamonds are also available.
T1 Ring in Rose Gold with Diamonds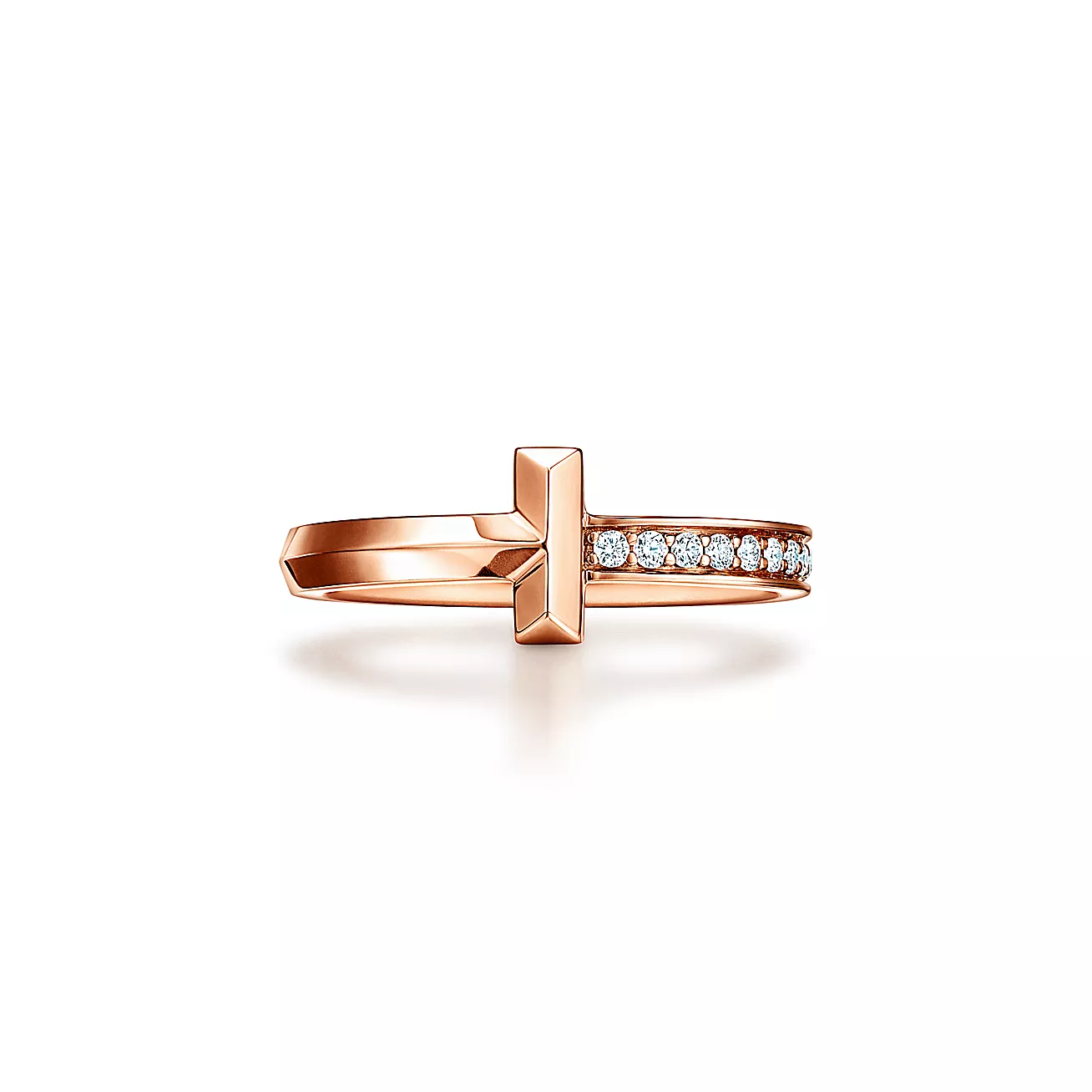 One side of the T1 Ring is illuminated with pavé diamonds, giving it a dazzling brilliance. To create a striking effect, pair this ring with other Tiffany creations made of 18k rose gold. There are further variations, including 18k rose gold and 18k yellow gold, both with round brilliant diamonds. Whichever color you decide to get, note that all variations of the T1 Ring are 2.5 mm wide and .08 carats in weight.
Tiffany T Wire Bracelet in 18k Gold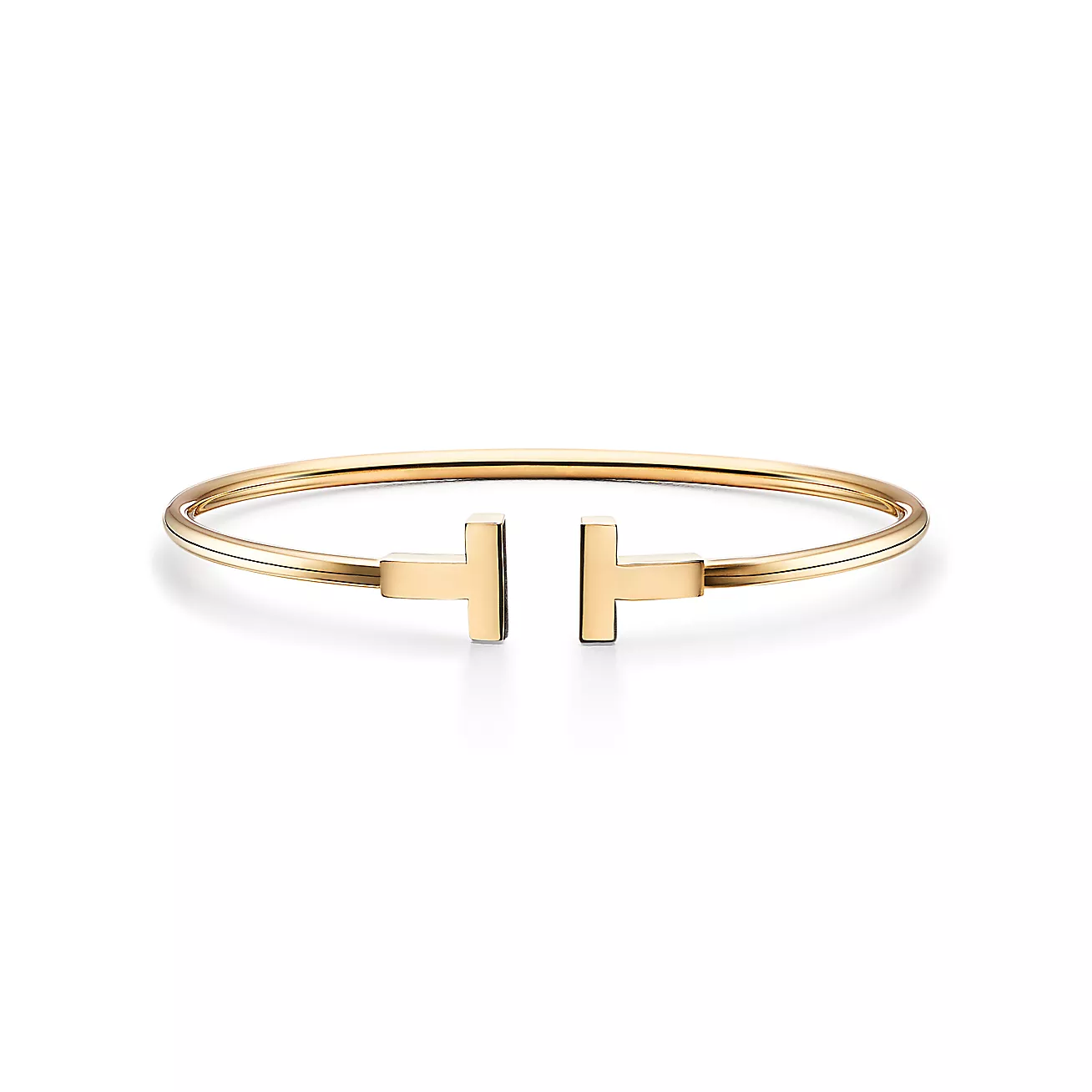 An attractive aesthetic is created by the "T" design on this average-sized bracelet. The Tiffany T collection is a tangible reminder of the connections we feel, but sometimes are unable to see. It is as iconic and multifaceted as it is diverse. For a look that is both modern and classy, wear the Tiffany T Wire Bracelet with other Tiffany T high jewelry designs.
Tiffany T - T1 Open Hoop White Gold with Diamonds Earrings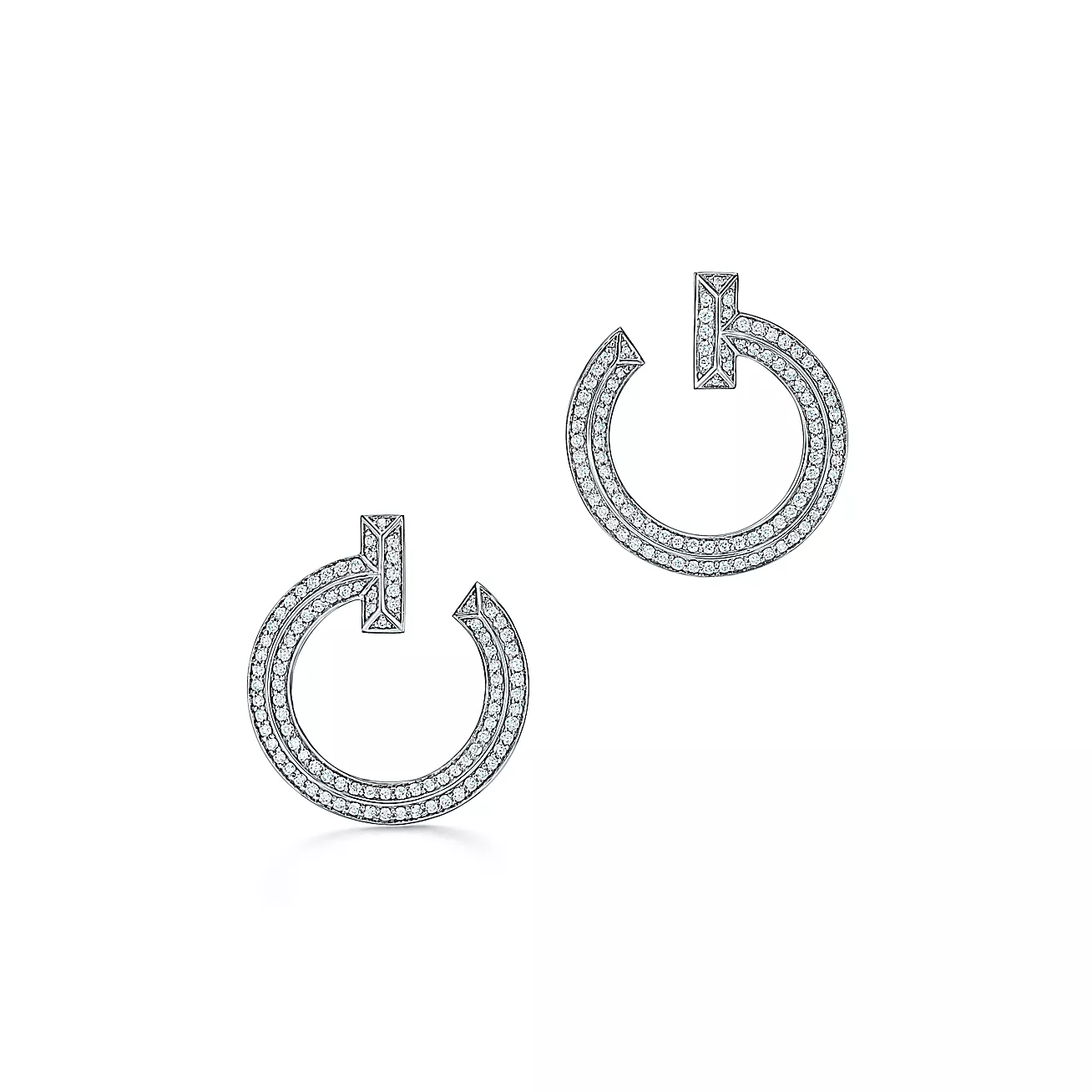 The T1 Open Hoop Earrings have a distinctive design that is highlighted by rows of eye-catching diamonds. These designs also have the iconic Tiffany T emblem; like other Tiffany and Co. collections, they are worn to radiate inner beauty and stand for personal power and perseverance.
For a dazzling appearance that is guaranteed to draw attention, pair up these unique hoops with delicate studs or other Tiffany diamond earrings.
Other variations of this 18k white gold with round brilliant diamonds are available, including ones made of rose gold with diamonds and yellow gold with diamonds. The carat total weight of the T1 Open Hoop Earrings is .48.
Tiffany T - T1 Wide Diamond Hinged Bangle
This hinged bangle from Tiffany & Co's T Collection is made of 18k white gold and features round brilliant diamonds. It encircles the wearer in one continuous, unbroken circle.
Wear the T1 Wide Diamond Hinged Bangle alone or stack it with other Tiffany T bracelets for a striking appearance. This medium-sized bracelet has a carat total weight of 2.18 and perfectly fits wrists up to 6.25″. You can also get yellow and rose gold variants as seen in the image above.
Tiffany & Co. high jewelry line consists of classic and gorgeous collections, and of all the available branded collections, the "T Collection" is unquestionably the most coveted of the lot.
The Tiffany T Collection is popular with fans of simple, understated fashion because of its distinctive "T" logo, which also serves as a status symbol for people who love to associate themselves with known, reputable brands and Tiffany & Co. is certainly one that stands out.
The collection's widespread appeal has established it as a timeless classic and made it a piece that every jewelry enthusiast aspires to own.
Explore the elegant Tiffany and Co. T Collection and more on the Tiffany & Co. website.