To launch a third collection of spectacles aimed at consumers who like to stay trendy, supermodel Hailey Bieber joins forces with Vogue Eyewear in a co-designed collaboration.
As a co-designer, Hailey has tapped into what makes her happy to create a line. Her signature style is shown in her use of earthy tones, bold silhouettes, and sleek metal eyewear. Each pair of Hailey Bieber Vogue Eyewear features signature branding. 
The collaboration between Hailey Bieber and Vogue Eyewear began last year, and the styles for 2023 include two optical frames and four pairs of sunglasses. The bespoke eyeglasses come with a customized case and a temple that bears Hailey's signature.
The blonde can be seen sporting a pink crop top and large cargo jeans to match the eyewear designs in the campaign photos. She also wears one of the designs' stylish sunglasses with dark lenses and a see-through optical frame. 
A brief video with a groovy beat has Hailey Bieber dancing in the eyewear partnership.
This post takes you on a visual tour of the Hailey Bieber Vogue Eyewear Collection.
The Hailey Bieber Vogue Eyewear Collection
Black Havana Frame with DARK Grey Lens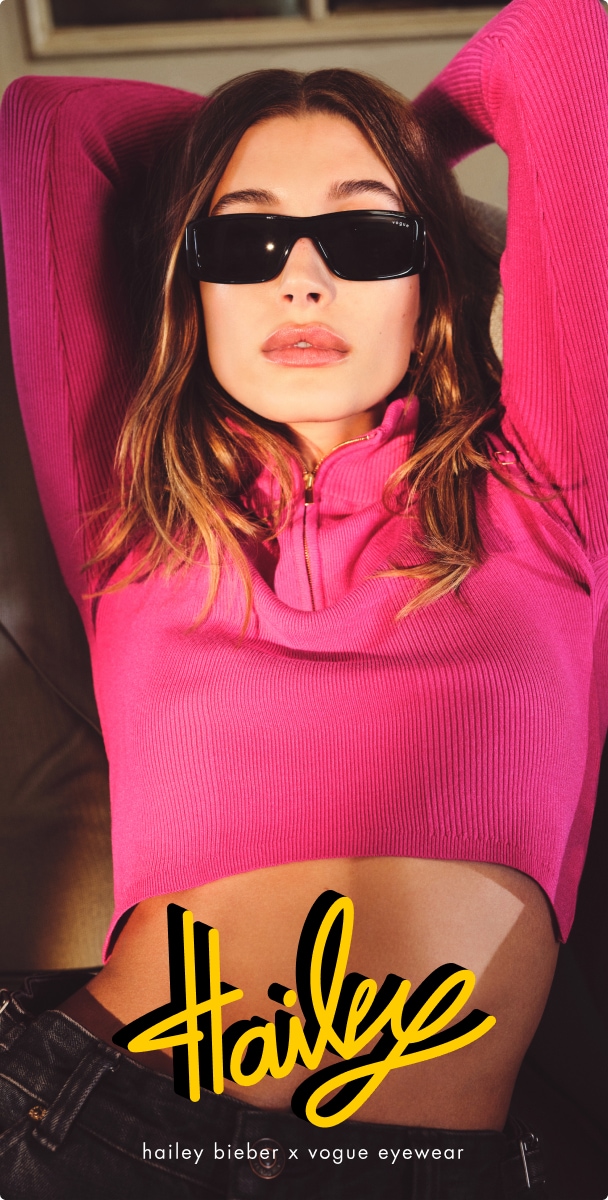 The rectangular frame of the Dark Grey Lens rests easily on the bridge of the nose, and the dark brown lenses offer full protection from the glare of the Sun.
The Havana Frame Dark Brown Lens is ideal for the Summer and makes a bold fashion statement while also evoking a sense of vintage beauty.
Opal Light Peach Frame With Demo Lens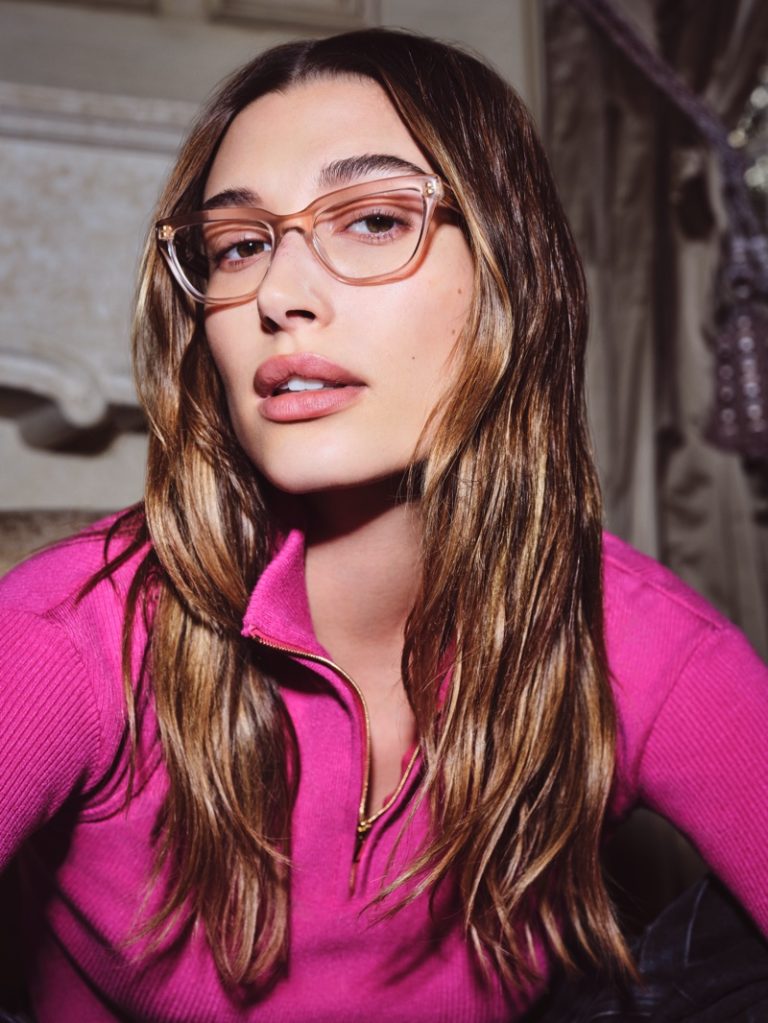 The demo lens and acetate frame in Opal light peach gives a lovely contour over the eyes. It is embellished with the Hailey trademark and the Vogue logo, just like the rest of the Hailey Vogue Collection.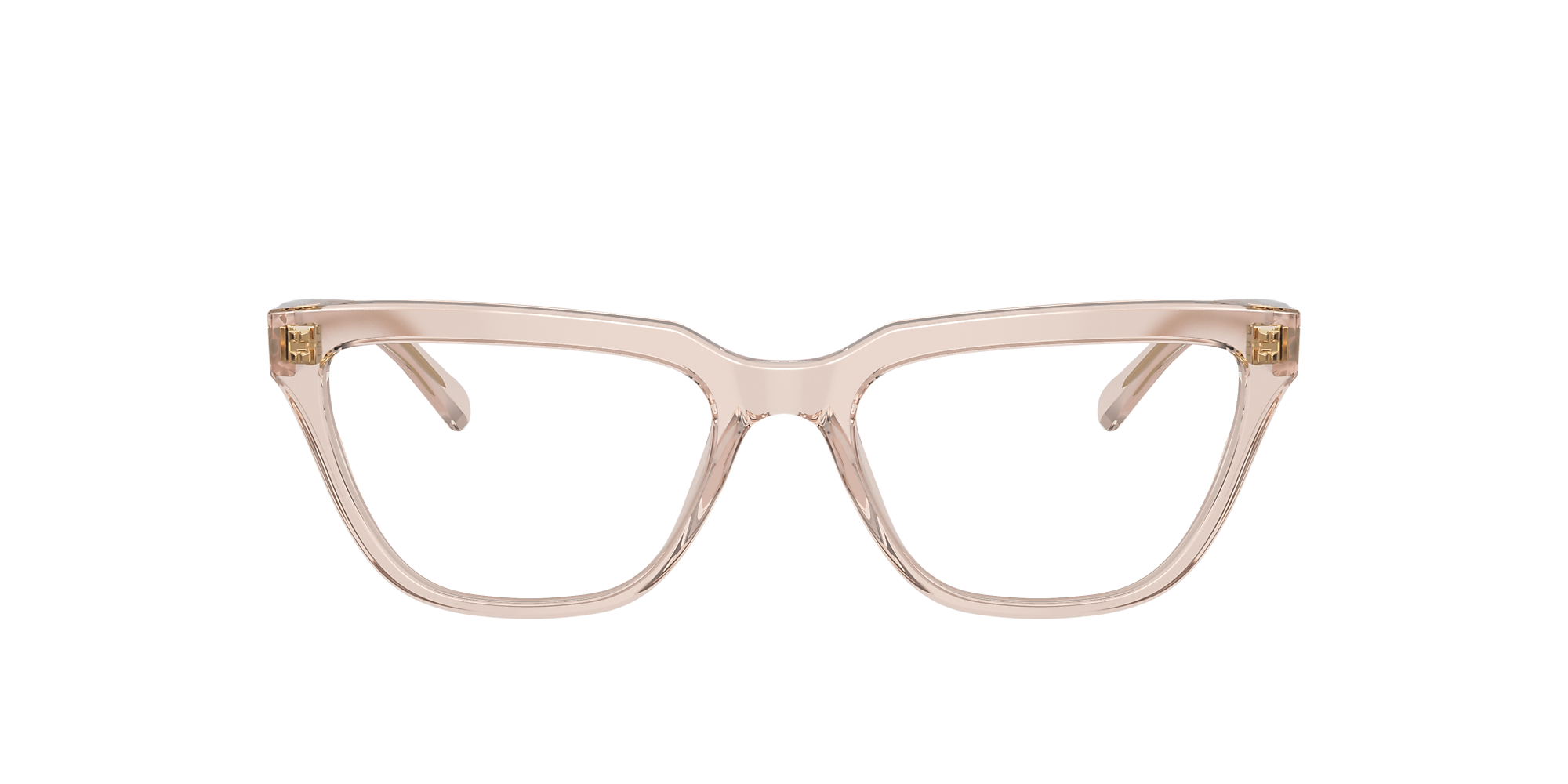 Hexagonal Gold frame, Demo Lens
(Photo: MODEL WEARING HEXAGONAL GOLD FRAME DEMO LENS)
These chic sunglasses feature a refined hexagonal frame rimmed in pale gold, which will draw attention to your eyes and make you look more put-together.
(Photo: MODEL WEARING HEXAGONAL GOLD FRAME DEMO LENS)
You can pair them with nearly every outfit. The Hexagonal Gold Frame Demo Lens comes in a rose gold frame with dark blue or light brown lenses. 
Dark Havana Rectangular Frame With Demo Lens
The first thing that comes to mind when you look at the dark Havana Rectangular Frame with Demo Lens sunglasses is the frame material, which is made from acetate. 
The big frames do not only provide the necessary durability for the eyewear, but also aids in defining a person's appearance. 
You may update your outfit for Summer time with the dark Havana patterning without compromising your personal flair. 
The supermodel-owned eyewear brand has a new, cutting-edge range, and now that you know about it, your appearance will surely be better for it. Whether you're looking for anything with a modern cat's eye or a classic square silhouette, something airy and feminine or quaintly retro, this exclusive Hailey Vogue Eyewear line has it all.