A well-organized kitchen can make cooking and meal preparation more efficient and enjoyable. Here are some kitchen organization ideas to help you make the most of your space.
Before you start organizing, take some time to declutter your kitchen. Go through your cabinets, drawers, and pantry and get rid of anything that is expired, broken, or no longer needed. This will free up space and make it easier to organize what you actually use.
(Photo: ROYAL CRAFT EXPANDABLE DRAWER ORGANIZER)
Drawer dividers are a simple and effective way to keep your utensils, cutlery, and other small items organized.
(Photo: ROYAL CRAFT EXPANDABLE DRAWER ORGANIZER)

They come in a variety of sizes and materials, so you can choose the ones that work best for your needs. Check out the Royal Craft Expandable Drawer Organizer.
(Photo: ELFA NARROW CABINET DRAWER SOLUTION PLATINUM)
Pull-out shelves are a great way to make use of deep cabinets and maximize your storage space. They allow you to easily access items in the back of the cabinet without having to dig around or take everything out. You can get this Elfa Narrow Cabinet Drawer Solution Platinum and get your kitchen pantry organized today.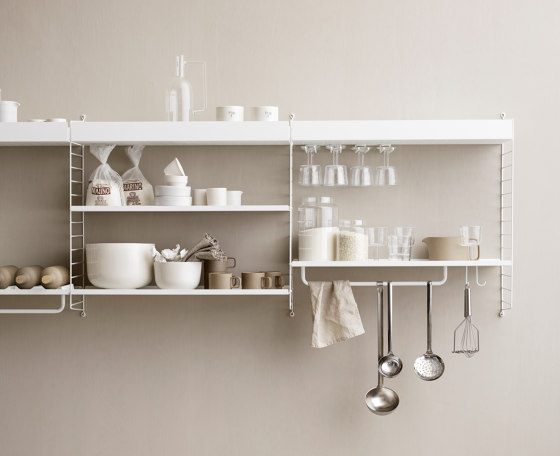 (Photo: ARCHITONIC OPEN KITCHEN SHELVE)
If you're short on counter space, look up! Use wall-mounted shelves – like the Architonic Kitchen Shelve
hooks, and racks to store pots, pans, and other kitchen items. This not only frees up counter space but also makes your kitchen look more organized.
GROUP SIMILAR ITEMS TOGETHER
Organize your kitchen items by category to make them easier to find. Keep your baking supplies, spices, and canned goods in separate areas. This will not only make your kitchen more organized, but it will also make meal prep faster and more efficient.
Labels are a simple and effective way to keep your kitchen organized. Label your pantry items, spice jars, and containers so that you can easily find what you need.
Clear containers are a great way to store food items and keep them organized. They make it easy to see what's inside and how much you have left.
Use them to store pantry items, snacks, and leftovers. The OXO Clear Pop Container is a good one you need to add to your kitchen accessories.
KEEP YOUR COUNTERTOPS CLEAR
Your countertops should be reserved for items that you use on a daily basis. Keep appliances that you use regularly, such as your coffee maker or toaster, on the counter. Everything else should be stored away to keep your kitchen looking neat and tidy.
(Photo: BAMBOO LAZY SUSAN SPINNER)

A Lazy Susan is a rotating tray that makes it easy to access items in deep or hard-to-reach cabinets. Use the mDesign Bamboo Lazy Susan Spinner to store spices, condiments, and other small items.
A knife block is a great way to keep your knives organized and easily accessible. It also helps to protect the blades and keep them sharp.
STORE BAKING SHEETS VERTICALLY
Baking sheets and cutting boards can be difficult to store because they are often too wide for traditional cabinets. So store them vertically in a cabinet or on a rack to save space and keep them organized.
(Photo: IKEA SKÅDIS COMBINATION WOOD PEGBOARD)
A pegboard is a versatile and customizable way to store your kitchen items. Hang pots and pans, utensils, and other items from the pegboard to keep them organized and within reach.
You can buy the Ikea SKÅDIS Combination Wood Pegboard.
INSTALL UNDER-CABINET LIGHTING
Under-cabinet lighting not only makes it easier to see what you're doing when cooking, but it also adds a stylish touch to your kitchen. This is especially helpful if you have a lot of overhead cabinets that can make your kitchen feel dark and cramped.
By following these kitchen organization ideas, you are sure to create a kitchen space that is both functional and stylish.