The Spring/Summer 2023 collection by Dolce and Gabbana made its debut in Milan Fashion Week last September.
The collection which is dubbed "CiaoKim Collection" – KIM X DOLCE&GABBANA, is a product of the brand's collaboration with Kim Kardashian and is described as a "reinterpretation" of some of D&G's iconic '90s and '00s pieces. Dolce and Gabbana calls it "a journey through the most authentic #DGDNA."
Kim Kardashian who assisted in the collection's curation is reported to have been inspirational to the duo revisiting their famous 1990s and 2000s archives.
Aside from helping to curate the Collection, Dolce and Gabbana also starred the reality TV vixen in the collection's ad campaign, a short film which was shot by legendary fashion photographer duo Mert&Marcus.
Kim shared a clip of the the film on both her Instagram and Twitter account with a caption:
"The new #DGSS23 campaign, shot in an Italian villa by photographer duo @mertalas and @macpiggott, channels a feeling of intimacy through soft black and white hues"
KIM K LOOKING SULTRY AND SEXY IN DOLCE AND GABBANA AD CAMPAIGN
The ad which was photographed in black and white and shot in an Italian Villa from the eighteenth century showcased Kim seducing a shirtless man to epitomize sensual elegance.
Donning the newest looks from the opulent label, including a D&G Sheer Leopard-print Jumpsuit, and wearing her hair in platinum gold, the 42 year Skims founder and mother of four sizzled for the camera .
The ad started off with a close-up of Kardashian wearing a black tulle veil over her face, with her back to the camera, Kim emerges wearing a figure-hugging slip as she opens a window to let light into her bedroom.
Viewers are treated to brief glimpses of Kim modeling her seductive leopard look after she eventually takes off the veil covering her head.
The male model appears shortly after noticing Kim gazing out the window, she turns facing him and the next scene shows them lying next to each other in bed.
"Are we dreaming?"  Kim is heard whispering as she treks through the large luxurious rooms of the Italian villa.  
Kim is later shown donning a bustier after taking off her skintight jumpsuit, which makes her already teeny waist appear whimsical.
Kim K appears in another clip wearing a Long Floral Lace Dress with Lingerie Bra by D&G and sitting on a chair as her male interest stands over her, the shirtless hunk raises her chin with his fingers, seemingly luring her in for a kiss, while she slowly leans forward in her chair.
In several steamy scenes, the ad portrays a male model lying next to Kim in bed followed by him running his fingers down her toned legs.
In one clip, she sits legs crossed fully clothed in a plush LEO INSPIRED outfit with a cat curled up next to her and  what appears to be a Small Sicily Bag in Leopard Print on an ornate table.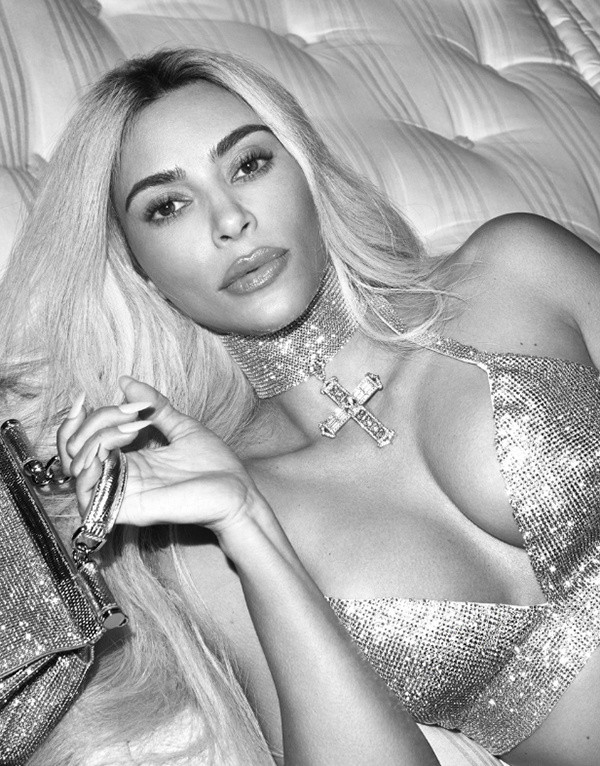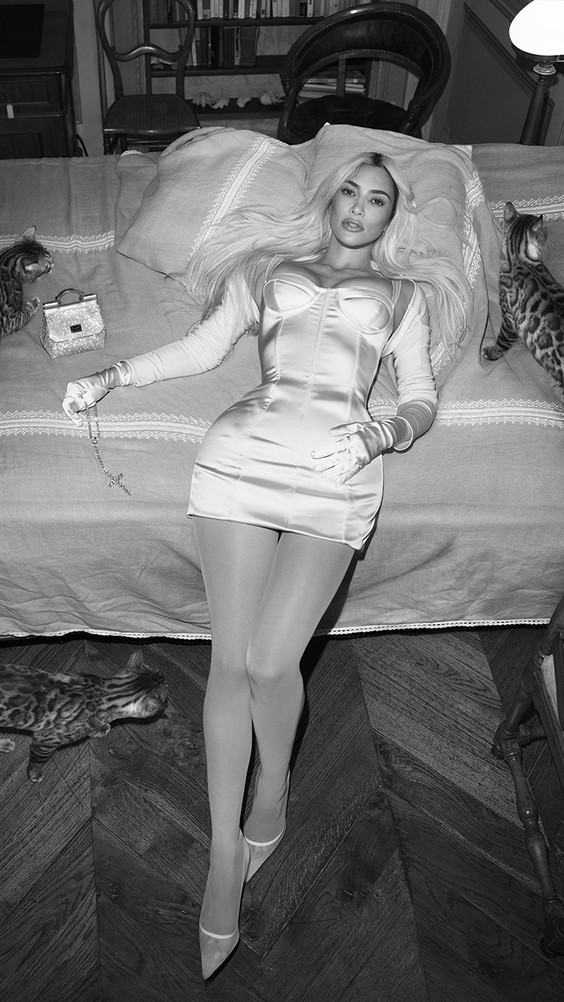 (Photo: MODEL IN "CIAO, KIM" PASTA-PRINT T-SHIRT)
A limited edition of T-shirts featuring a black-and-white vintage-style print of Kim eating pasta named "Ciao, Kim" Pasta-print T-shirt was also released in conjunction with the couture collection by Kim and D&G.
You can shop for this entire CiaoKim Collection directly from the Dolce and Gabbana website today.