The unsung heroes of the world are mothers. She may be your mother—the person who brought you up, even during your rebellious stage—or a favorite mother figure in your life, such as; a parent-to-be or someone who has always supported you as a mother would. 
Regardless of how important she is to you, every mom deserves the ideal present for Mother's Day, or just on any other day of the year to let them know you care.
A thoughtful gift is a great way to show our love and appreciation, but finding the perfect gift can be challenging. 
In this article, we will explore some gift ideas for moms that are sure to make her feel special and loved.
GIFT IDEAS FOR MOTHER'S DAY
Personalized gifts are a great way to show your love and appreciation for your mom – Personal Creation has loads of personalized items you can pick from.
You can create a custom piece of jewelry with her initials or a special date, a photo album or frame with your favorite family memories, or a custom portrait of your family. These gifts are thoughtful and unique, and show that you put in effort and thought to create something just for her.
Moms are busy and often neglect their self-care routines. A lifting Spa experience is a great way to pamper and indulge your mom – if you are open to traveling outside your environs, then Soneva Kiri in Thailand will be a good place to take her to.
Alternatively, you can create a spa experience at home with scented candles, bath salts, and a luxurious robe. This gift is not only relaxing and rejuvenating, but it also shows your mom that you care about her well-being.
If your mom loves to cook or wants to improve her skills, cooking classes are a great gift idea. You can find cooking classes on almost any type of cuisine – Pasta Queen for example, offers  very educational online training.
Or you can hire a personal chef to teach your mom how to make a new dish. This gift is not only fun and educational, but it also gives your mom a new skill that she can enjoy and share with others.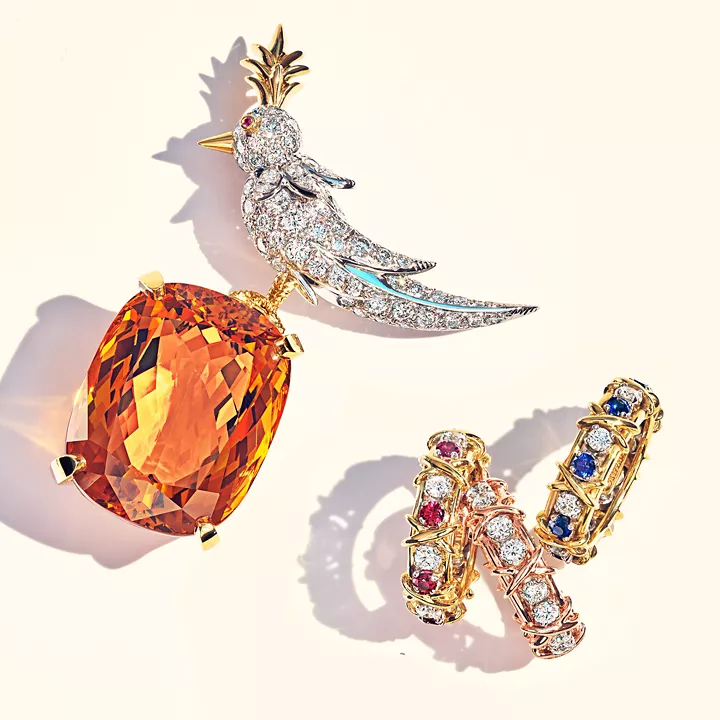 (Photo: TIFFANY & CO. COLORED GEMSTONE JEWELRY)
You can choose a piece of jewelry that suits her style and personality, such as; a bracelet, necklace, or earrings. You can also customize the jewelry with birthstones. 

Tiffany and Co has some very beautiful high-jewelry that can be customized with engraved messages, or special symbols that represent your family or a special memory. Jewelry is not only a beautiful and elegant gift, but it also holds sentimental value and can be passed down through generations.
(Photo: GIORGIO INFINITY PHANTASY SCULPTURE)

Artwork is a unique and meaningful gift for moms who appreciate aesthetics and creativity. You can choose a painting, a sculpture like the Giorgio Infinity Phantasy sculpture or a print that matches her taste and home decor, or commission a local artist to create a custom piece that represents your family or a special memory. Artwork is not only a beautiful and inspiring gift, but it also adds personality and character to any space.
Subscription services are also a great gift for moms who love to discover new products and services.
You can gift her a subscription to Chanel Beauty Box, Home Chef Meal Kit, Future Fitness Program, a book club or a streaming service. Subscription services not only provide a monthly surprise and entertainment, but they also save your mom time and money by delivering products and services to her doorstep.
If your mom loves to cook, consider gifting her with a kitchen gadget that she has been eyeing, but hasn't gotten around to buying. 
This could be a fancy new blender, a high-quality knife set from Mercer Culinary or a professional-grade stand mixer from Subzero Wolf.
These gadgets can help make cooking and baking easier, faster, and more enjoyable for your mom.
If your mom loves to decorate her home, consider gifting her with something that will add to her decor. This could be a beautiful vase, a set of decorative pillows from Horchow or a new piece of art for her walls.
These gifts will not only add beauty to her space, but will also show that you recognize her love for interior design.
Maybe your mom is a big fan of photography, if so, consider gifting her a digital photo frame from Auraframes. 
This is a great way for her to display her favorite photos, and it saves her the hassle of having to print and frame them. Choose a frame that has a lot of storage space and can connect to Wi-Fi, so she can easily add new photos and switch them out whenever she wants.
While there are many different gift ideas you can give your mom for Mother's Day, the most important thing is to choose a gift that matches your mom's interests and personality, and also shows her how much you love and appreciate her. 
Whether you choose a simple handwritten letter or an elaborate spa day, your mom will appreciate the effort and thought that you put into your Mother's Day gift.