Megan Fox dressed to impress at the annual Clive Davis pre-Grammys party which was held on February 5th 2023, accessorizing with a hot pink wrist brace. The actress although didn't reveal much about her injury, but she did share on her now deleted Instagram account, photos of herself and her fiance, Machine Gun Kelly, with a comment:
"Off the aircraft with a broken wrist and a concussion straight to a Grammys party."
(Photo: MGK AND MEGAN ARRIVING AT PRE-GRAMMY BASH)
Although Fox was not wearing a wrist brace in the pictures, but in pictures from the occasion, she was seen wearing both a pink coloured protective wrist brace, perhaps because she was afraid she might be jostled on the red carpet.
MEGAN FOX'S STUNNING ENSEMBLE AT THE CLIVE DAVIS PRE-GRAMMY PARTY
Accompanying her Fiancé to the bash, Megan wore a breathtaking Alexis Mabille strapless red gown with a busty corset bodice dress which constricted at her trim waist and had a plunging neckline that highlighted her large chest.
The dress accentuated her curves as it dipped and gathered at her hips before falling into a simple train.
And to compliment her sultry seductive look, she donned a silver necklace along with Candy Ice silver starburst diamond studs.
After posting a photo of herself with a blonde bob a few weeks before the pre-Grammy bash, Megan was back to her natural brown hair color which she swept over on one shoulder.
(Photo: MEGAN FOX WAVY HAIR SWEPT OVER ONE SHOULDER)
For her makeup, the actress adopted the vintage Hollywood look, her thick brows was expertly sculpted as a solid base for the rest of the makeup with a glowy shimmering eye shadow, and fanned lashes to accentuate her eyes.
MACHINE GUN KELLY LOOKING DAPPER AT THE DAVIS PRE-GRAMMY BASH
(Photo: MGK AT THE CLIVE DAVIS PRE-GRAMMY BASH)
To compliment his fiancée's stunning  look, MGK wore a Dolce and Gabbana stylish fitted double-breasted black suit over a pearl embroidered turtleneck top with a satin lapel. He matched the ensemble with black leather loafers designed with silver studs as he made his way down the red carpet.
And for his hair, MGK spilled his long bleached blonde hair strands on both sides of his face while he spiked the top, which made him look a bit taller.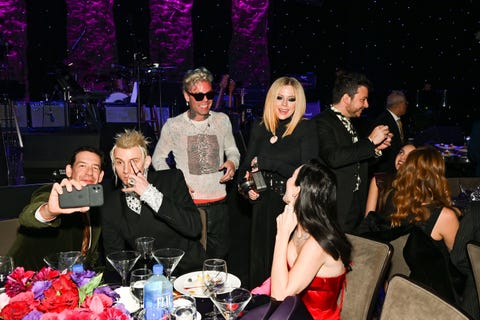 (Photo: MGK AND MEGAN FOX WITH MOD SUN AND AVRIL LAVIGNE)
Later, the couple were seen conversing at their table with Mod Sun and Avril Lavigne. 
Since 1976, the star-studded event has served as a very popular prelude to the Grammy Awards weekend; however, the Davis pre-Grammy bash was postponed for the last two years due to COVID-19 pandemic, so attendees were happy to return to the party. Julie Greenwald and Craig Kallman were honored at the celebration this year.
(Photo: MGK AND MEGAN FOX AT THE DAVIS PRE-GRAMMY BASH)
And the fact that Kelly's record Mainstream Sellout was up for Best Rock Album only gave the engaged couple one more reason to celebrate. MGK and Megan Fox got engaged in January last year following Megan's split from her marriage of 10 years.
On his nomination for Best rock album, Machine Gun Kelly took to his Instagram story the day before the award, the musician expressed gratitude to his devoted followers for helping him succeed over the years.
Unfortunately, MGK didn't go home with any award, but fans are optimistic of hearing more billboard hits from the "Rap devil".