The Grammys are often an occasion where dress codes are relaxed. The biggest night in music is a red carpet procession of daring attire, comedic ensembles, and attempts to go viral. The pre-show is always entertaining because of the event's outrageous nature, but the attendees of the 2023 Grammy Awards looked determined to go above and beyond at the 65th Annual Grammy Award ceremony.  
The event, which was hosted by Trevor Noah at the Crypto.com Arena in Los Angeles, was a true show-stopper, as a number of well-known performers and artists attended to support the contestants this year. It seemed like a night of absolute elegance and excitement, from the red carpet to the stage, with all the gentlemen looking spiffy and the ladies looking stunning in their attire.
Check out the men's look from the 65th Grammy Awards red carpet below;
(Photo: TREVOR NOAH IN GUCCI) 
Host Trevor Noah wore a Gucci mauve pink silk faille double breasted peak lapel evening jacket with black pants, white dress shirt, black grosgrain bowtie and black patent leather lace-ups.
(Photo: JARED LETO IN GUCCI)
Presenter Jared Leto wore an Exquisite Gucci look 82 black lace shirt with black gabardine pants, black and brown multicolor curly shearling coat with natural shearling details and white leather boots. Jared Leto also wore black acetate Aviator Sunglasses to complete his stunning ensemble.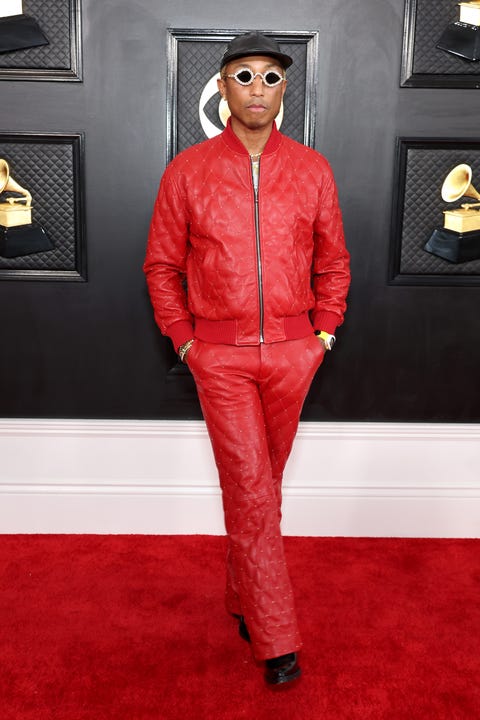 (Photo: PHARRELL WILLIAMS IN RED LEATHER SET)
Under a chocolate brown fur jacket, Pharrell sported his deep red quilted leather ensemble studded with silver pearls and an eyewear with jewels, gold, and diamonds.
(Photo:  PHARRELL WILLIAMS IN RED LEATHER SET UNDER AND A CHOCOLATE BROWN FUR JACKET)
He complimented his look by wearing a black baseball cap.
Machine Gun Kelly In Dolce & Gabbana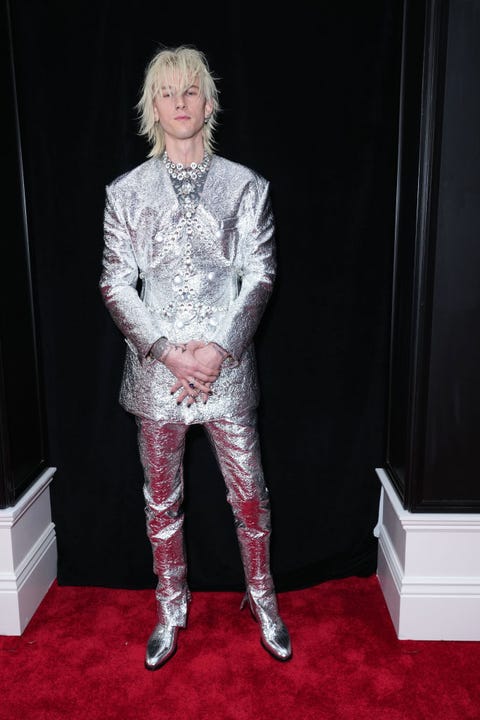 (Photo: MACHINE GUN KELLY IN DOLCE AND GABBANA)
Machine Gun Kelly was dressed in a silver foil-like double-breasted suit with crystal straps. This gorgeous outfit comes with some reflective brocade design. The suit jacket also has a delicate flair detail that would make Nature Boy Ric Flair envious. Kels, as he is nick-named, also wore the no-lapel deep-V suit without a shirt.
Steve Lacy In Yves Saint Laurent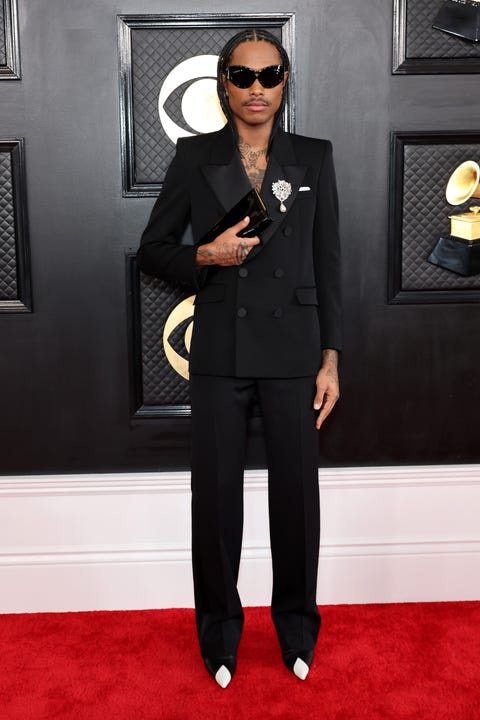 (Photo: STEVE LACY IN YVES SAINT LAURENT)
Steve Lacy, who was named by Rolling Stone as the most fashionable musician of 2023, successfully upheld that honor by dressing entirely in Yves Saint Laurent. Lacy wore a double-cross tuxedo that was pinned with a lapel pin decorated with rhinestones and pearls, sharp pointed-toe shoes, and huge bug-like sunglasses. He completed his outfit with the Manhattan clutch from the designer.
You too can walk the red carpet in style!
Even though the 65th Annual Grammys Award has come and gone, it does not stop you from adorning stylish attires from the top luxury designers mentioned in this post. You too can look like Pharrell, Kels, Jared, and and Trevor with cute, fashionable wears today.