Miuccia Prada's Fall/Winter 2023 collection for Miu Miu was showcased on the runway on the last day of Paris Fashion Week. The fashion label once more reaffirmed its readiness to explore new realms in the name of creativity. 
The outfits displayed at the fashion show made a link  between attire and individuals wearing them. In fact, one of the creative director's objectives was to personally study the fashion process in order to thoroughly comprehend how people see everything and how they think objectively about everything that appeals to them.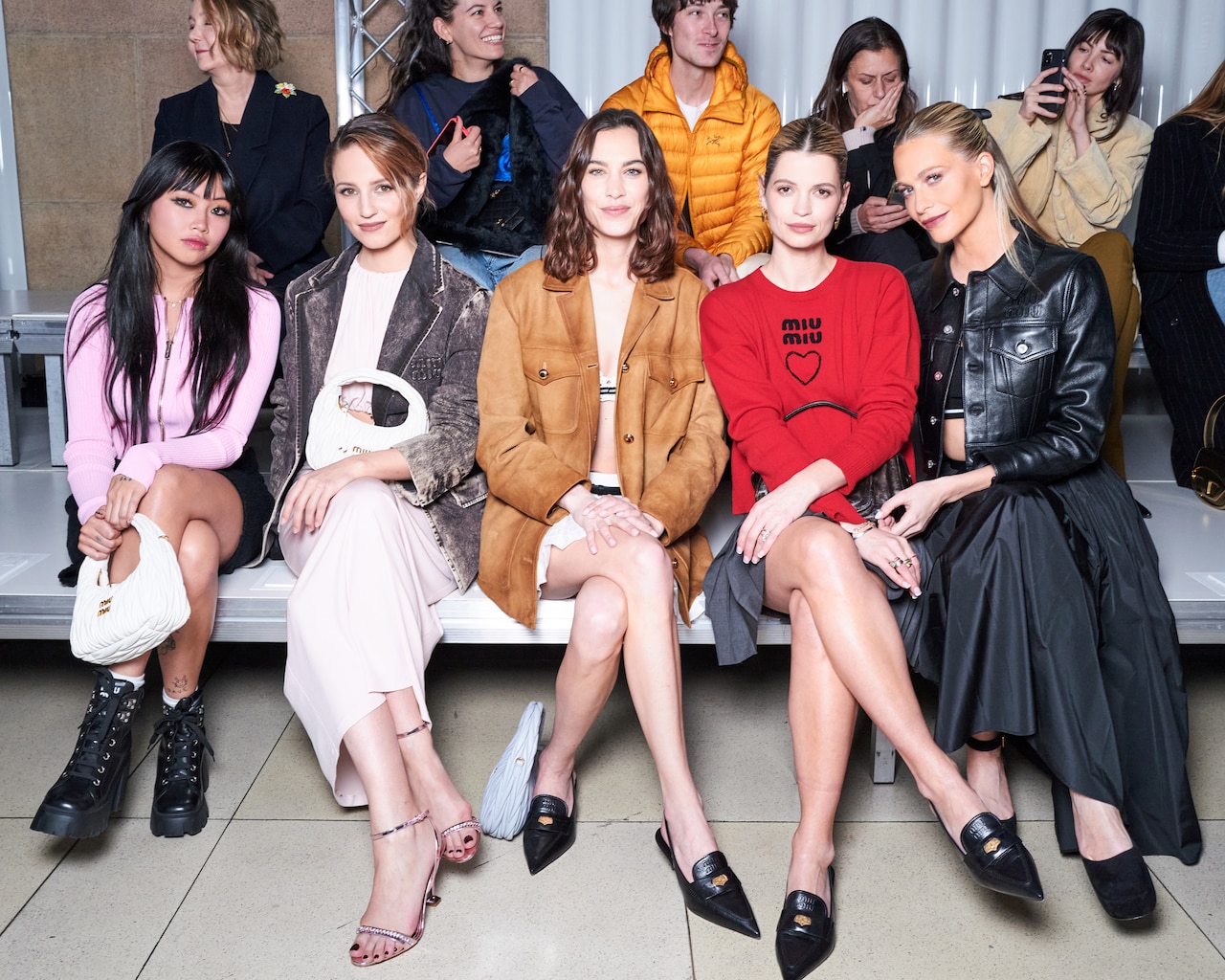 (Photo: GUESTS AT THE THE MIU MIU FASHION SHOW)
To facilitate visitors' viewing, models moved over a series of elevated pathways in the Palais d'Iena while excited guests were comfortably seated at the raised platform in the middle of the runway at the Miu Miu Fall-Winter show. The guests included the likes of Brooklyn and Nicola Peltz-Beckham, Tina Kunakey, the iconic Kylie Minogue, Jessica Alba and Asian star Minnie and many more.
Geumhyung Jeong, a South Korean artist, had an exhibition nearby in collaboration with Miu Miu. Jeong Geumhyung is a dancer and choreographer, whose activity began in the theater and has lately grown to incorporate installations. 
She added color to the show as screens at the Palais d'Lena showed Jeong's specially conceived work, which depicted phantom hands caressing clothing – the hands were seen  gently slipping into a shirt's sleeve or the zipper of a pair of pantsb in an uncomfortably personal manner. In other clips, Jeong could be seen obsessively folding and shifting clothes about on tables, almost like she was a store floor employee. Her research analyzed the link between her own body and clothing.
To close the show, Emma Corrin made her Miu Miu runway appearance at the fashion show during Paris Fashion Week. The 27-year-old actress walked the runway to close Miu Miu's AW23 presentation in a beige tight top with ribbed and folded neck, orange heels, a black bag, and gold embellished pants by Miu Miu.
Check out some of the top pieces from the newest Miu Miu Fall/Winter 2023 collection at the Paris Fashion Week and get a glimpse into the world of Miuccia Prada
Beige Corduroy Jacket and Skirt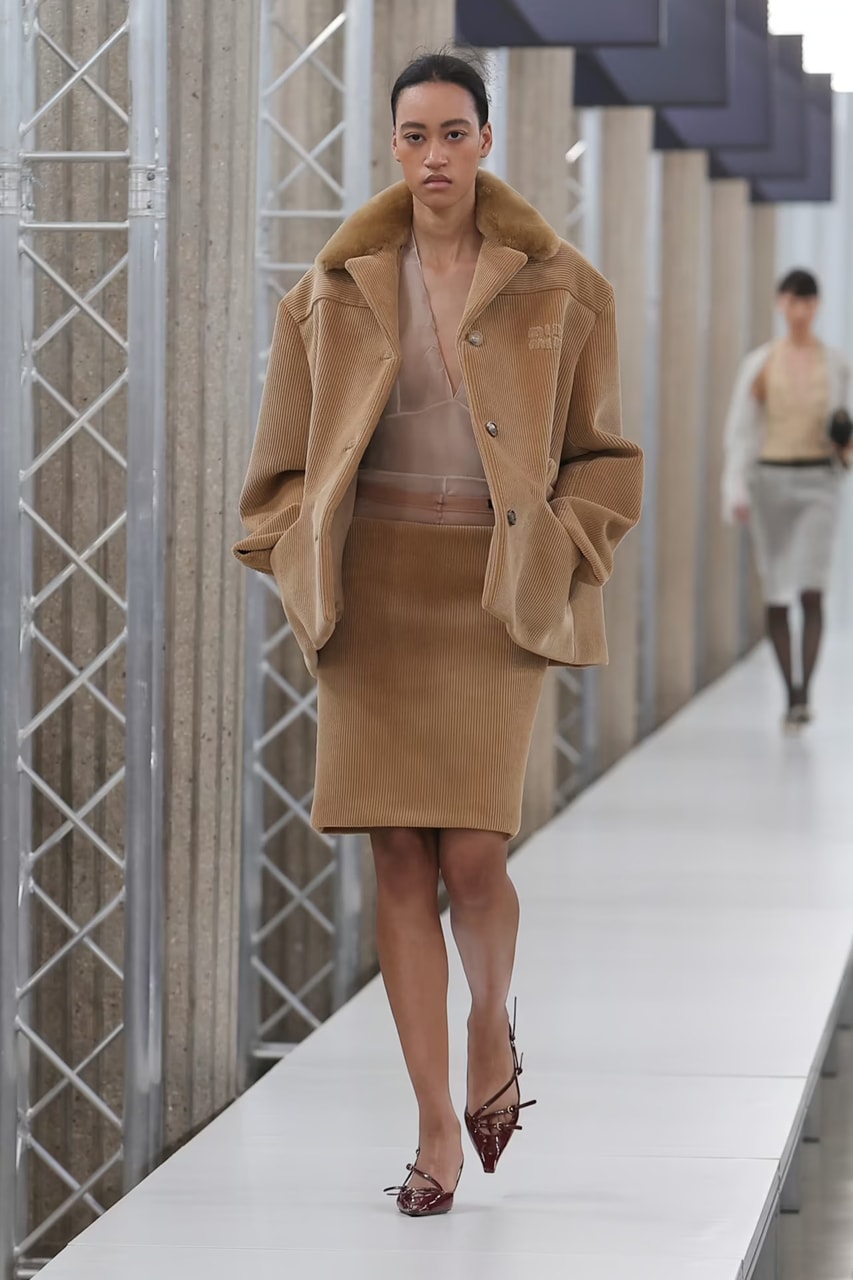 (Photo: MODEL IN MIU MIU CORDUROY JACKET AND MATCHING STRAIGHT SHORT SKIRT)
The Miu Miu Beige Corduroy Jacket features a fur collar with three button front closure and a side pocket on both sides. The jacket is paired with a matching Corduroy short straight skirt. This outfit is perfect for a formal outing in Winter.
Polka Dots Halter Neck Chiffon Dress
(Photo: MODEL IN MIU MIU POLKA DOT HALTER NECK CHIFFON DRESS)
This Miu Miu halter neck white see-through Chiffon with polka dot midi dress provides comfort and elegance. Make it your number one choiced dress for that beach side party even in Autumn.
Black Jersey Knit Sweater and Chiffon Skirt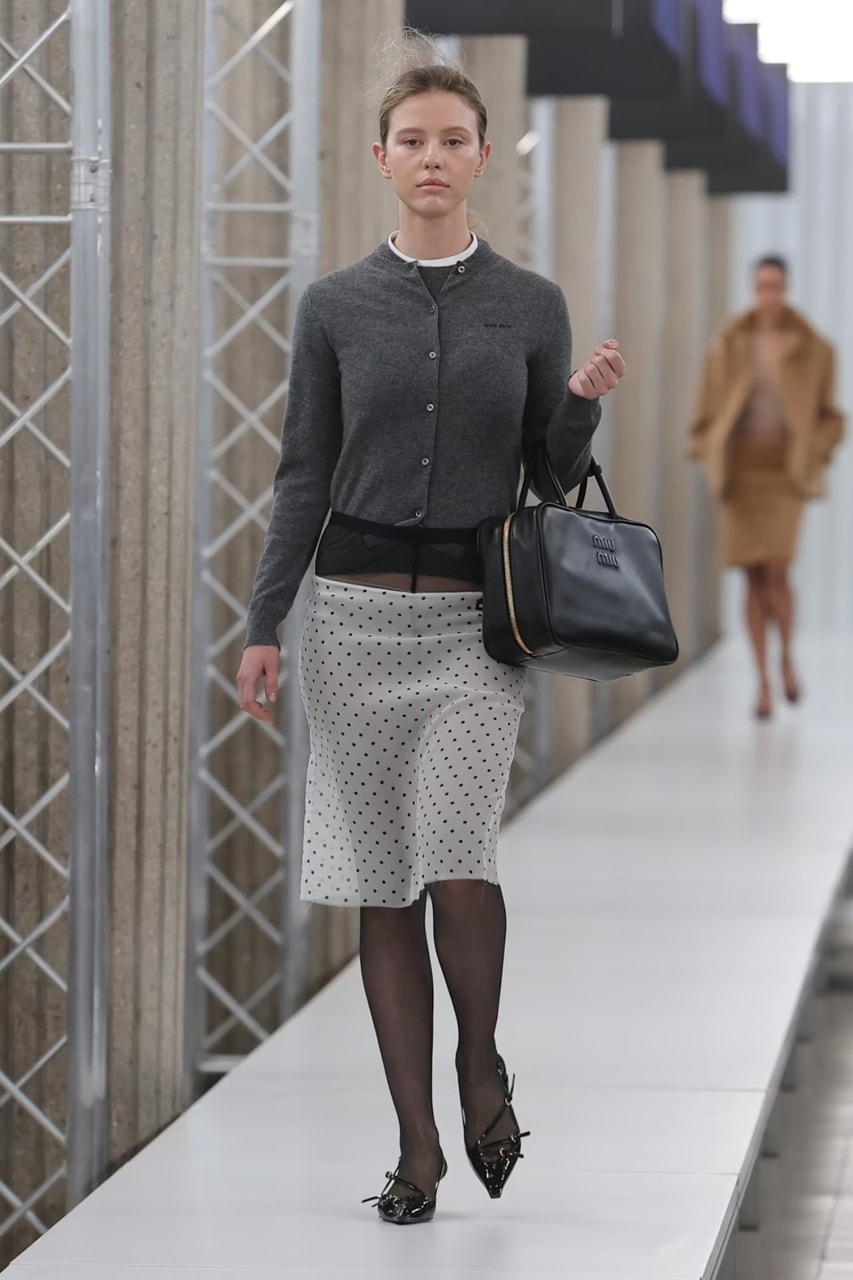 (Photo: MODEL IN MIU MIU BLACK JERSEY KNIT SWEATER AND POLKA DOT CHIFFON SKIRT)
The Miu Miu black knit tight-fit sweater features a round neck, long sleeves and front button closure. It is paired with a short and straight polka dot skirt.
Nature-Green Transparent Sweater
(Photo: MODEL IN MIU MIU TRANSPARENT NATURE GREEN  SWEATER) 
This nature-green sweater by Miu Miu features long sleeves and four front button closure. As seen on the model, it is worn over a matching color floral embellished long sleeved round-neck mesh top and pants.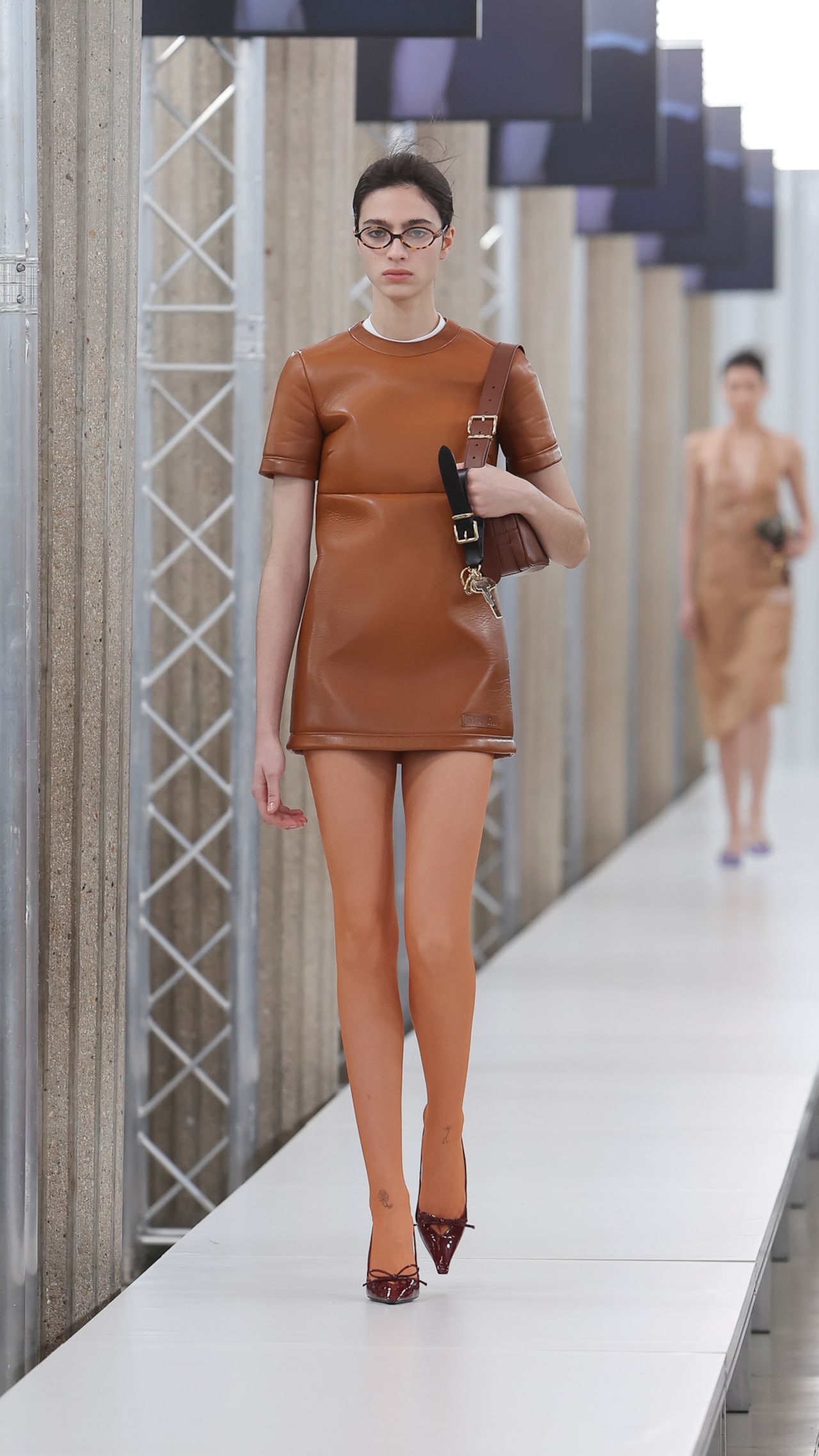 (Photo: MODEL IN BROWN LEATHER SHORT SLEEVED MINI DRESS) 
Made from hundred percent genuine lambskin leather, this brown leather mini dress by Miu Miu features a round neck and short sleeves. This outfit is stylish, comfortable, and elegant. 
One thing that makes Miu Miu so unique is its emphasis on vigor, vitality and enthusiasm by transforming regular apparel into something quite exquisite and lovely. So express your youthful energy by adding pieces from the Miu Miu Fall/Winter 2023 collection to your wishlist today.