Like handbags and shoes, watches are genuine investment pieces that can spice up even the most straightforward shirt and jeans ensemble. It might be difficult to decide which watch to buy, whether you're looking for the ultimate status symbol or an emotional inheritance. Modern technology has given you classic timepieces that you might end up passing down from generation to generation, as well as smartwatches that are both fashionable and quite practical for tracking live activities and health monitoring. Making it a difficult task to find your woman's ideal watch for Valentine.
But not to worry, for in today's post we will be introducing you to the new Chopard design addition to his L'Heure du Diamant Watch Collection, which Is an ideal timepiece for the woman who loves a "bedazzled bling watch"
CHOPARD'S L'HEURE DU DIAMANT COLLECTION
The timepieces from the L'Heure du Diamant series are a testament to how modern design and the opal, with all of its hidden mysteries, come together.
The L'Heure du Diamant Vintage watches feature hardstone dials modeled after the original 1969 designs. These designs have been modernized, the craftsmanship refined, and the proportions, colors, and textures harmonized. 
Chopard's diamond timepieces gracefully and effortlessly strikes the perfect balance between fine watchmaking and fine jewelry, showcasing the complementary skills that are the core of Chopard. Utilizing an oval case with a quartz movement and other design cues from the previous designs, the Chopard L'Heure du Diamant series brings back this air of sophisticated nostalgia.
The collection, which includes both metallic and leather strap, each showcases the diamonds carefully chosen for these magnificent creations. Chopard craftsmen designed a crown setting for each diamond, decorating the models of luxury jewelry. The maximum amount of the stones were quite visible thanks to this approach, minimizing the visibility of the setting prongs.
You can choose from the L'heure du Diamant line today. Here are a few you should look at to treat yourself or give as a gift to that special lady this Valentine.
SNIPPETS FROM THE NEW CHOPARD L'HEURE DU DIAMANT DESIGNS
L'HEURE DU DIAMANT 18K ROSE GOLD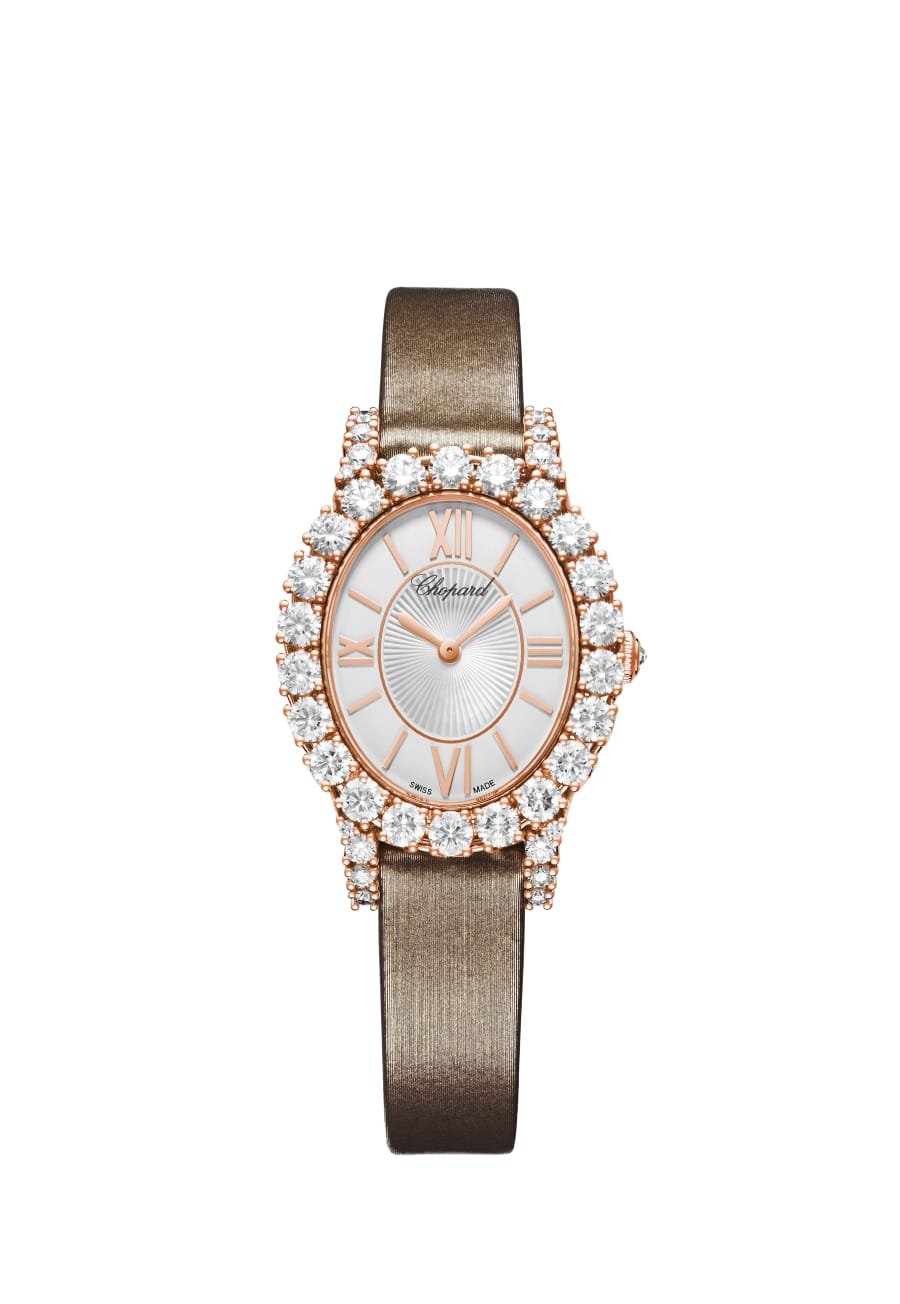 This small oval case diamant watch is crafted in 18k rose gold with 16 diamonds weighing a total of 4.52carat, the dial is inlaid with guilloché mother-of-pearl center. The L'HEURE du Diamant is both water-resistant and scratch-resistant (made from glare proof sapphire crystal).
L'HEURE DU DIAMANT OVAL SMALL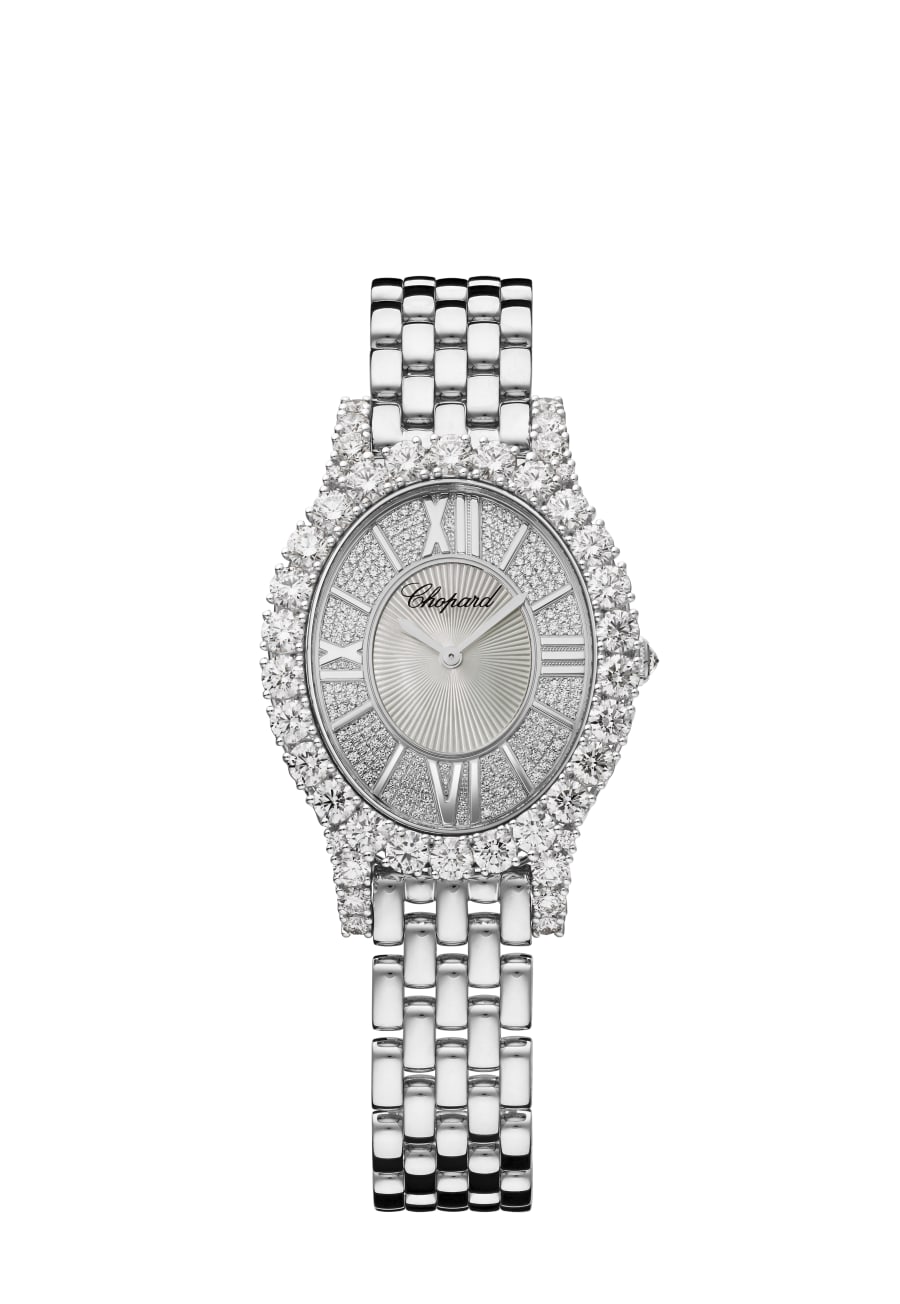 This classic metallic Chopard du Diamant Oval Small Wristwatch is a perfect fit for all sophisticated ladies looking for a timeless piece with a modern twist. The Oval Small is made with 18k White gold and 4.66 diamond carat. In addition, the timepiece has a frequency of 3 Hz (21,600 vibration per hour) and comes with a 34.2 diameter case and a diamond dial with a guilloché mother-of-pearl center.
L'HEURE DU DIAMANT RED STRAP
Brimming with Chopard's exquisite savoir-faire, this design will not only beautify any feminine wrist, but also accentuate the wearer as a person of class and exquisite taste while complementing their outfit. The L'HEURE du Diamant Red Strap is indeed a show-stopper.
L'HEURE DU DIAMANT VINTAGE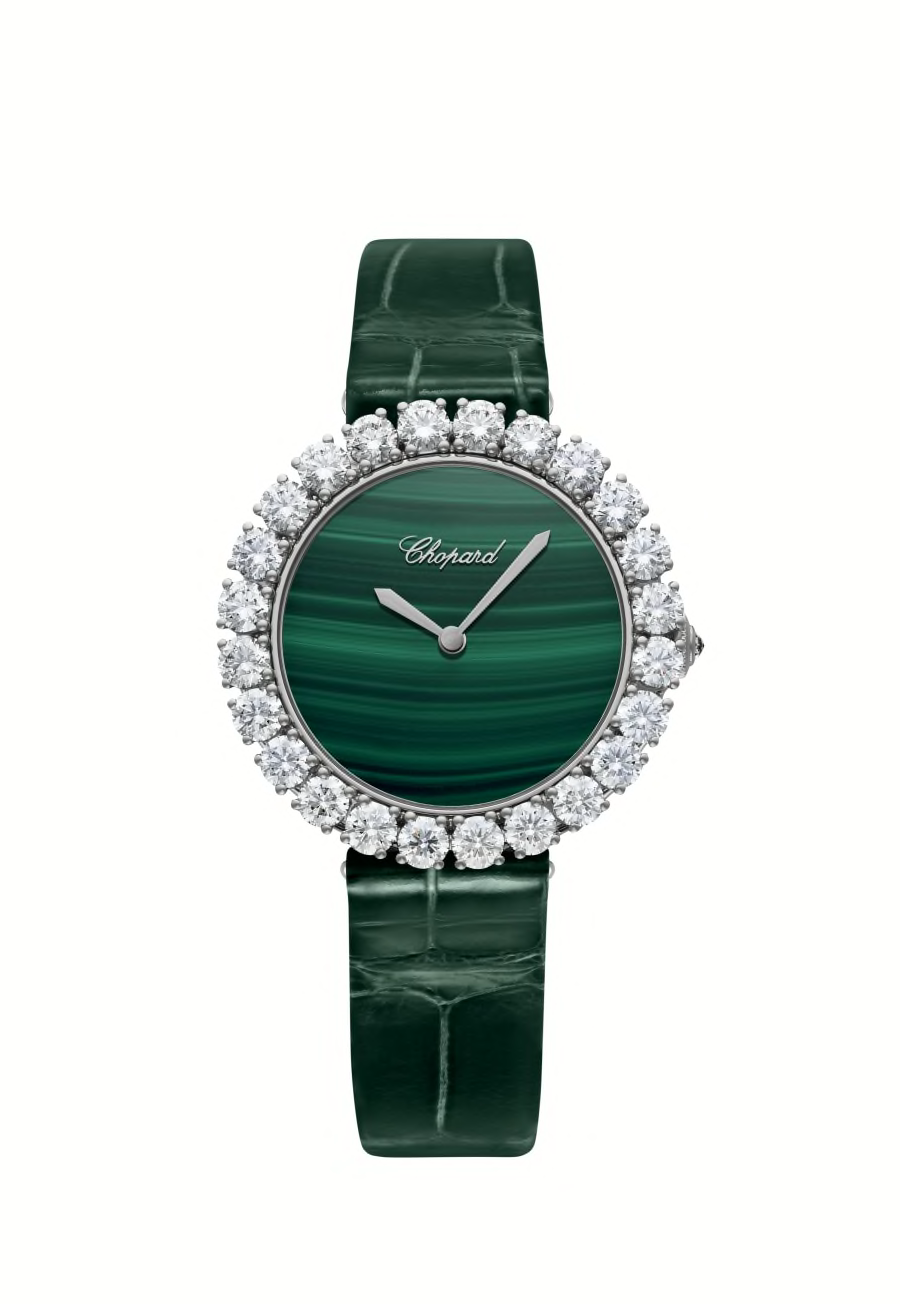 The Chopard L'HEURE du Diamant Vintage Watch is a medium-sized automated timepiece with 5.66 carats of diamonds and 18-carat white gold. This timepiece has a 42-hour power reserve with a 30-meter waterproof resistance and has a frequency of 25,200 per hour.
There are varying designs in the Chopard L'HEURE du Diamant Collection which are appropriately fit for the modern woman. You too can take a look at the collection and decide for yourself which item appeals to your peculiar taste and style. You can order for any of the intricate designs on the official Chopard site
Chopard L'Heure du Diamant timepieces are more than a simple wristwatch that keeps time, they are a piece of high jewelry that will give every fashion penchant a boost of ultimate beauty and feminine attractiveness.