The Proenza Schouler Spring/Summer 2023 collection fashion show at the New York Fashion Week on September 9, 2022 was the combination of vitality, enthusiasm, and other pleasurable qualities of life. 
The creators of this collection chose water as this year's theme because it serves as both the central motif and a comparison of both the designers' rich personal histories and lives. 
To further emphasize the theme, the Spring/Summer 2023 collection campaign features models Kendall Jenner and Selena Forrest as well as the musician Arca who all looked dewy, and had their hair pulled back wet to make them appear like they just emerged from the water or left a dance floor sweaty. 
The collection felt more in tune with nature as the marble walls of the venue of the fashion show was decorated with waterfall films and this was accompanied with subtle music.
Proenza Schouler combines the Latin background of Lazaro Hernandez with the realism and courage of Jack McCollough's American experience. The inspiration for and purpose of Proenza Schouler's Spring collection is to capture the breathtaking sense of wonder one experiences and the audacity of the spirit to reach out without fear or anxiety toward new experiences.
Kendall Jenner Poses for Photograph in the Proenza Schouler Ad
In the most recent Proenza Schouler ad, Kendall Nicole Jenner born on November 3, 1995 an American model, media personality, and socialite gave springtime colors a modern twist. 
(Photo: MODEL WEARING BLUE GREEN LACE OUTFIT ON BLUE LACE PANTS)
In another image, Jenner glared into the camera while sporting a light blue knit minidress with heavily fringed cuffed sleeves. 
The handbag, which she was holding in both hands, was also blue. Her look was dramatically completed with three-tiered silver metal post earrings that were accentuated with iridescent blue stones, giving it a modern, monochromatic look.
Proenza Schouler's Spring 2023 Collection
Matte Viscose Knit Tank Top And Technical Cotton Voluminous Skirt Modeled by Arca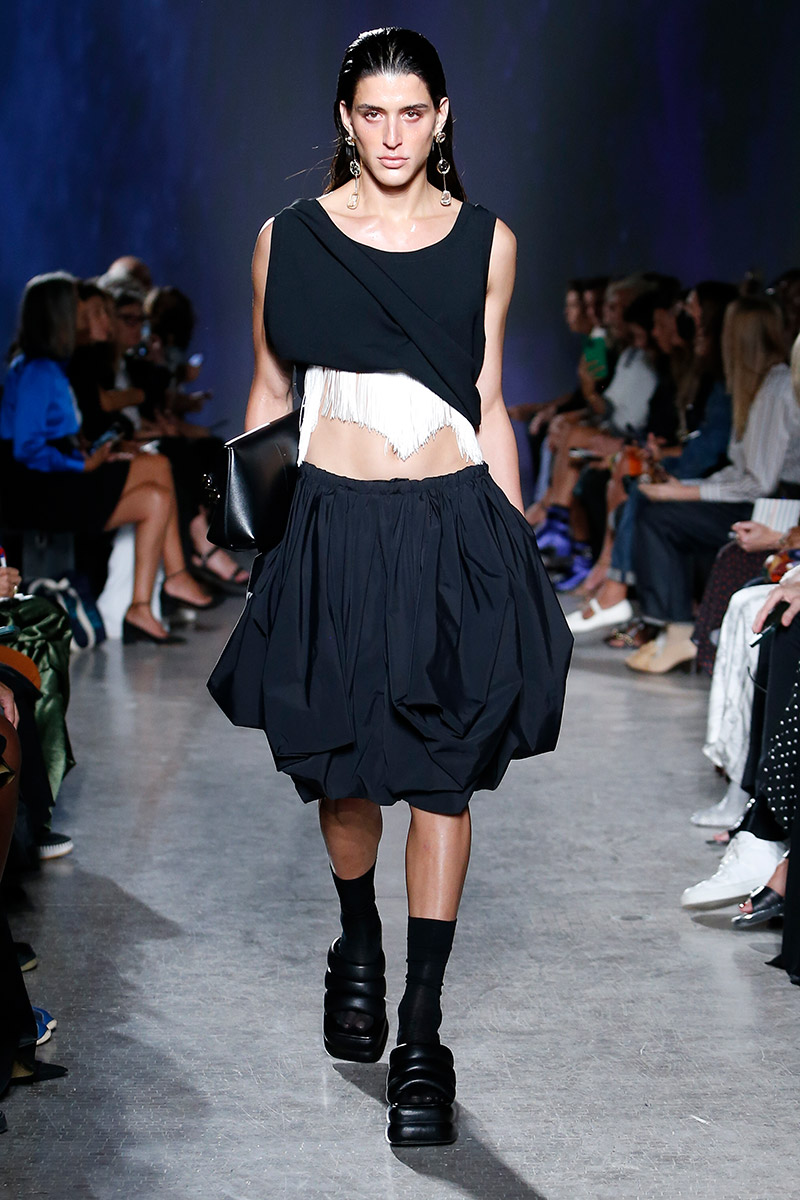 Alejandra Ghersi Rodríguez (born 14 October 1989), known professionally as Arca, is a transgender musician from Venezuela, who commenced the performance wearing a matte viscose knit tank top with a white silk fringe covering her naked torso and a technical cotton voluminous skirt. 
When designing this outfit, McCollough and Hernandez looked into Latin details, such as Spanish dance ruffles popping out from the hems of generously cut bell bottoms, polka dots in various sizes adorning twist-front dresses, and piped bell sleeves that went beyond the knees.
Bi-Stretch Crepe Exaggerated Sleeve Dress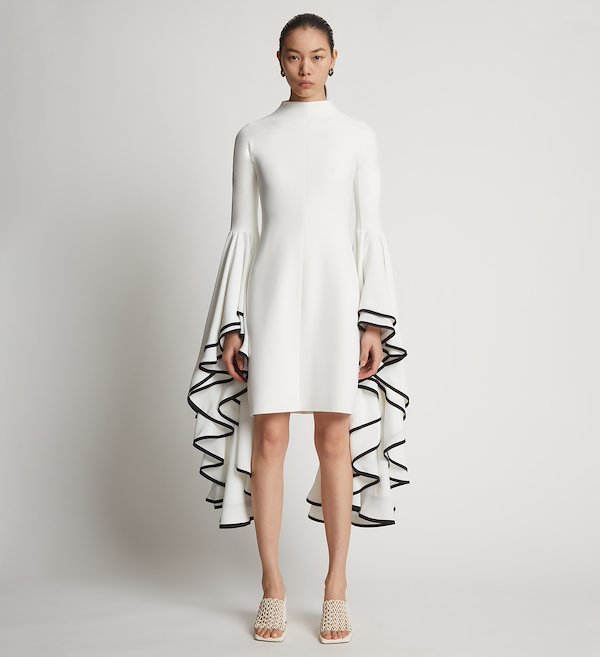 (Photo: MODEL WEARING OFF WHITE BI-STRETCH CREPE EXAGGERATED SLEEVE DRESS)
The Bi-stretch crepe exaggerated sleeve dress by Proenza Schouler is crafted to a straight silhouette. It features long sleeves with over-the-top, flared cuffs and contrast trims with a mock neck.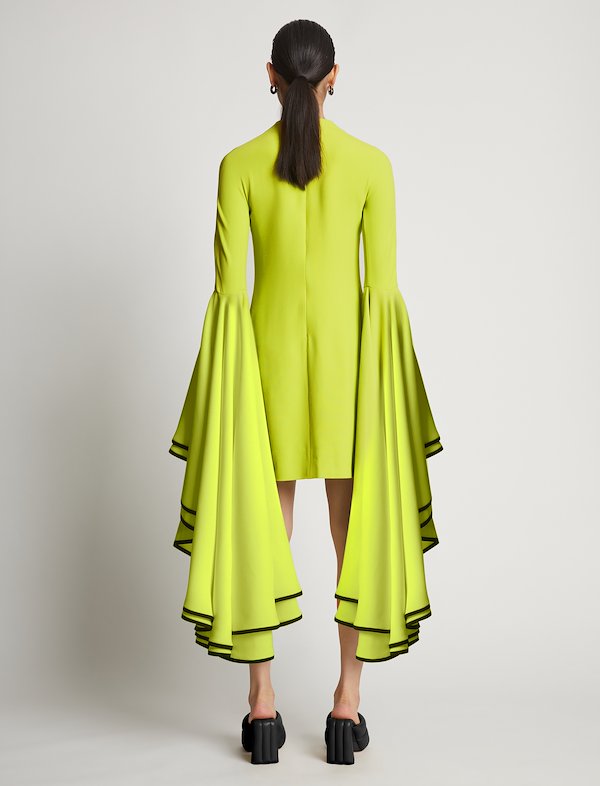 This mini-length hem dress has an  invisible center-back zip closure. The dress comes in bright green, off white, and black.
(Photo: MODEL HOLDING BAR BAG)
Proenza Schouler also used the fashion show to introduce the bar bag, which has two circular gold-tone metal handles and is handcrafted from pure lambskin leather. There are two useful sizes available. The large size, which can be used as a clutch (by folding it over) or a whole handbag, and the small size which has a crossbody outline.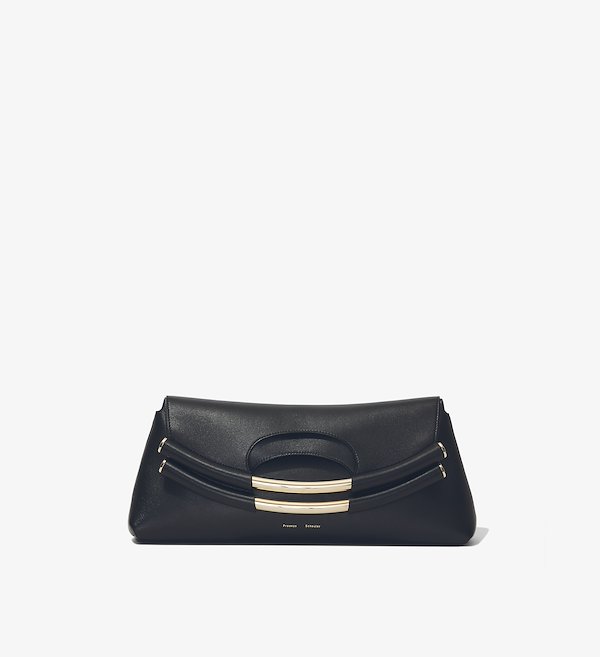 The bar bag can be useful, whether you're going to a high caliber event or just going out to lunch with friends. 
There are many outfits in the Proenza Schouler Spring 2023 Collection to choose from. For example, you have the Arc Platform Slides footwear which is made from lambskin leather and crafted onto a padded silhouette. This footwear is available in different colors including parchment, bright blue, black, off white, and khaki.
(Photo: MODEL WEARING KHAKI ARC PLATFORM SLIDES)
There is also the Technical Cotton Bra which has asymmetric fringing in the front side with tubular shoulder straps and a sweetheart neckline is available optic white and black.
(Photo: MODEL WEARING TECHNICAL COTTON BRA)
Visit the Proenza official website to learn more about the Proenza Schouler Spring 2023 collection and be inspired to upgrade your wardrobe with awesome outfits this Spring.