Award nights and fashion go hand in hand and while some might prefer to focus solely on the outfits, others, like us, love the sparkly diamonds that are bedecked on each celebrity.
Tiffany and Co., Messika, Bvlgari, Chopard, Cartier, De beers and some other jewelers are frequently represented by top celebs gracing the red carpet of most notable award shows.
And although these beautiful pieces are lent to celebrities, their charisma and panache make even the simplest designs look more appealing.
We witness this diamond display again at the recently concluded 2023 Academy awards and for us one of the most memorable display was the De Beers ensembles Rihanna wore for her stage performance of her song "Lift Me Up" – a soundtrack from the movie Black Panther (Wakanda Forever), for which she was also nominated for Best Original Song.
The 35 year old singer gave a captivating performance while dressed in a custom Maison Margiela two-piece outfit which included a black silk tulle embroidered top, silver and blue silk brocade trousers, brocade tabi pumps and black leather gloves. Riri completed her outfit with a dazzling display of De Beers diamonds.
Rihanna's De Beers jewelry ensemble, which had a combined tcw of more than 140 carats, is estimated to be worth a whopping $2.6 million.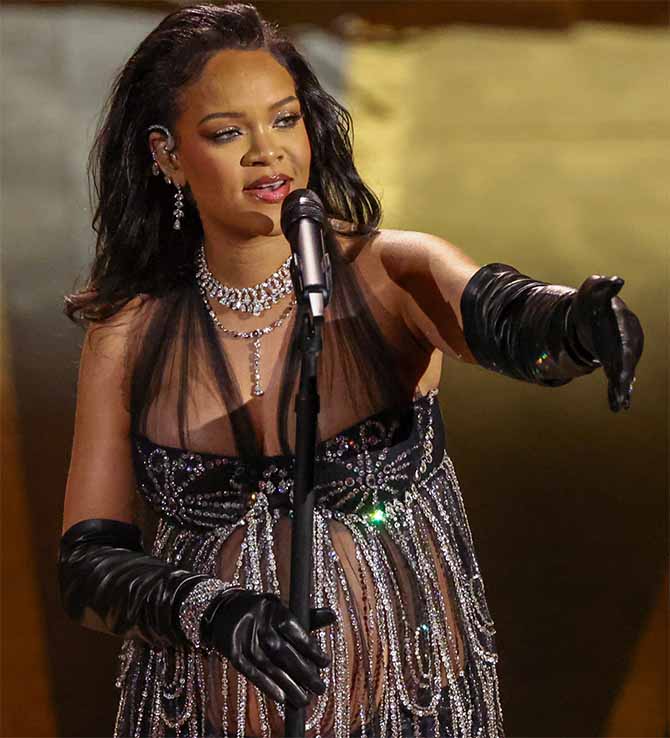 (Photo: RIHANNA ON STAGE DONNING DE BEERS JEWELLERY)
The De Beers ensemble included; the Assana necklace, Swan lake necklace, Idalia necklace, Aden earrings, Adonis earrings, DB Pavé Pear Sleeper earrings, Lotus cocktail ring, DB classic stud earrings and Frozen capture bracelet.
Let's dive a little into each of these stunning and glistening pieces from the De Beers high-jewellery collection.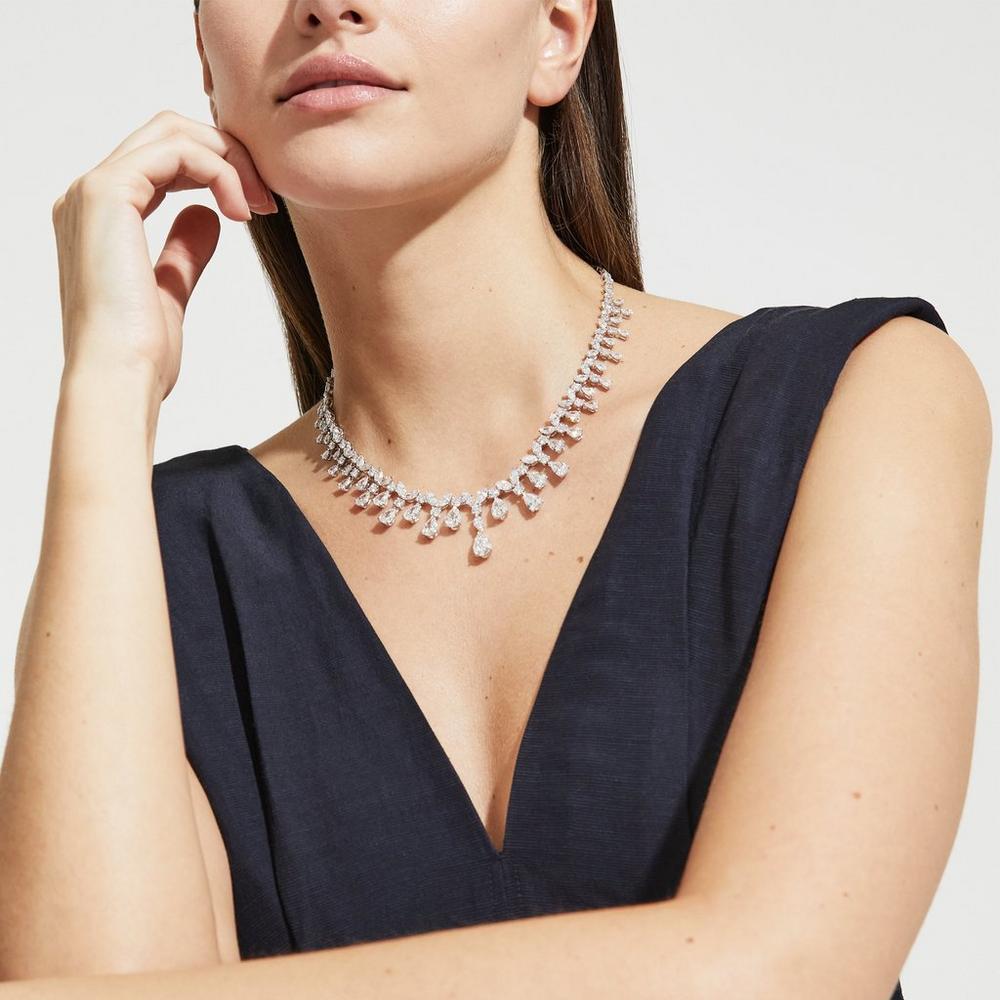 (Photo: MODEL WEARING THE DE BEERS ASSANA NECKLACE)
Paying homage to an ancient belief of diamonds turning into droplets of water while reaching earth, the De Beers artistic designers skillfully crafted each piece in the Assana collection into shapes of water droplets.
This De Beers Assana Necklace is set in 18k white gold and crafted with 60 brilliant round-cut diamonds,  marquise-shaped diamonds and pear-shaped diamonds with a 2.25 carat pear-shaped center diamond, all totalling 37.47 carats.
De Beers Swan Lake Necklace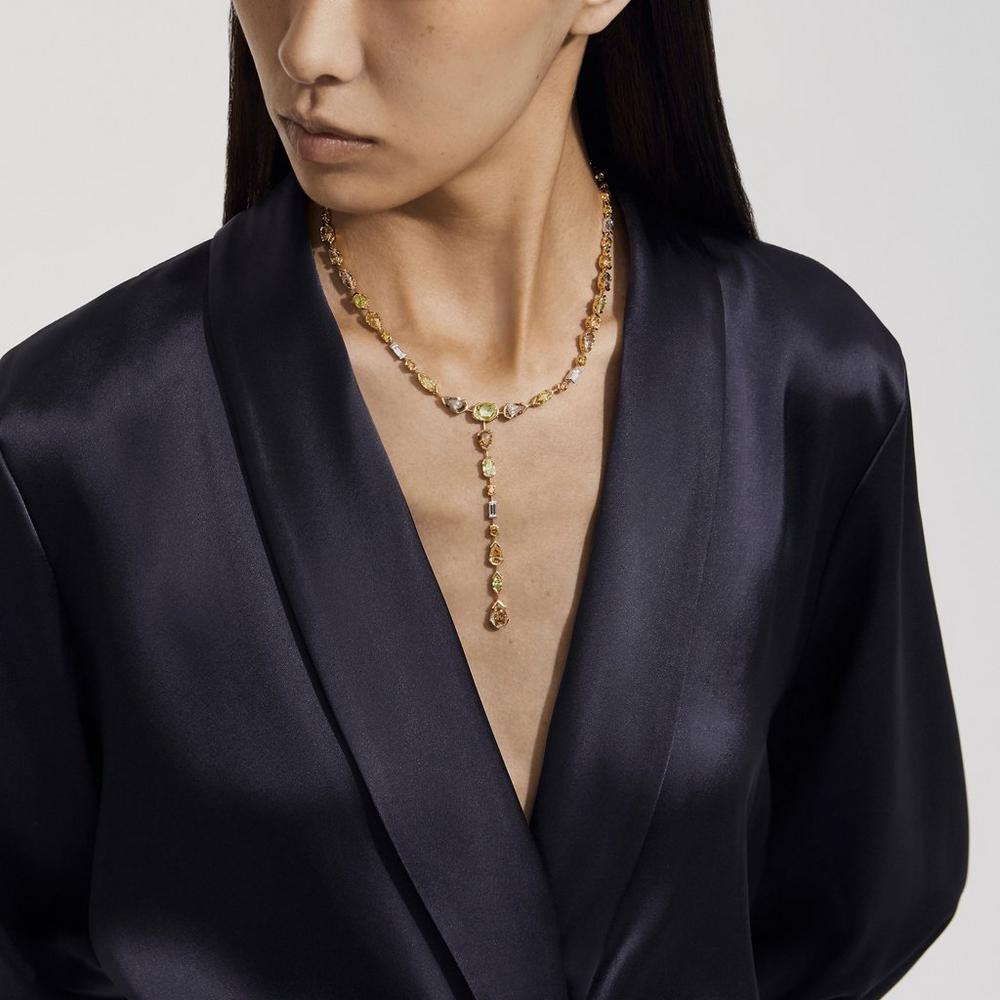 (Photo: MODEL WEARING THE DE BEERS SWAN LAKE NECKLACE IN WHITE YELLOW GOLD)
In this collection, De Beers brings to remembrance Tchaikovsky's Swan lake ballet which the legend composed for his nephews in 1871 – the jeweler honors the legend using varying diamonds in different cuts – pear, oval, marquise, baguette and rose forms.
(Photo: THE DE BEERS SWAN LAKE NECKLACE WHICH RIHANNA WORE)
The particular De Beers Swan Lake Necklace which Rihanna wore is crafted in 18k white gold and set with a total of 23.95 carats of brilliant round-cut, emerald-cut, marquise-shaped and pear-shaped diamonds.
De Beers named this collection after the Greek phrase "Behold the Sun". The jeweler used exceptional and responsibly sourced diamonds in creating this elegant piece.
(Photo: DE BEERS IDALIA NECKLACE)
The De Beers Idalia Necklace is created with 172 marquise-shaped diamonds, brilliant round-cut diamonds and prong-set pear-shaped diamonds all totalling 39.24 carats in weight.
De Beers Adonis Rose Climber Earrings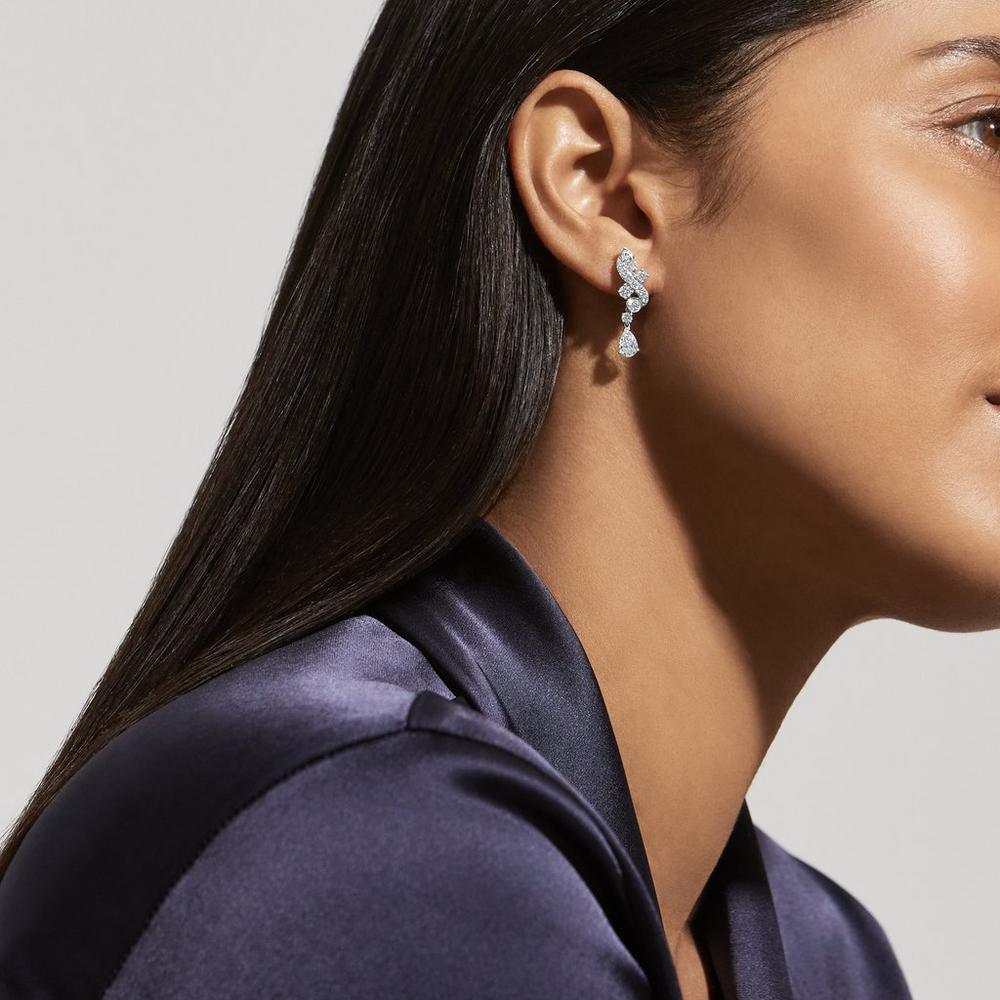 (Photo: MODEL WEARING DE BEERS ADONIS ROSE CLIMBER EARRINGS)
De Beers went floral in the Adonis collection, inspired by the timeless symbolism of the damask/Bulgarian rose which is "beauty and love".
(Photo: DE BEERS ADEN EARRINGS)
Crafted in diamonds and platinum, the De Beers Aden earrings come in a total carat weight of 10.12 carats.
De Beers DB Classic Round Brilliant Studs
Studs are a timeless piece and they pair well with any outfit and for any occasion.  For the De Beers DB Classic round brilliant stud, the jeweler matches responsibly sourced natural diamonds to create this stunning piece which gives its wearer an elegant and graceful look. The ring features 4.04 carats in total.
De Beers Enchanted Lotus Cocktail Ring
The ring's design emphasizes the alluring form of the lotus plant.
De Beers Frozen Capture Bracelet
From the De Beers Alchemist of light collection, the Frozen Capture Bracelet draws inspiration from the way ice gradually intensifies light as it slowly begins to defrost, becoming clearer at its edges.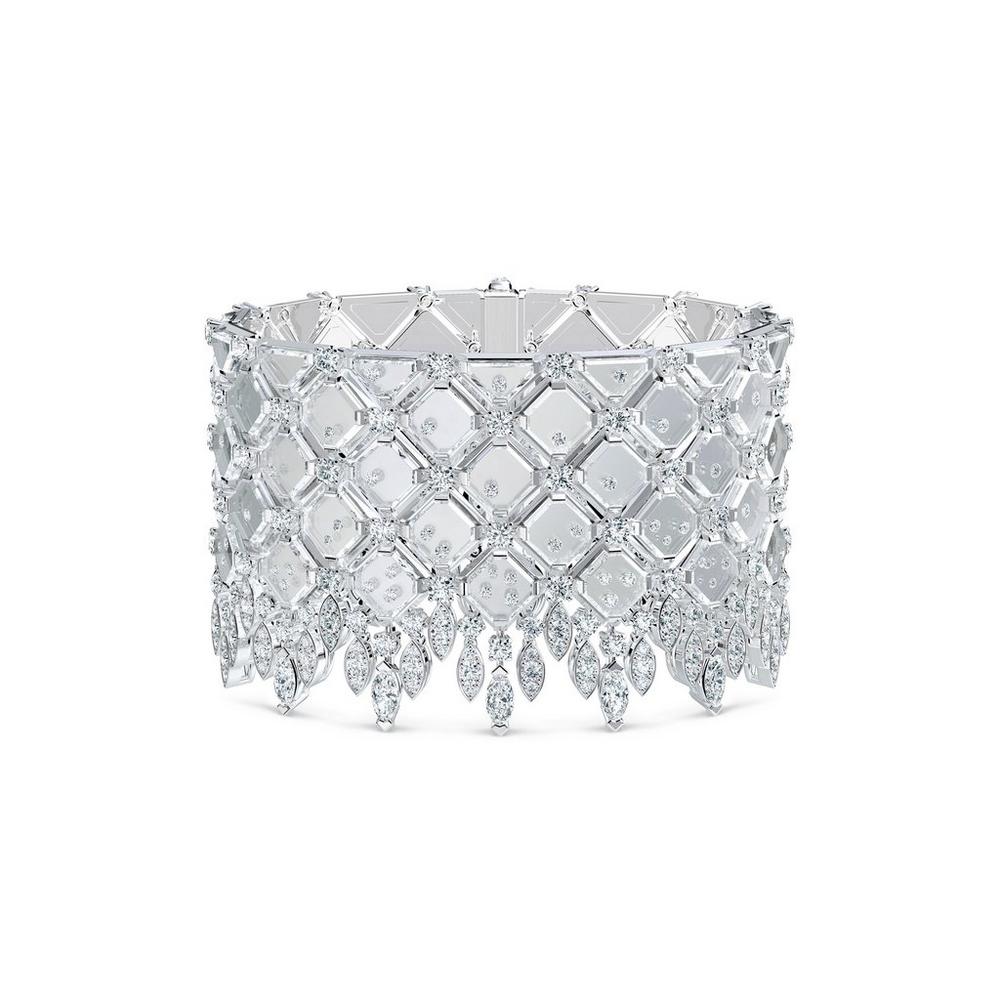 (Photo: DE BEERS FROZEN CAPTURE BRACELET)
The De Beers Frozen Capture Bracelet is created with 18k white gold and designed with round brilliant-cut diamonds and Brazilian rock crystals all totalling 13.24 carats.
Rock A De Beers Jewelry Today!
De Beers is a jeweler known for its exceptional diamonds, exquisite craftsmanship, and commitment to ethical and sustainable sourcing practices.
The De Beers jewelry collections are timeless and elegant, featuring classic designs that are meant to be cherished for a lifetime. 
Whether you are looking for an engagement ring or a special piece of jewelry to commemorate a special occasion, Rihanna's De Beers ensembles are a perfect choice. 
Why not check each piece out today and tell us what you think.