Even though Rihanna was notably absent from the red carpet event at the recently held Golden Globes, the new mom nonetheless shone brightly at the January 10, 2023, awards proper.
Rihanna shone brightly at this year's Golden Globe Awards, where she was nominated for Best Original Song – "Lift Me Up" from the Black Panther: Wakanda Forever soundtrack.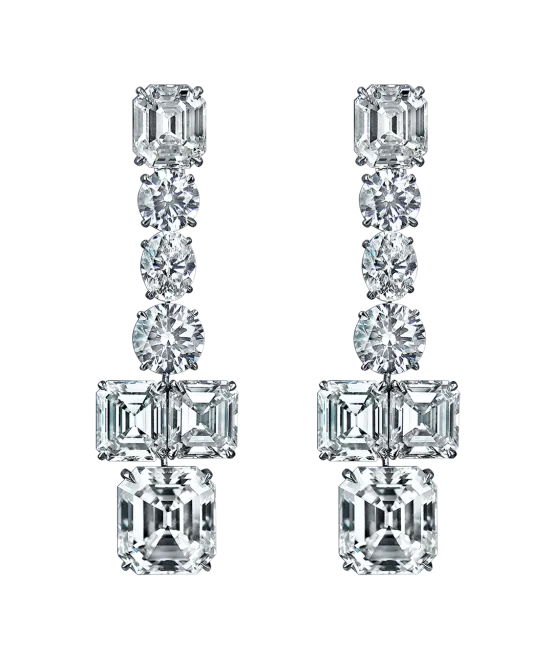 Rihanna brought the bling to the show, and she brought it in spades. Her sparkling outfit had diamonds from the famous Cartier jewelry house that added up to dozens of carats.
Rihanna's Jewelry Collection at the Golden Globe Awards
Rihanna, who was accompanied to the event by her boyfriend, wore more than one elaborate necklace. She also had six large diamond studs, including 5-carat sparklers from Jacob & Co. and a single pear-cut stud from Reza, spread across both ears for even more sparkle.
Her single statement earring was cleverly placed in her top helix piercing and had more than a dozen diamonds from a matching Cartier set.
Here are brief descriptions of four of the high-end earrings that Rihanna wore at the Golden Globe Awards.
Cartier's Sixième Sens High Jewelry collection
The gorgeous necklace is a piece from Cartier's Sixième Sens High Jewelry line. A unique fancy vivid blue lozenge-shaped diamond weighing 2.07 carats and a pear-shaped diamond totaling 8.45 carats make up the necklace.
Maria Tash Diamond Stud Earrings
The Maria Tash pear-shaped diamond earrings worn by Rihanna also includes a hypoallergenic, traditional friction backing made of 14-karat gold.
Jacob & Co. Diamond Stud Earrings
Jacob & Co. Diamond Stud Earrings
The Jacob & Co. diamond stud earrings elegantly combine the aesthetic beauty of 5.0ct round brilliant-cut diamonds with the functionality and durability of hypoallergenic 18k white gold push backs. These earrings look similar to Maria Tash's teardrop shaped diamond studs from a distance, but both are quite different. Nevertheless, Rihanna wore the Jacob & Co. and Maria Tash's earrings with poise, elegance and grace.
Rihanna also added a pair of full moon-shaped Reza Stud Earrings to her jewelry collection at the Golden Globe awards. The different-sized pavé diamonds create a spectacular sparkle, resembling a shooting star while the pair of diamonds exterior evokes thoughts of the craters on the moon's surface.
While it's hard to match the aura of sophistication that Rihanna brings to any show she's in including this year's Golden Globe Awards, you can at least try to match her exotic charm by donning high-end jewelry from the exclusive fine and high-end jewelry collection of Cartier, Maria Tash, Jacob & Co. and Reza in 2023.