Collaboration by A Legendary Pair
It was reported on January 25, 2023, that Tiffany & Co. and Nike were working together on the launch of a new sneaker line. Apparently this is the first time the jeweler and the shoe manufacturer have collaborated since 2005, when Nicky Diamonds of Diamond Supply Co. added the now-iconic "Tiffany Blue" hue to the Nike SB Dunk Low. 
Reliable insiders claimed that the new partnership would place special emphasis on the Air Force 1 Low. While the final design has not been revealed as of this writing, rumors have stated that they will include all-black AF1s with a nubuck upper that are then complemented with famous Nike swoosh in "Tiffany Blue" on either side. 
Chrome embellishments at the heels with etched labels were also said to be included in the shoes' packaging. 
In place of conventional shoelaces are rope laces mimicking the design of Tiffany & Co. bag handles. The sub-line of Tiffany & Co.'s jewelry store bearing the "1837" moniker as a tribute to the company's foundation year reportedly inspired the collaboration's name. 
The shoe giant announced its upcoming partnership with Tiffany & Co. on January 31, 2023. Instagram photos showed the sneakers in a Tiffany blue shoe box with the instantly recognizable Tiffany & Co. emblem. So it's definitely official that Tiffany & Co. and Nike are teaming up on a new sneaker collection.
Below is a breakdown of the Air Force 1 Low 1837 sneakers by the legendary pair in more detail.
The Nike Air Force 1 Low "1837" comes in a Tiffany & Co. traditional blue box, but with the Nike swoosh on top. The interior is a vibrant crimson, and the flip side of the lid features a white Tiffany wordmark that echoes the tongue label. Tissue paper with a Tiffany & Co. advertisement printed on it and white, yellow, and Tiffany blue lace options round out the package.
The Legendary Pair 1837 Sneakers
Featuring a premium black nubuck upper and a Tiffany Blue Nike Swoosh, the Nike Air Force 1 Low Tiffany & Co. 1837 offers a striking combination of colors. The sneaker's heel is embellished with Tiffany's trademark .925 silver. Finally, this iconic pair of sneakers will be available in limited quantities, with special packaging, and will be named "1837" in honor of Tiffany & Co.'s founding year.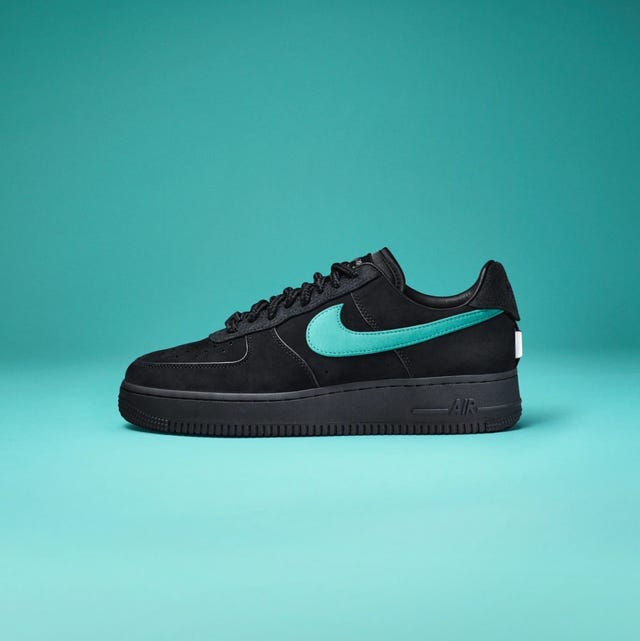 Sterling Silver Whistle Pendant with chain, Shoe Horn, Shoe Brush and Shoe Tag All in Package
In addition to the 1837 sneaker, Tiffany & Co. and Nike are releasing a collection of sterling silver accessories featuring their respective twin logos. There are four items in particular; a shoe horn, a shoe brush, a shoe tag and a whistle chain—that are sure to be snapped up by fashionistas and sneaker lovers alike.
The $400 priced Tiffany & Co. x Nike Air Force 1 Low "1837" will be available for purchase on Tuesday, March 7th, 2023 and it will likely be up for sale simultaneously on Tiffany & Co.'s official website, as well as the Nike online store. We will be on hand to provide updates on this epic collaboration, so be sure to check back soon.