Having strong, healthy nails is not only aesthetically pleasing, but it can also indicate good overall health. Nails that are weak, brittle, or prone to breaking can be frustrating, but there are several steps you can take to strengthen them.
A healthy diet that is rich in vitamins and minerals can help improve the health of your nails. Biotin, a Vitamin B, has been shown to improve nail thickness and reduce brittleness. Foods that are high in biotin include eggs, almonds, sweet potatoes, and spinach. Vitamin E is another nutrient that can help strengthen nails, and it can be found in foods like nuts, seeds, and leafy greens.
Commit To Regular Manicure
Regular manicures are essential to maintaining strong nails, whether you choose to do it yourself or visit a salon.
Keep them clipped, clean, and also check for snags by lifting the free edges to see if there are any, and if so, smoothen them out.
And if painting your nails is your thing,  make sure that the polishes you use—base coats, colors, and top coats—contain nourishing, conditioning ingredients, rather than potentially harmful substances like formaldehyde, camphor, and toluene, a good one is the Zoya nail polish, they are eco-friendly and vegan-free.
Healthy nails, like healthy skin, require proper hydration. Dry nails are more likely to become brittle and prone to breaking. Using hand lotion regularly can help keep your nails hydrated. It's also important to avoid frequently using harsh chemicals, such as a nail polish remover as they can dry out your nails.
(Photo: MODEL HOLDING AUGUSTINE BADER THE HAND TREATMENT PRODUCT)
The fast-absorbing, luxuriously rich Augustine Bader The Hand Treatment helps to nourish and hydrate overwashed, chapped or dry hands. This hand treatment is also great for everyday use.
Speaking of harsh chemicals, they can do a lot of damage to your nails. Nail polish and acrylic nails are two common culprits that can weaken your nails over time. That's why it's important to give your nails a breather from artificial nails attachments and if you must use nail polish, opt for a non-toxic and non-acetone remover that contain nourishing ingredients like Sundays Pr.01 Polish Remover contains soy, Vitamins and grapefruit essential oil for a nourishing effect.
Take Care Of Your Cuticles
Cuticles are the thin layer of skin that protects the base of your nails. If they are damaged or torn, it can lead to an infection. To keep your cuticles healthy, apply cuticle oil regularly to soften the skin. If you need to push your cuticles back, use a cuticle pusher rather than trimming them.
(Photo: MODEL USING THE OLIVE AND JUNE CUTICLE SERUM DUO)
Olive and June Cuticle Serum Duo is our go-to product for healthy cuticles, it is hydrating, cruelty free as well as vegan free.
Invest In A Nail Strengthener
Having a nail strengthener on hand can be very helpful; just make sure that it doesn't contain formaldehyde.
Numerous products with natural ingredients are available on the market; they are typically marketed as base coats or nail serums and contain plant-based ingredients, keratin and protein.
Household cleaners, such as bleach and ammonia, can be extremely harsh on your nails. Protect them by wearing gloves when doing household chores that involve harsh chemicals. Gloves can also protect your nails when you're gardening or doing other outdoor activities that can be tough on your hands.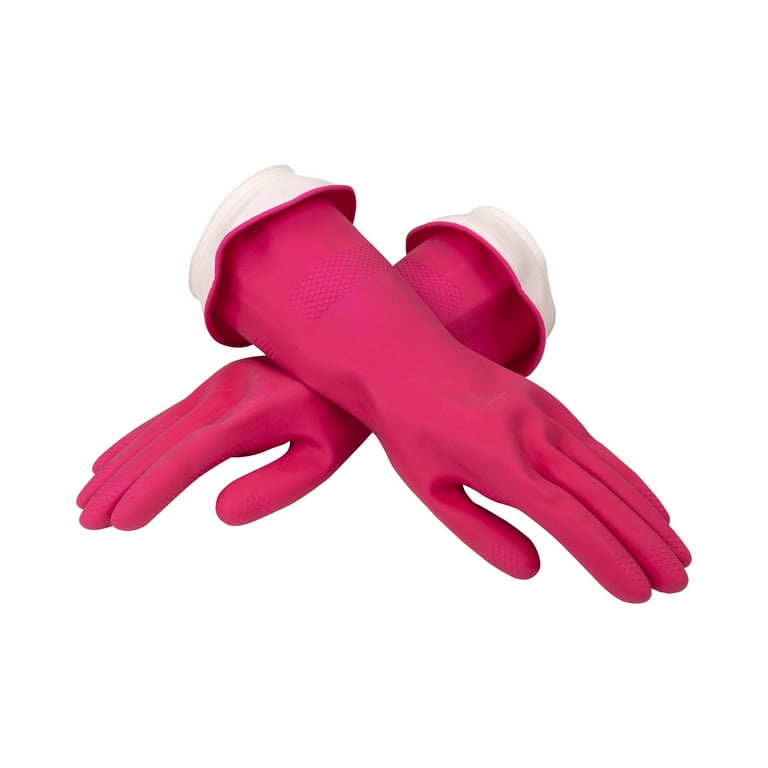 (Photo: CASABELLA WATERPROOF GLOVES)
You can shop for the Casabella Waterproof Gloves today and protect your hands and nails from the effects of harsh, harmful chemicals.
Biting your nails is a common habit, but it can do a lot of damage to your nails. It weakens the nails and can also lead to infection. If you're having a hard time quitting, try using a bitter-tasting nail polish to help you break the habit.
Collagen is a protein that is essential for healthy nails, skin, and hair. As we age, our bodies produce less collagen, which can lead to weaker nails. Supplementing with collagen can help improve your nail health. You can find collagen supplements in powder form or capsules.
Having strong, healthy nails requires a combination of good nutrition, hydration, and proper care. With a few lifestyle changes, you can improve the health of your nails and enjoy beautiful, strong nails for years to come.