Nothing compares to the energy of New York City, with its recognizable landmarks, never-ending motion, unmistakable spirit, and unrivaled style.
Since the Winston House first opened its doors in 1932, this remarkable city—the center of glitz and excitement—has served as a source of inspiration for its designers, and it continues to do so as it creates the next wave of legendary jewelry.
The New York Collection, Inspired by the Glitz of The Big Apple
Winston's New York collection draws inspiration from the founder's beloved City (New York) and centers on the structures that Harry Winston lived and worked in, as well as the city's famous monuments.
The collection has some of the most beautiful, classic and iconic necklaces, and they express the distinctive breadth and uniqueness of Harry's design.
Within "The New York Collection," there are 8 sub-collections that include everything from gems that resemble the windows of Brownstones, the home of Winston's formative years, to the eye-catching marquetry marble floor of his illustrious Fifth Avenue flagship salon.
The incredible collection is emblematic of Winston's design aesthetic, with each piece lovingly fashioned with brilliant diamonds for dramatic effect. 
Our piece for the week is the Cathedral Emerald Necklace, which is a stunning piece from the High Jewelry line in the New York collection. The high jewelry line is a tribute to the label's amazing tale, and the Cathedral Emerald Necklace takes center stage in part 1 of unveiling The Harry Winston New York Collection.
The Cathedral Emerald Necklace: A Gorgeous Jewelry Dedicated to St. Patrick's Cathedral
The Harry Winston Cathedral Emerald necklace design is inspired by Winston's initial office on East 51st Street's view of St. Patrick's Cathedral; it mimics this magnificent neo-gothic architecture building in grace, elegance, and mystic.
This extravagant necklace honors the beauty associated with the House of Harry Winston; it is embellished with five exquisitely matched Colombian pear-shaped emeralds weighing over 65 carats and strung together by sparkling baguette and marquise cut diamonds.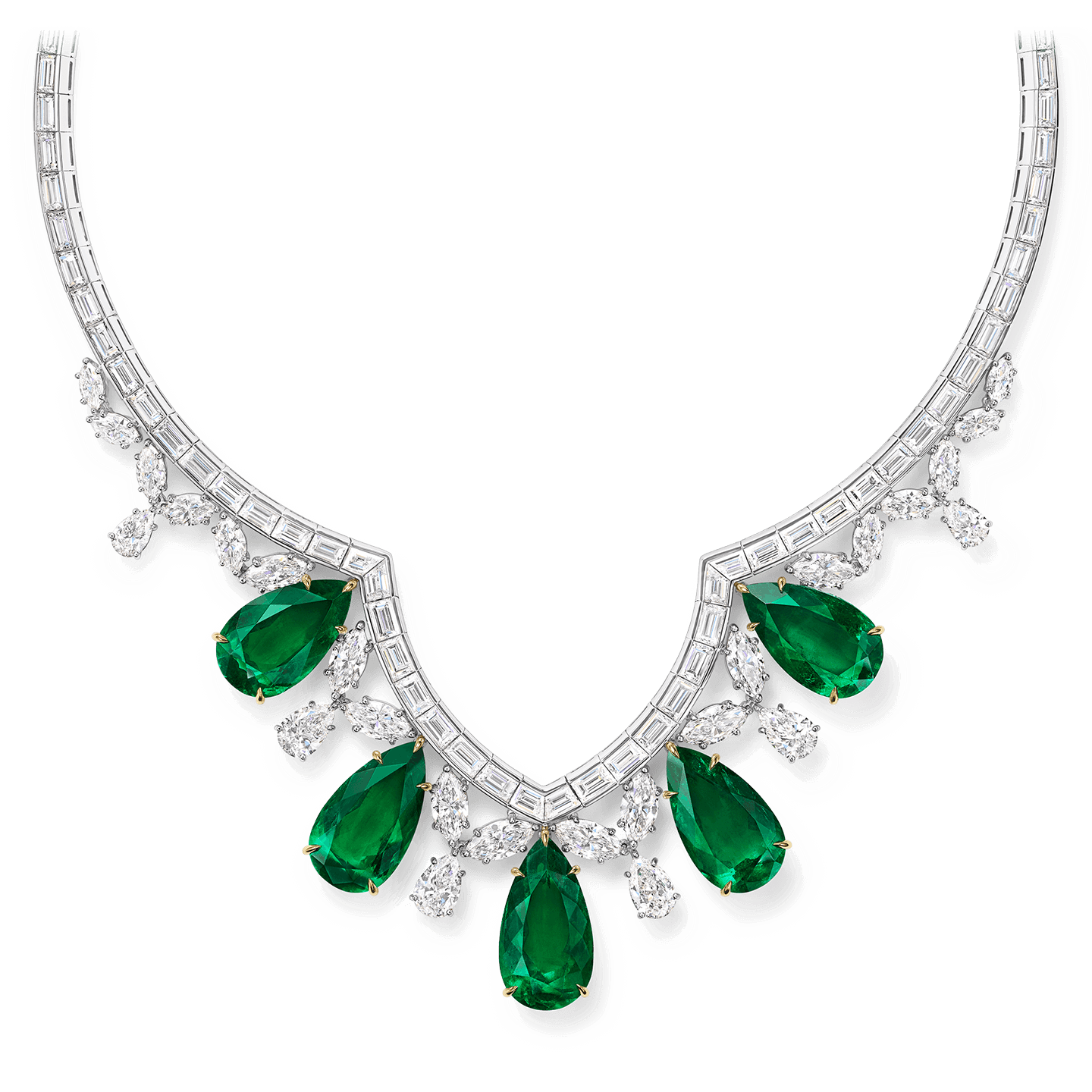 CC: Harry Winston
This piece not only exemplifies the jeweler's appreciation of vivid colors and light, but also highlights the emeralds' natural beauty and perfectly exudes royalty, glamor and opulence.
Valentine's Day will be here before you know it, there is no shortage of fine jewelry gifting options for the occasion, and this stunning embellishment will be the perfect gift for a romantic night out.
As a statement piece, the Cathedral Emerald necklace can also be worn as a standout accessory for your red carpet attire. To get this piece of beauty, you can SCHEDULE AN APPOINTMENT or REQUEST ASSISTANCE on the Harry Winston official website today.