Welcome to part two of our six-part article on the renowned Harry Winston's New York High Jewelry collection!
In today's post, we'll take you on another in-depth look at some of the exquisite pieces featured in this collection. From breathtaking necklaces and earrings to exotic rings and bracelets, each of these remarkable designs offer a timeless beauty that is sure to dazzle.
We'll explore the craftsmanship and traditions that have been handed down through generations, as well as the modern influences crafted into each piece. So let's dive right in and discover why Harry Winston continues to be a leader in luxury jewelry design!
In the first part of this six-part article, we mentioned how Harry's New York High jewelry collection paid homage to his beloved city, New York. And in keeping up with this nostalgic tale, each jewelry piece in the Harry Winston collection mentioned below vividly conveys the inner thoughts of Harry's New York-centric story.
Harry's Manhattan From The Sky Necklace
Our second piece in the Harry Winston high jewelry collection is the Manhattan from the sky neckpiece.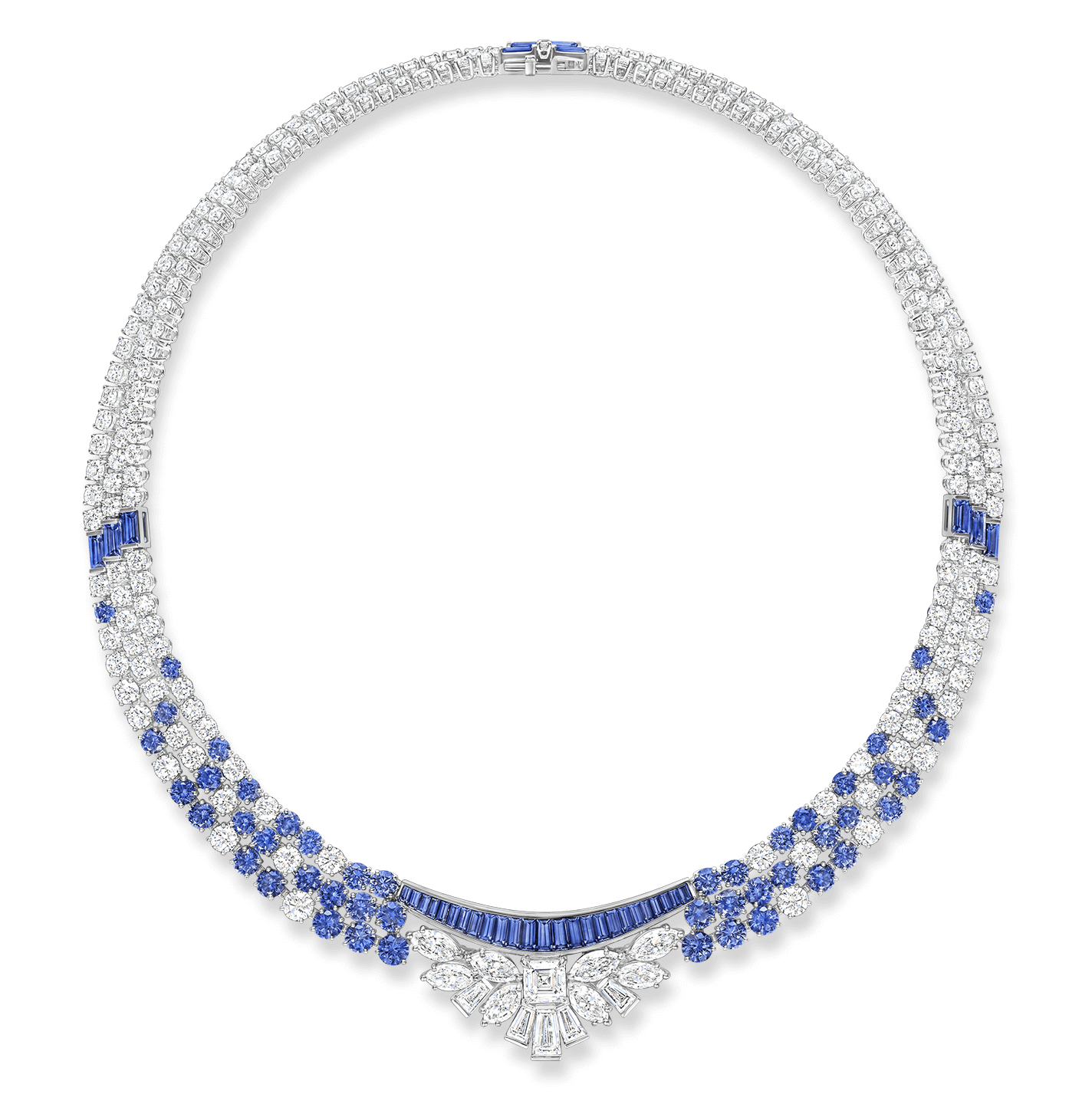 This show-stopper piece according to the renowned jeweler, portrays the iconic Manhattan skyline in the evening time, the city is said to be bathed in the most amazing colors at night and this necklace flawlessly captures this spectacular time in the city through its priceless light blue sapphires and sparkling diamonds.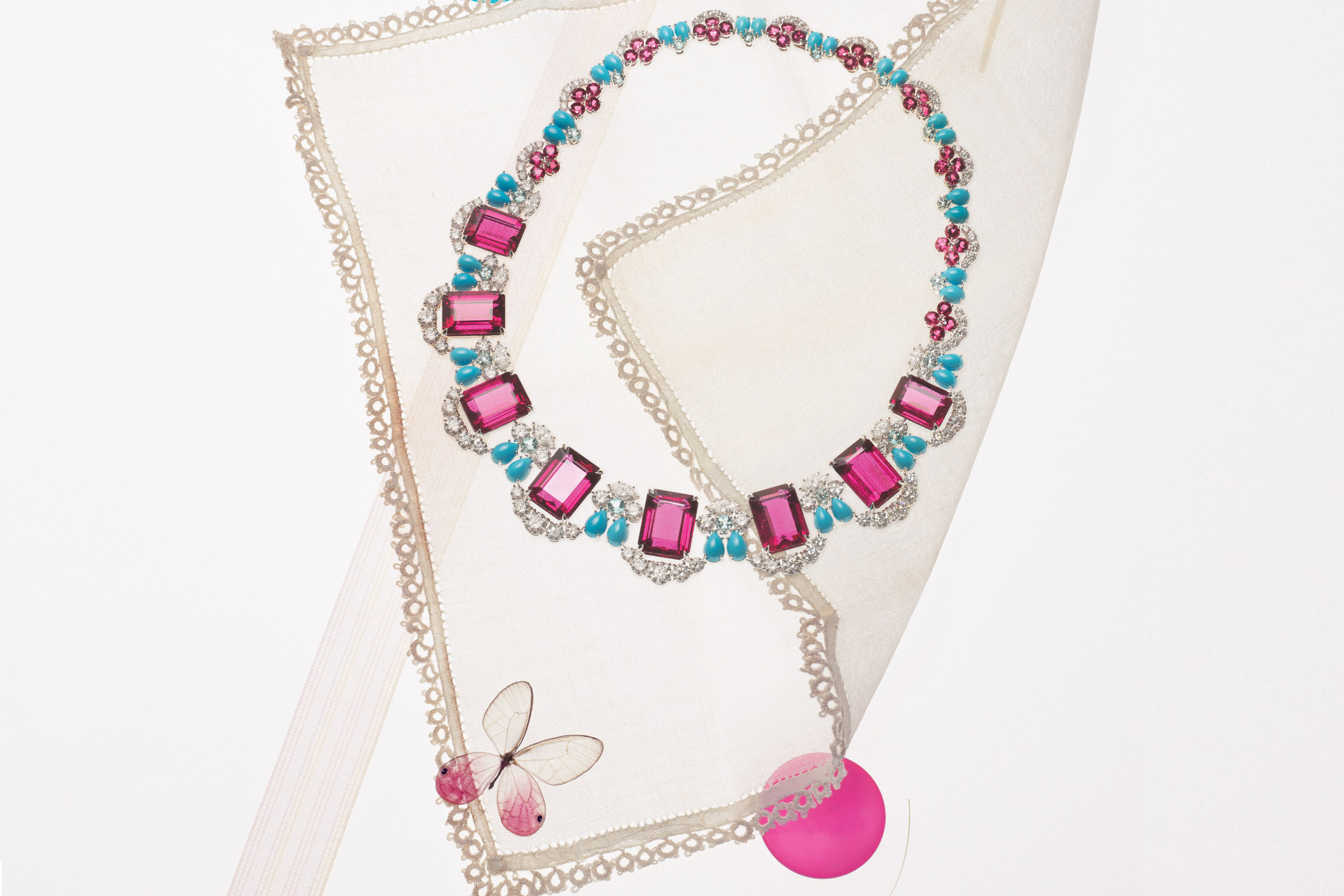 This stunning necklace has 85 light blue sapphires in varying cuts, accentuated with 255 brilliant diamonds, and set in an unusual geometric pattern.
At the center of the necklace are medium size-shaped diamonds that serve as the centerpiece of the necklace.
Surrounding these diamonds are a number of smaller diamonds and sapphires that are carefully arranged to create the illusion of a skyline and finally, secured with a hidden clasp.
The Manhattan from the Sky necklace is a perfect embodiment of exquisiteness.
It can be accessorized by any woman who wants to make a statement. Whether you're attending a formal event or simply looking to add a touch of elegance to your everyday look, this necklace is sure to be a conversation starter anyday, anytime. This "beauty" truly exudes luxury, elegance and timeless sophistication.
Harry's Central Park Mosaic Ring & Bracelet
Our third masterpiece is the Central Park Mosaic Ring. It is said to be one of the Brand's most iconic creations, and Harry's inspiration for this masterpiece was drawn from the vibrant nature of Central Park as it changes with the seasons. The pieces in the Central Park Mosaic Ring fully captures the beauty of seasonal changes in one of New York City's most iconic parks, with emeralds, sapphires, diamonds and aquamarines crafted to replicate the majestic backdrop of the Central Park.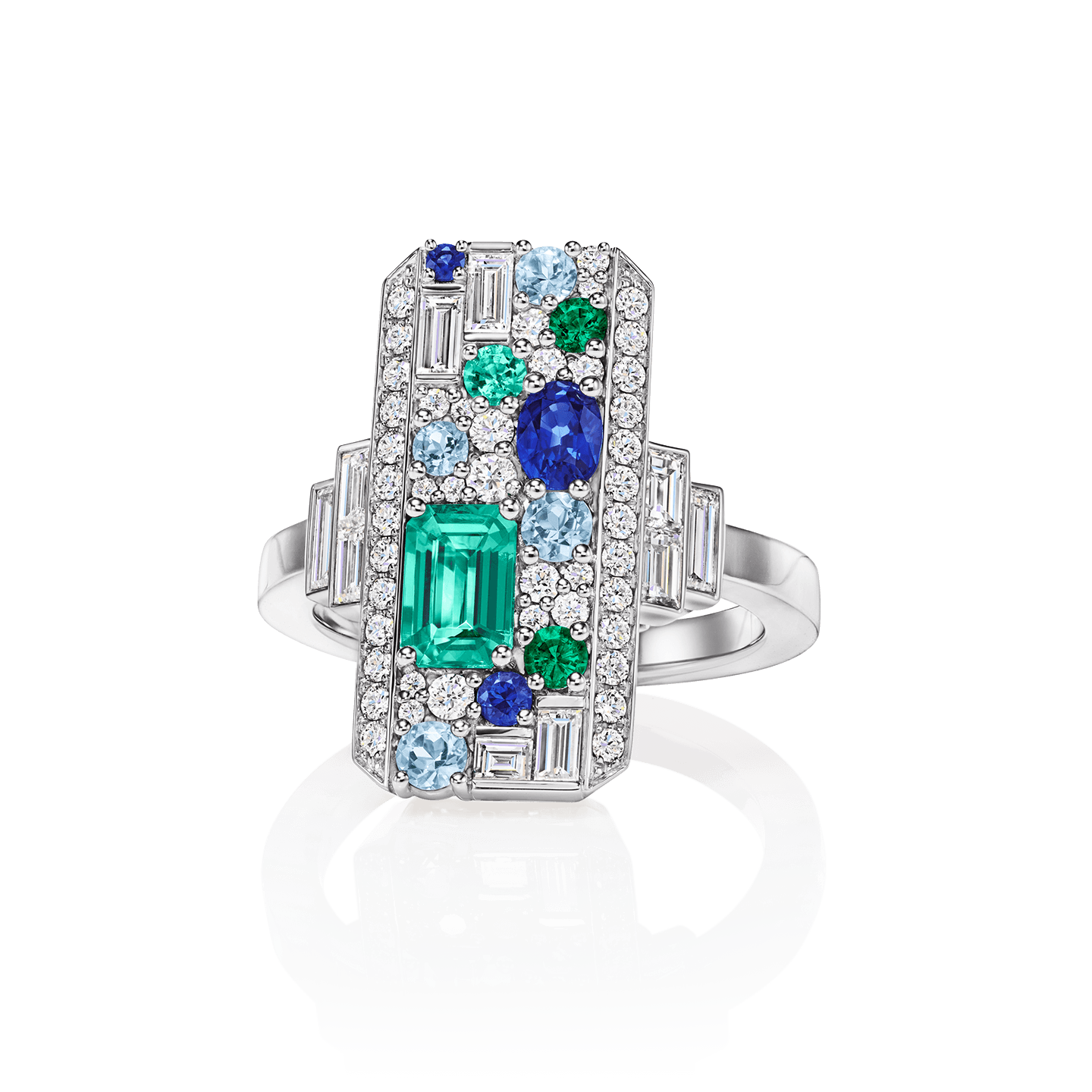 The Central Park Mosaic Ring is a stunning work of art that showcases the brand's expertise in diamond cutting and setting. The ring features a large central diamond, surrounded by a mosaic of smaller diamonds that are arranged in a geometric pattern. The central diamond is set in a raised, four-prong setting, which allows light to pass through the stone and create a brilliant sparkle.
The ring's band is crafted from 18k white gold, and has a unique curved shape that allows the ring to fit comfortably on the finger. With its intricate design, high-quality diamonds, and luxurious materials, this ring is a true work of art that is perfect for any occasion.
Harry Winston Central Park Mosaic bracelet:
Harry Winston is a collection that focuses on the finest details on the premises, including the white and black marble design of the atelier's design and a bronze chandelier that is gilded hanging high within the lounge. Seven cabinets with gold plating that used to display the most exclusive confections are now named with 718 Emerald Vitrine. It's a collection of diamonds and Colombian Emerald-colored confections.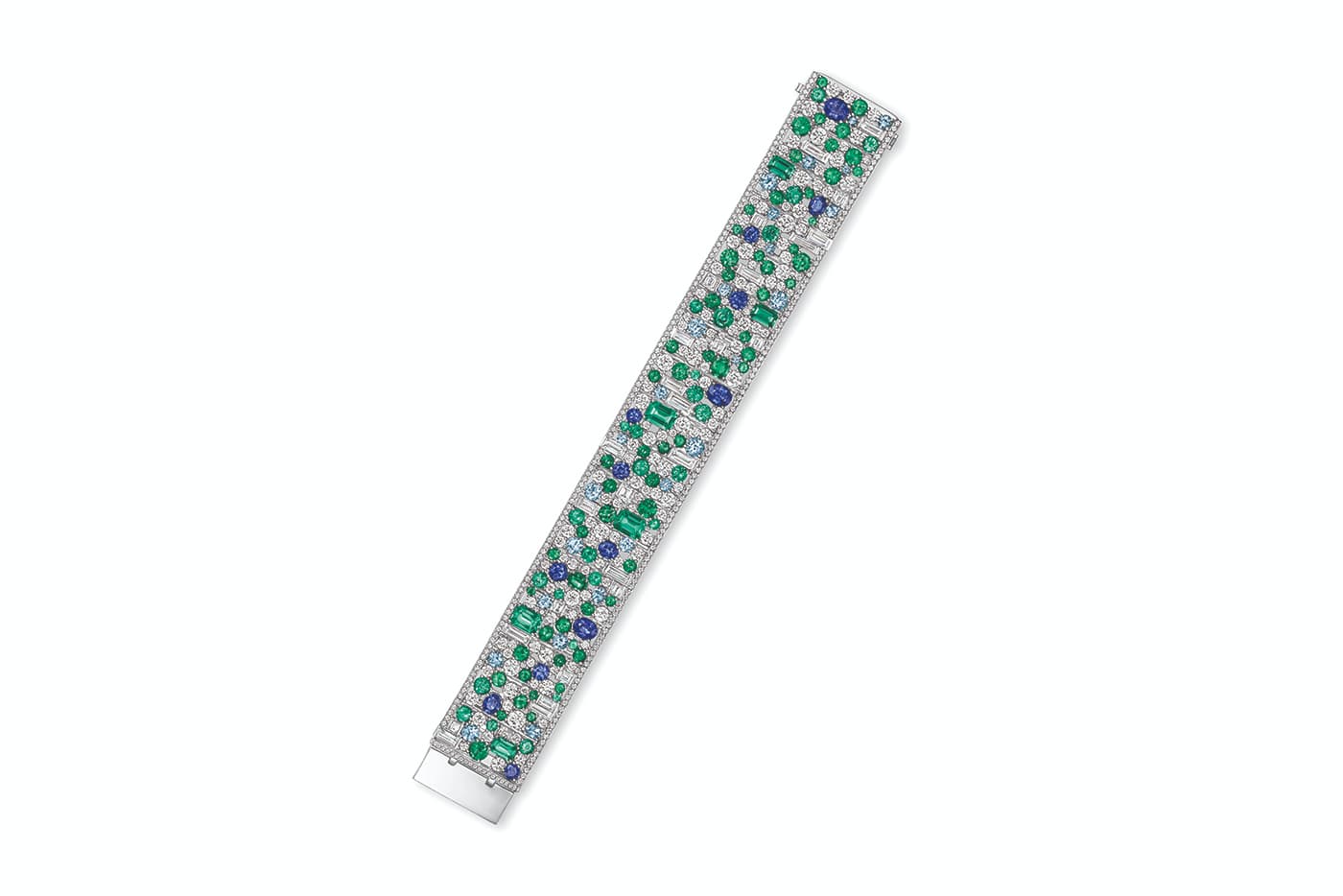 You can wear it with everything from formal evening gowns to a simple white shirt. You can even give it as a gift item to that special someone.
Overall, the New York High jewelry collection is a true testament of the brand's commitment to creating beautiful, high-quality jewelry that is not only a symbol of luxury and elegance, but also a true work of art that will be treasured for years to come
Harry Winston's jewelry pieces are sought-after and worn by celebrities, royalties, and other high-profile individuals. You can join this illustrious list of personalities when you elevate your personal jewelry collection with the exclusive Manhattan from the Sky and/or Central Park Mosaic Ring high-jewelry from the stables of Harry Winston New York Collection today.