In this third part of our six part series, we delve deeper into the fabulous collection of gorgeous high jewelry inspired by Harry Winston's New York City experience. We feature two exquisite pieces with precious stones and elegant settings that will take your breath away. So come along as we explore the world of fine jewelry through the mind's eye of Harry Winston.
Harry Winston's Fifth Avenue Crossover Diamond Necklace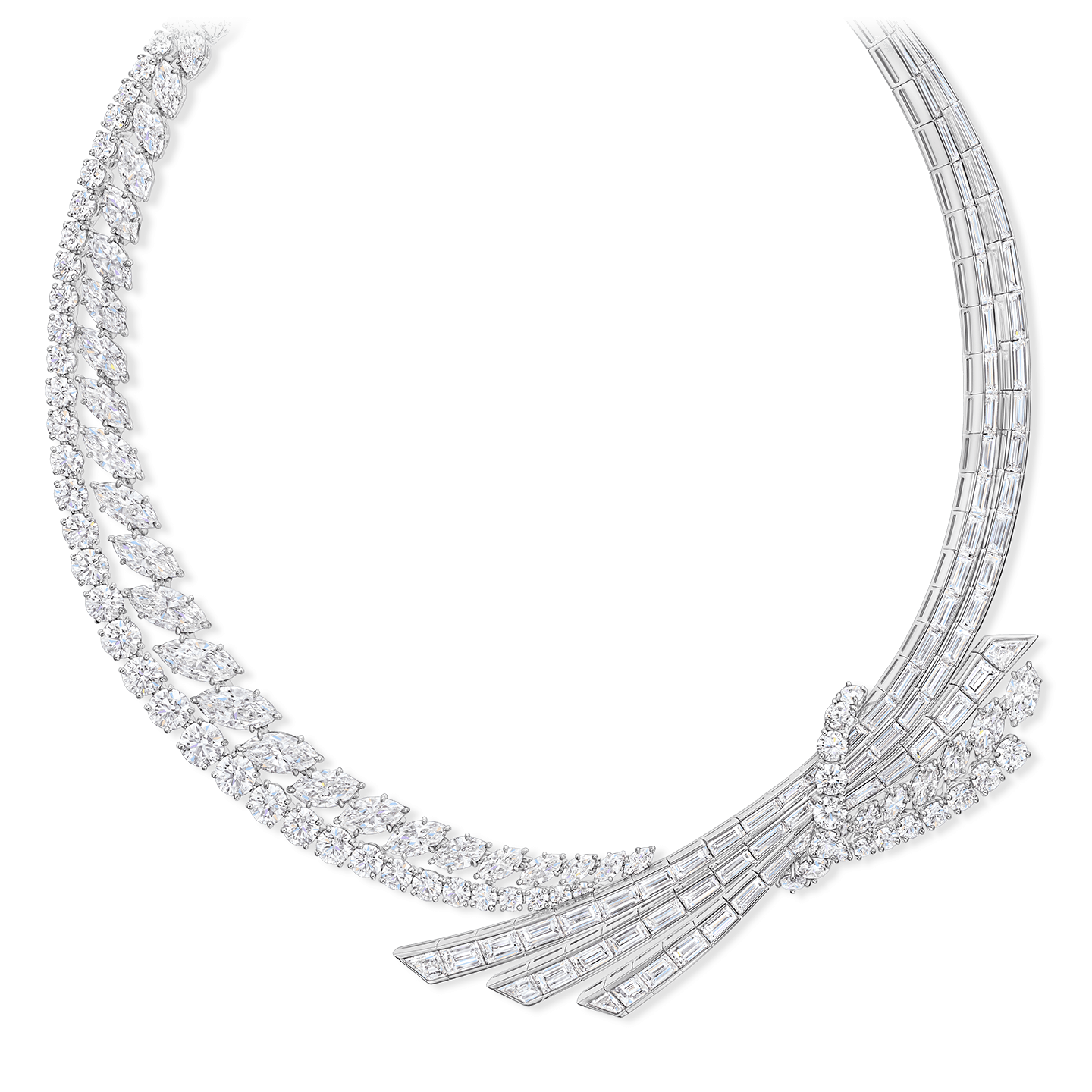 With a variety of round brilliant, marquise, and precisely calibrated baguette diamonds that are painstakingly set in a symmetrical mélange of geometric shapes and angular forms, the Crossover Diamond necklace is reminiscent of the opulent Fifth Avenue Metropolitan museum's entrance.
This true work of art is made up of over 77 carats of round brilliant, marquise, pear-shaped, baguette, and square-cut diamonds that have been expertly set in a striking arrangement of shapes and angular patterns.
The necklace also features a unique crossover design that is elegant, timeless and modern, making it a piece of jewelry that will never go out of style.
The Fifth Avenue Crossover Diamond Necklace is perfect for a night out with a dinner date or even a daytime wedding occasion. This neck piece offers an adjustable neckline fit.
So if you are looking for a durable, timeless piece to add to your jewelry collection, this beautiful Harry Winston Fifth Avenue Crossover Diamond Necklace is a must-have.
Harry Winston Eagle High Jewelry Watch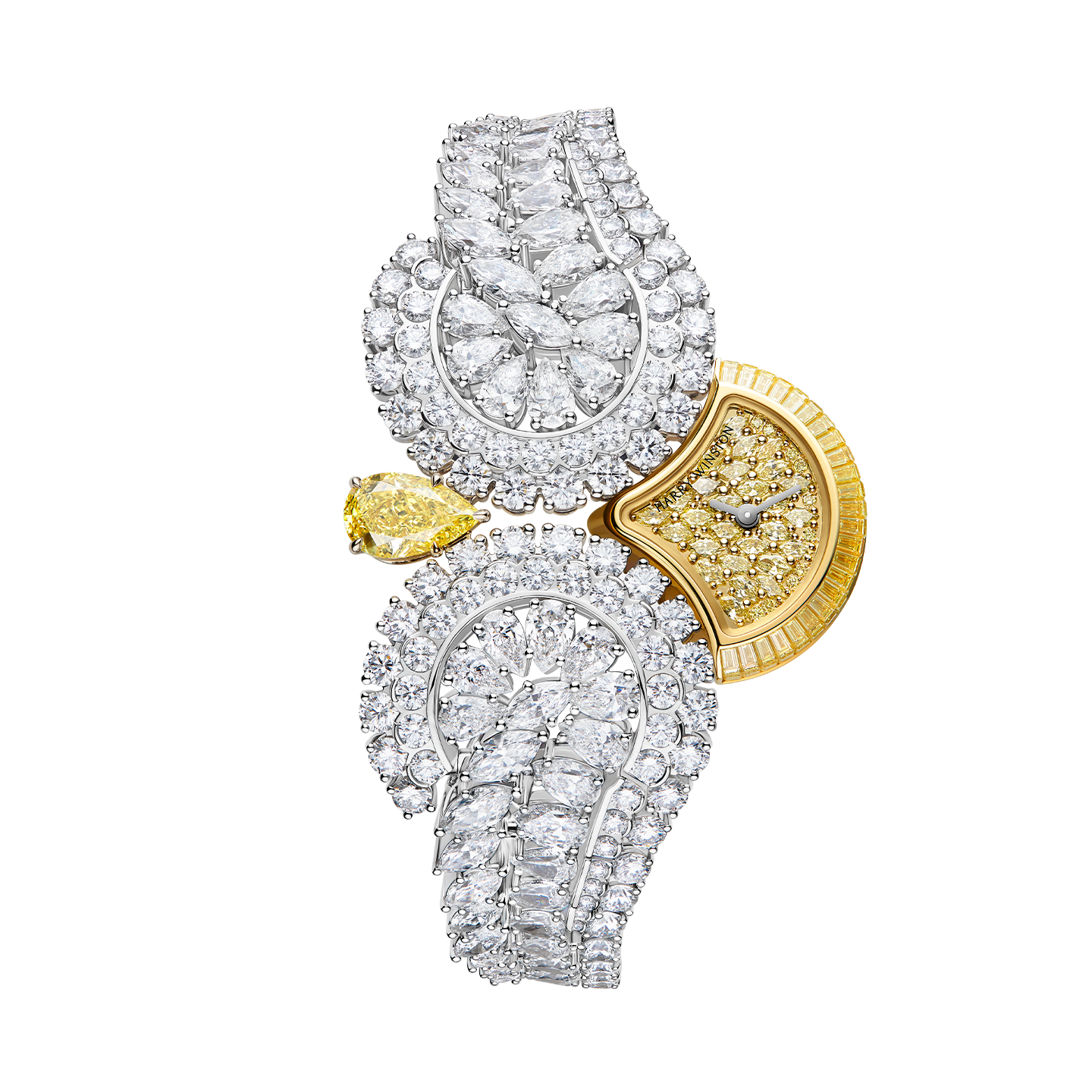 The wristwatch is one of the most iconic, easily recognizable, sophisticated, timeless accessory items to have and the Harry Winston Eagle High Jewelry Watch exemplifies all these qualities to the fullest.
Harry Winston's quartz Eagle high jewelry watch is a masterpiece of craftsmanship and design. It combines intricate details and precious materials to create a timepiece that is both functional and aesthetically stunning.
This magnificent watch design was inspired by the cast-iron eagles that are found on many New York City buildings.
The water-resistant case of the Eagle watch is crafted in both platinum and 18k yellow gold with 48 baguettes cut yellow diamonds.
The dial is set with 27 Marquette yellow diamonds and 10 glistening yellow diamonds, while the bracelet is made from platinum and 18k yellow gold, and set with 23 Marquette diamonds, 57 pear shaped diamonds, 1 pear shaped yellow diamonds and 119 brilliant-cut diamonds, while the buckle is crafted in platinum.
Now talk about a luxury item, the Eagle watch is the pinnacle of a luxurious hybrid wristwatch, as the bracelet design makes for a gorgeous fine jewelry to compliment your evening wear.
Aside from its jaw-dropping appearance, the Harry Winston Eagle High Jewelry watch is also highly functional as it features a high power reserve, which allows it to continue ticking even when not worn for many days.
For many years I have been an ardent admirer of Harry Winston's jewelry collections, each of his pieces are a true work of art, a masterpiece and an embodiment of exquisiteness.
If you are a jewelry collector, or you are someone who simply just loves to adorn herself with elegant jewelry and pass it on to the next generation, then schedule an appointment on Harry Winston website to order for these magnificent beauties today.