The audacity, creativity, and singular intensity of the Louis Vuitton Spirit High Jewelry Collection created by Francesca Amfitheatrof captures the very essence of Louis Vuitton's character. The craftsmanship of Louis Vuitton is shown in the five fold theme of this Collection, namely; "Liberty", "Grace", "Fantasy", "Destiny" and "Radiance".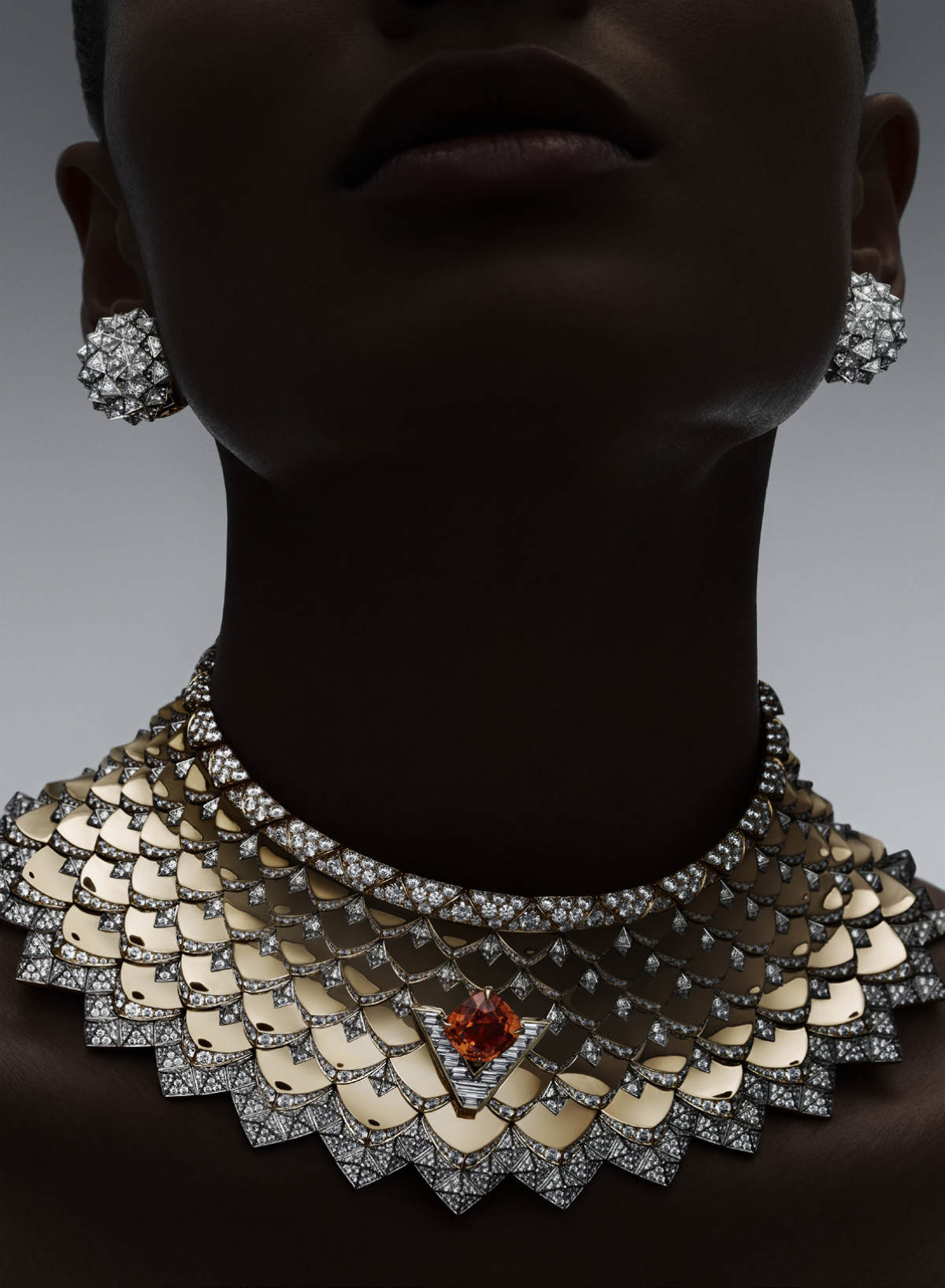 Below is a sneak peek into the exciting, sophisticated world of the fold theme of the Louis Vuitton Spirit High Jewelry Collection.
Liberty: White gold, Sapphire and Diamonds Earrings, Ring and Brace
Liberty invites the Louis Vuitton lady to journey farther than she's ever been by bringing out the magnifying force of Louis Vuitton's creativity in its delicate design and the amazing stones that illuminate the artist's desire for adventure and travel.
A variety of quality and superb emeralds, including one that weighs 8.9 carats, adorn these pieces in a well-crafted manner.
Grace: Ring, Earrings and Bracelet White Gold, Tsavorites and Diamonds
Louis Vuitton's visionary creation is supported with thousands of hours of intricate crafting to bring out the ethereal feeling typical of high jewelry. Louis Vuitton, which for centuries has catered to high fashion, shows quality craftsmanship in this elegantly set and designed Grace High Jewelry Collection.
Fantasy: Yellow Gold, White Gold, Yellow Sapphire and Diamonds Bracelet, Earrings and Ring
The Louis Vuitton Spirit High Jewelry Collection is further enhanced with the Fantasy set consisting of a bracelet, pair of earrings and a solitaire ring with a magnificent 10.88-carat emerald-cut D-FL diamond.
The bracelet showcases a perfect interaction of two color blends with brilliant pavé diamonds to produce a striking graphic design of the famous Louis Vuitton "V" signature. The hypnotic masterpiece is embellished with interlacing "Vs" as a result of meticulous artistry and perfection.
Destiny: Platinum, Yellow Gold, Rubies and Diamonds Bracelet and Ring
Ideas that are significant to the maison are combined in the Louis Vuitton Spirit Destiny Collection. Along with the necklace is an aesthetic ring and bracelet set with a beautiful 10.88-carat emerald-cut D-FL diamond round off the Destiny themed Spirit High jewelry collection.
Radiance: Yellow Gold, Mandarin Spessartite Garnet and Diamonds Bracelet and Earrings
Similar to the Radiance necklace, the bracelet and earrings have a geometric pattern of pyramids, triangles, and diamond-paved V signatures. A sensuous 17.48-carat Mandarin spessartite garnet adds even more power to the bold and graphic design. 
You Need the High Jewelry Spirit Collection
Give yourself a red carpet look as you leave the house by donning the matching bracelet, earrings, and necklace from the Louis Vuitton High Jewelry Spirit line. 
Because it is fundamentally modern and emanates originality and remarkable elegance, the whole Collection is your best option for capturing the essence of style, class, and sophistication all at once. 
All these pieces are overflowing with an unfathomable spirit to nourish your desire for timeless jewelry.