It's no secret that a good lip liner can make the largest difference to anyone's makeup look, whether you love over-lining or not. Since your lips are the focal point of your face, what better way to make sure they stand out than with the help of a top-notch lip liner?
Yes! Lipsticks look fantastic on their own, but outlining your lips adds dimension and definition to the lips creating a perfect pout.  
In today's post, we will outline the benefits of lip pencils and list five of our favorite lip pencils which do a good (scratch that!) – great job.
Detailed Outline
One of the most significant benefits of using a lip pencil is its ability to provide a precise, defined outline. The pencil tip allows for accuracy when drawing the lip line, creating a smooth, even shape that can be easily filled in. This is particularly useful when trying to achieve a bold or dramatic lip look that requires more refined detailing.
(Photo: DIOR LIP PENCILS)

Longer Wearing Lipstick 
Another benefit of using lip pencils is that they can help extend the wear time of lipstick. By outlining and filling in the lips with a lip pencil, you're creating a base that the lipstick can adhere to, making it less likely to smudge or fade throughout the day. 
Creates Lip Effects
Lip pencils can also be used to create a variety of lip looks. By choosing different shades of lip pencils, you can create an ombre effect, add dimension, or even create the illusion of fuller lips. For example, by using a slightly darker shade of lip pencil on the outer corners of the lips and a lighter shade in the center, you can create the illusion of fuller, more plump lips.
Defines Appearance
In choosing a lip pencil, first consider the formula. Lip pencils come in various formulas, including cream, matte, and satin. The formula you choose will depend on your personal preference and the look you're trying to achieve. If you're looking for a more natural, subtle look, a satin or cream formula may be best. However, if you're going for a bold, dramatic look, a matte formula will provide the most long-lasting, intense color.
Lastly, consider the texture of the lip pencil. Some lip pencils are hard and dry, while others are soft and creamy. 
But personally, we prefer the soft creamy textured lip liners as they glide on smoothly without one tugging at the lips. 
Check out our top five lip liner picks below;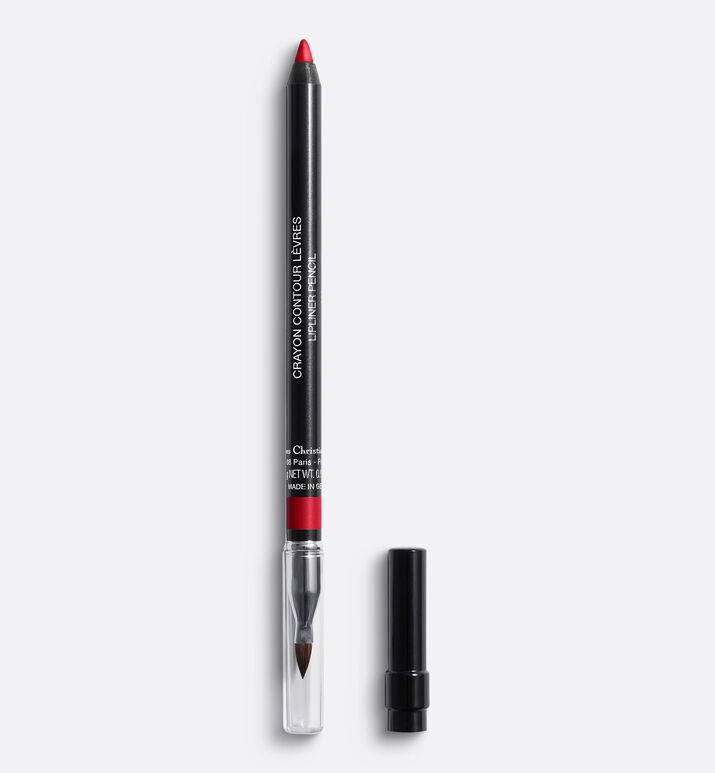 (Photo: DIOR CONTOUR LIP LINER)

The Dior Contour Lip Liner is formulated with pomegranate flower extracts, shea butter and peony. It has a wonderful creamy texture which makes it neither too soft nor too harsh. The Dior Contour is simple to blend, prevents lipstick from smudging, and has a strong staying power.
Charlotte Tilbury Lip Cheat
(Photo: MODEL WITH PLUMPER FULLER LIPS FROM USING CHARLOTTE TILBURY LIP CHEAT)
Charlotte Tilbury Lip Cheat gives smooth application, defines the lips to give a plumper fuller look without drying out the lips.
(Photo: CHARLOTTE TILBURY LIP CHEAT LINER)
With its beautifully pigmented shades, the Lip Cheat does a great work at defining the lips with its long lasting and transfer-resistant formula.
Tarte Maracuja Juicy Lip Liner
(Photo: MODEL WEARING HONEYSUCKLE SHADE OF THE TARTE MARACUJA JUICY LIP LINER)

The Tarte Maracuja Juicy Lip Liner is made from ingredients, such as; Maracuja oil, hyaluronic acid, superfruit complex making it more than just a liner, but also a lip hydrator at the same time.
( Photo: TARTE MARACUJA JUICY LIP LINER)
The Maracuja Juicy Lip Liner seamlessly defines the lips without any feathering. This lip liner is 100% vegan and comes in 8 different shades.
Victoria Beckham Beauty Lip Definer
This lip liner's silky, intensely pigmented consistency works well for creating precise lip looks and may be used alone or with lipstick.
Urban Decay 24/7 Glide-On Lip Pencil
Urban Decay has been in the beauty industry for as long as I can remember and they have some very good products, one of which is the brand's 24/7 Glide-on Lip Pencil which comes in four shades and formulated with jojoba oil, vitamin E, cottonseed oil and some other moisturizing ingredients helping to nourish the lips.
(Photo: URBAN DECAY 24/7 GLIDE-ON LIP PENCIL)
The Urban Decay 24/7 Glide-on Lip Pencil is waterproof, provides 24hr staying power, does not bleed into the surrounding skin of the lips and overall is 100% cruelty-free.
Get Lip Pencils for a Perfect Pout All Day Long!
Lip pencils are a versatile and essential tool for any self-respecting makeup kit. They provide the user with the ability to create a precise, defined lip line, extend the wear time of lipstick, and create a variety of lip looks. 
When choosing a lip pencil, consider the shade, formula, and texture to find the perfect one for your needs. With the right lip pencil, you can achieve a perfect pout all day long.