The biggest night in Hollywood returned for its 95th season, and this year's event featured some of the most iconic and vintage Oscars jewelries in history. Our favorite A-listers walked on the champagne carpet of this year's Oscar Awards donning head-turning, jaw-dropping, red carpet worthy  high-jewelries.
From Florence Pugh's gorgeous Tiffany & Co. jewelry ensembles to Deepika Padukone's dazzling Cartier jewelry to Vanessa Hudgens' Roberto Coin jewelry, here is Part 1 of our series on the high-jewelries that ruled at the 2023 Oscar Awards.
Jessica Chastain Looks Fabulous In Gucci Necklace
(Photo: JESSICA CHASTAIN WEARING THE GUCCI NECKLACE)
Crystals, sequins, and diamonds were all part of Chastain's ensemble on the Oscars champagne carpet.
The actress complimented her custom hand-embroidered Gucci crystal and sequins gown with a glistening lionhead necklace from the fashion house's Hortus Deliciarum collection.
(Photo: GUCCI HORTUS DELICIARUM TSAVORITES LIONHEAD NECKLACE)
The lionhead necklace is crafted in 18k white gold and features around 80 carat tsavorites and diamonds.
Rihanna Rocks Moussaieff High-Jewelry
(Photo: RIRI DONNING MOUSSAIEFF JEWELRY ENSEMBLES)
While we loved Riri's stylish gown at the Oscars, we were equally enamored by the pair of Moussaieff earrings that she wore to the showpiece event. She paired her Alaïa leather bralette gown with some gorgeous Moussaieff high-jewellery – a pair of orange-brown diamond earrings, a dark-brown diamond dress ring and an orange-brown diamond ring.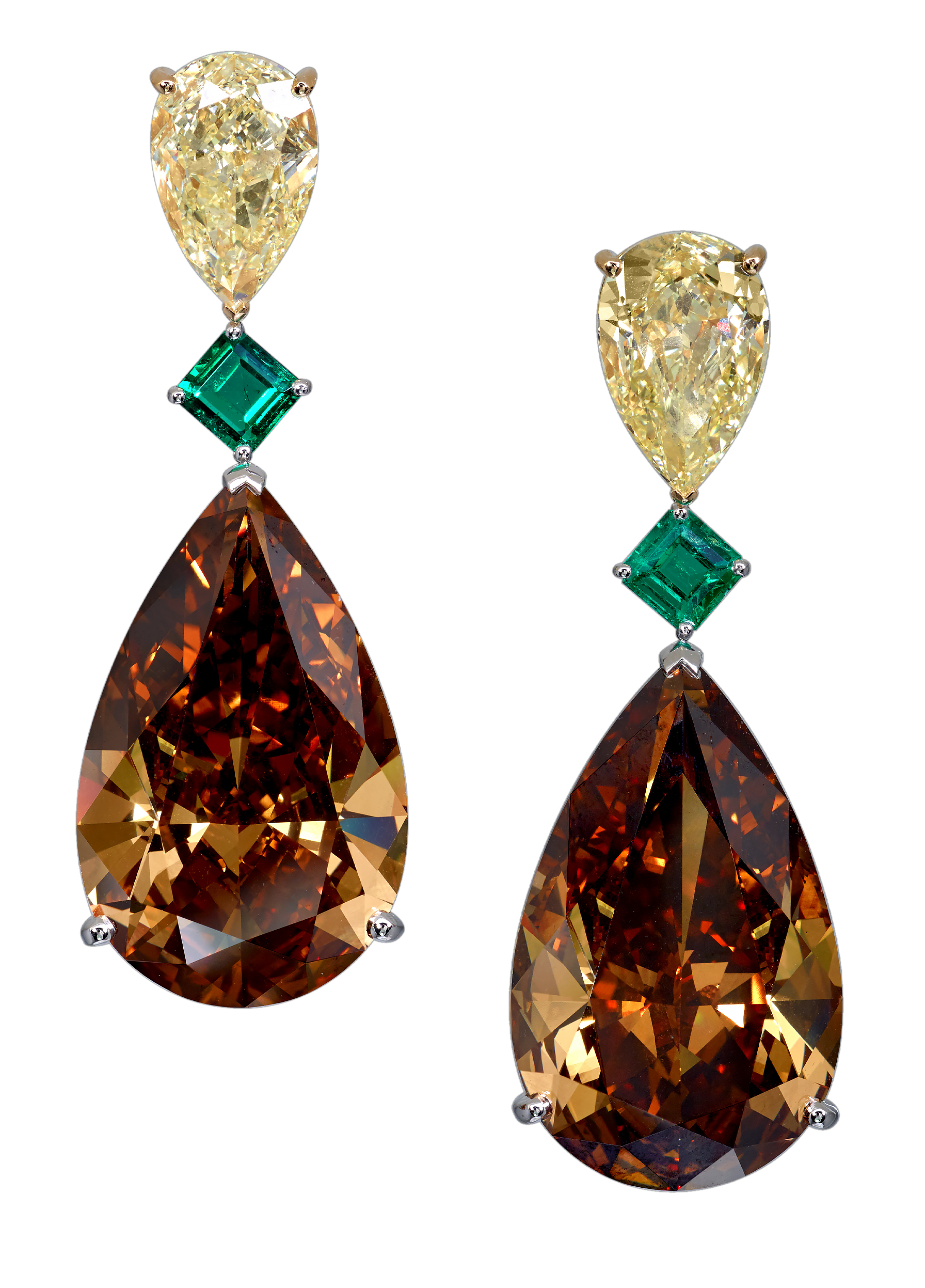 (Photo: MOUSSAIEFF ORANGE BROWN EARRINGS)
The Moussaieff earrings feature; 6.23 carats and 6.01 carats pear-shaped fancy yellow diamonds, 0.80 carats and 0.76 carats colombian emerald, and 35.82 carats and 35.66 carats orange-brown diamonds all set in platinum and gold.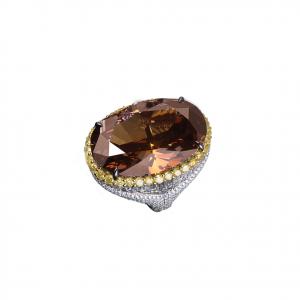 (Photo: MOUSSAIEFF ORANGE-BROWN DIAMOND RING)
The Moussaieff orange-brown diamond ring is crafted in 35.35 carat oval shaped fancy deep orange-brown diamonds, with yellow and white diamonds.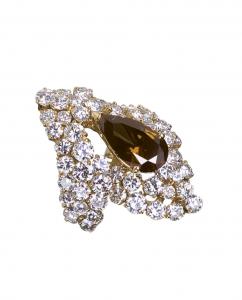 (Photo: MOUSSAIEFF DARK BROWN DIAMOND DRESS RING)
The Israeli luxury jewelry brand crafted the dark brown diamond dress ring in 4.02 carat pear shaped dark brown diamond surrounded by white diamonds.
Florence Pugh Dazzles In Tiffany and Co.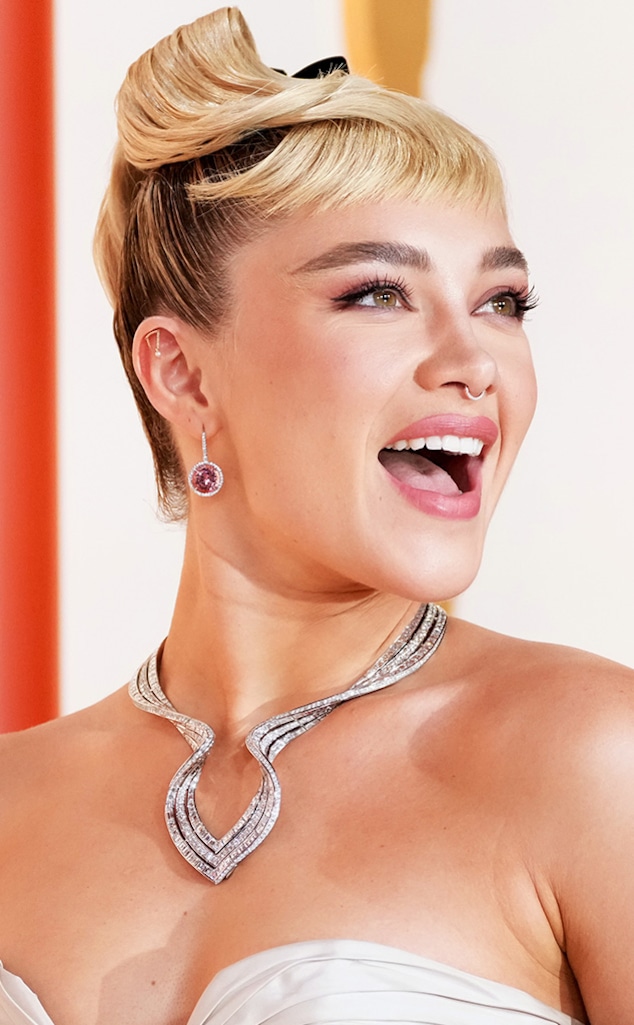 (Photo: FLORENCE PUGH POSING WITH TIFFANY AND CO. JEWELRY)
Pugh was on the 2023 Oscars carpet dripping in Valentino and Tiffany and Co. And although her Valentino taffeta draped dress wasn't a hit for us, her punk-styled hair and jewelry ensembles were a big "YES"!
"The Wonder" actress wore a Tiffany and Co. orchid-shaped necklace from the brand's floral-inspired BOTANICA: Blue Book 2022 high jewelry collection. The necklace which was intricately curved to take the form of an orchid is crafted in platinum and set with over 68 carats of diamonds.
She paired the necklace with Tiffany and Co. pink and morganite diamond drop earrings set with over 50 carats of diamonds.
Malala Yousafzai Wears Santi Jewels Emerald Flower-inspired Ring
The Pakistani activist and Nobel laureate winner was minimally glistering, donning a simple custom Ralph Lauren sequins hijab dress and matched the outfit with Santi jewels emerald flower-inspired ring.
(Photo: SANTI JEWELS EMERALD FLOWER-INSPIRED RING)

This ring is crafted with four 17th century Colombian emeralds and a table-cut diamond.
Jenny Slate Dons Gismondi High-Jewelry Ensemble
(Photo: JENNY SLATE DONNING GISMONDI JEWELRIES)
Emerald was a thing at this year's Oscar Awards, and Slate joined the "emerald gang" donning emerald jewelry ensembles from the Italian luxury jewelry brand – Gismondi.
The actress and stand-up comedian matched her Thom Browne 3-piece wear which included a corset, long skirt and tux with a Gismondi Abbraccio/ Hug collar necklace, Gismondi Essenza earrings and Gismondi one-of-a-kind ring.
The Gismondi Abbraccio necklace is crafted in 18k white gold and embellished with over 22 carats pear-shaped Zambian emerald and with more than 52 carats of round and pear-shaped diamonds.
Danai Gurira Goes Full-on Messika High-Jewelry
The 45 year old "Black Panther" actress looked very elegant and regal like a true "African Queen" styling her hair in an updo style and wearing an all Jason Wu black corset ball gown paired with stunning Messika jewelries.
Danai adorned her hair with the Messika Enigma Choker.
(Photo: MESSIKA BELOVED FEATHER EARCUFF)
(Photo: MESSIKA BELOVED FEATHER BRACELET)
For her fingers, Danai Gurira adorned the Messika Toi & Moi ring which is crafted in 2.4 carat diamond and finished off with the Diamond wave ring which features multiple diamonds
(Photo: MESSIKA DIAMOND WAVE RING)
The High-jewelry Stars Align at the Oscars!
If there is something we all look forward to on any award night, it is the display of exquisite high- jewelry and the 2023 Oscars was no exception. 
Indeed the high-jewelry stars aligned with top jewelry brands showcasing their delicate craftsmanship and artistic skills with highly priced pieces fit for royalty. 
Whether you love a minimal look or a blinged-up appearance, there is always a high-jewelry piece for everyone, as the stars that graced the Oscars aptly portrayed.